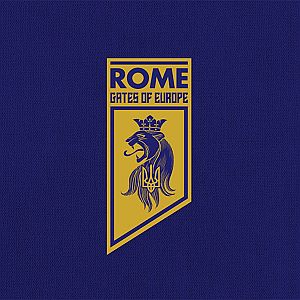 Artist: Rome
Releases: 'Yellow and Blue' (Single), 'Gates of Europe' (Album)
Release Date Single: 23rd June 2023
Release Date Album: 25th August 2023
Label: Trisol
As a surprise element in the set list of the ROME European tour 2022/23, 'Yellow and Blue' should still be well remembered by the fans. Now the anthem, which has only been played live to date, shines in all its glory as the first preview single for the forthcoming full-time album 'Gates of Europe' in a strictly limited edition as 7" vinyl.
If the references to current political events in the world were rather indirect with ROME, this principle has come to an end with this publication at the latest. Jerome Reuter, the Luxembourgish singer-songwriter and creative head of ROME, has never made a secret of his great support for Ukraine - on the contrary: just a few days before the Russian invasion in February 2022, the exceptional artist was still performing solo in Kyiv and Odessa and already in July 2022 he toured Ukraine for further guest appearances and fundraisers. In February 2023, in the second year of the war, ROME returned with a full band to play two now legendary concerts in Kyiv and Lviv on the first anniversary of the invasion.
'Yellow and Blue' was written during one of Reuter's wartime tours of Ukraine. The slogan "courage has two colours" is borrowed from an early Ukrainian campaign and expanded by Reuter into a veritable battle anthem:
"We don't run on dollars
The green won't do
For strength has two colours
Yellow and blue"
The B-side is an authentic, highly emotional contemporary document: a live recording of 'Yellow and Blue', recorded to a full house in Kyiv in February 2023. With this single, ROME prove once again that they are not afraid of great deeds and never tire of going their own way.
Tour Dates

01.09. - Deutzen, NCN Festival
07.10. - Frankfurt, Nachtleben
08.10. - Cologne, Yard Club
10.10. - Münster, Gleis 22
11.10. - Hamburg, Nochtwache
12.10. - Berlin, Frannz Club
26.10. - Dresden, Bunker
27.10. - Nuremberg, Stereo
29.10. - Munich, Backstage
Website: https://www.romepage.org/
Instagram: https://www.instagram.com/romeheadquarters/
Facebook: https://www.facebook.com/romeproject/
Source: Press Release