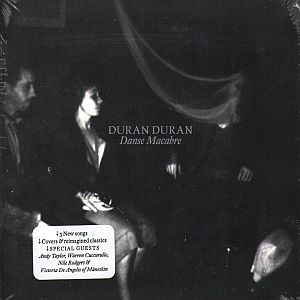 Featuring brand new songs and DURAN DURAN covers by BILLIE EILISH, TALKING HEADS, THE ROLLING STONES, SIOUXSIE AND THE BANSHEES & more! Special Guests: Nile Rodgers, Victoria De Angelis (Måneskin), Mr. Hudson, Andy Taylor and Warren Cuccurullo! 'Danse Macabre' will be released on October 27th via Tape Modern / BMG. Catalysed by a special live performance DURAN DURAN played in Las Vegas on October 31st last year, 'Danse Macabre' is the soundtrack to their ultimate Halloween party. Across 13 tracks, the band awaken sparkling melodies of darkness by assembling all-new songs, themed covers and reimagined versions of their own "scary" classics.
The title track 'Danse Macabre' is released today as the first of three brand new songs. Restless percussion sets the pace, while a distorted, growling synthesizer lets Simon Le Bon's verses transition into a hypnotic handclapped hook. Produced by Mr. Hudson, who the band previously worked with on the 'Paper Gods' album, the song also features former bandmate Warren Cuccurullo on guitar - his first collaboration with the band since 2001. Led by Creative Director Linc Gasking shows the upcoming video for 'Danse Macabre' a series of never-before-seen AI-driven processes. The track can be heard here:
https://duranduran.lnk.to/DanseMacabrePR
Nick Rhodes (keyboards) says of 'Danse Macabre': "The song celebrates the joy and madness of Halloween. It's the title track of our upcoming album, which features an unusual mix of covers, reworked DURAN DURAN songs and some new compositions. The idea came up at a show we were playing in Las Vegas on October 31, 2022. We decided to seize the moment to create a unique, special event... the temptation to use gorgeous gothic visuals to a dark soundtrack of horror and humour was just irresistible. This evening inspired us to research further and make an album with Halloween as the main theme. The record evolved in a purely organic process and not only came into being faster than anything since our debut album, but also led to something none of us could have ever predicted. Emotions, moods, style and attitude have always been at the heart of DURAN DURAN DNA, we seek the light in the dark and the dark in the light and I feel like we somehow managed to capture the essence of all of that in to capture this project."
Simon Le Bon elaborates: "It's about a crazy Halloween party. It's supposed to be fun!" and John Taylor says: "After all these years, 'Danse Macabre' offers an interesting insight into the personality of the band. The music really packs a punch," Roger Taylor adds. "I hope you will take us on a journey through the darker side of our inspiration to where we are in 2023. You will then gain a deeper understanding of DURAN DURAN."
Fans can also check out the DURAN DURAN Halloween cover of BILLIE EILISH's 'Bury A Friend, TALKING HEADS' 'Psycho Killer' (feat. Victoria De Angelis of MÅNESKIN), THE ROLLING STONES' 'Paint It Black', RICK JAMES inspired 'Super Lonely Freak', SIOUXSIE AND THE BANSHEES' 'Spellbound', CERRONE's 'Supernature', and THE SPECIALS' 'Ghost Town'. In addition to Warren Cuccurullo, the album also features other special collaborations with former DURAN DURAN band member Andy Taylor, producer, guitarist and composer Nile Rodgers, MÅNESKIN's Victoria De Angelis, and producers Josh Blair and Mr. Hudson.
Andy Taylor joined DURAN DURAN in 1980 and was involved as a co-writer and guitarist on the first three studio albums ('Duran Duran' (1981), 'Rio' (1982) and 'Seven and the Ragged Tiger' (1983)) before he left the group to start his solo career. He returned 16 years later for the album 'Astronaut' (2004), and split from the band again in 2006. After Andy's departure, Warren Cuccurullo joined as a full-time member in 1989, contributing both as songwriter and guitarist to the albums 'Big Thing' (1988), 'Liberty' (1990), 'The Wedding Album' (1993), 'Thank You' (1995), 'Medazzaland' (1997) and 'Pop Trash' (2000). In 2023, Andy Taylor and Warren Cuccurullo's presence captures the true spirit of 'Danse Macabre' - the raw energy and fun that comes from friends making music together in a room.
'Danse Macabre' isn't just an album for Halloween. On 'Black Moonlight', the band's timeless songwriting reveals dance-rock glamor alongside Nile Rodgers and Andy Taylor on guitar, while DURAN DURAN reunites with producer Mr. Hudson on the epic closeout, 'Confession In The Afterlife'. In addition to a second collaboration with Warren Cuccurullo on 'Love Voudou', 'Danse Macabre' also includes re-recorded versions of 'Nightboat' and fan-favourite 'Secret October' 31st (both featuring Andy Taylor on guitar). The song originally appeared on B-side to the 7" single 'Union of The Snake' and is now being released on a DURAN DURAN studio album for the first time 40 years later.
The story of 'Danse Macabre' began on October 31, 2022 in Las Vegas. Simon Le Bon, John Taylor, Nick Rhodes and Roger Taylor donned their costumes and posed a horde of ghosts on stage with 20-foot-tall skeletons, tombstones, cobwebs and coffins. The set included a parade of original song rarities and special covers: DURAN DURAN's first live performance of 'Secret October' since 2011, their first of 'Love Voodoo' since 2017, and first of 'Nightboat' since 2005. Also covers of SIOUXSIE AND THE BANSHEES' 'Spellbound', CERRONE's 'Supernature' and THE SPECIALS' 'Ghost Town' were presented to audiences for the first time. And so, the Halloween show went down in the history of DURAN DURAN for eternity. The band and their audience were having so much fun that they decided to record the concert, creating a worldwide Halloween event for all DURAN DURAN fans.
'Danse Macabre' comes amid a busy year of live activity which has seen DURAN DURAN play sold out arena shows across the UK and Ireland. The performances were enthusiastically received, being described as "regal" by the Times, "decadent and bombastic" by the Telegraph, "first class and sovereign" by CLASH, "joyful" by the Sun and "national treasures" by the Spectator, while the Mail On Sunday confirmed that "Their charm hasn't changed". The band continues their sold-out FUTURE PAST arena tour of North America in August and September, where the rave reviews continue to pour in.
'Danse Macabre' follows a wave of milestones for DURAN DURAN. Their induction into the Rock & Roll Hall of Fame in 2022 marked another career highlight. This year the band have headlined London's Hyde Park, performed at the Queen's Platinum Jubilee Concert at Buckingham Palace and closed the opening ceremony of the Commonwealth Games in their hometown of Birmingham. Additionally, they completed a headlining tour of North America that included sold-out shows at New York's Madison Square Garden and three nights at the Hollywood Bowl.
'Danse Macabre' will be released on October 27th via Tape Modern / BMG. The artwork features images drawn from a collection of authentic vintage séance photos acquired by Nick Rhodes at auction. The album will be available on black 2LP and CD, a limited-edition Smog 2LP is available on HMV and indie stores. In addition, a high-resolution Blu-ray audio will be released. The band's official artist store offers exclusive merchandise bundles, a limited-edition Translucent Galaxy 2LP and a cassette. The album can be pre-ordered here:
https://duranduran.lnk.to/DanseMacabreAlbumPR
Tracklist

01. Nightboat
02. Black Moonlight
03. Love Voudou
04. Bury A Friend
05. Supernature
06. Danse Macabre
07. Secret Oktober 31
st
08. Ghost Town
09. Paint It Black
10. Super Lonely Freak
11. Spellbound
12. Psycho Killer (feat. Victoria De Angelis)
13. Confession in the Afterlife
Source: Press Release