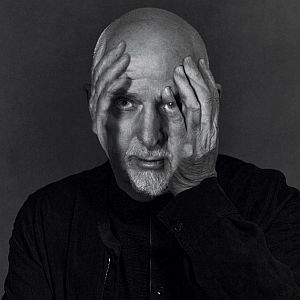 After a year in which Peter Gabriel released a new song every full moon and played to enthusiastic audiences across Europe and North America, the long-awaited new studio album 'i/o' will be released on December 1st in two stereo mixes as a double CD package and each separately as a double LP via Virgin Music.
"After a years-worth of full moon releases, I'm very happy to see all these new songs back together on the good ship i/o and ready for their journey out into the world." - Peter Gabriel
'i/o' consists of twelve tracks of grace, gravity and beauty that unbrokenly demonstrate not only Gabriel's ability to write gripping songs, but also his exciting voice. As the album progresses, the clever, thoughtful - often thought-provoking - songs touch on life and the universe thematically. Connecting with the world around us is a recurring motif on 'i/o' ("I'm just a part of everything," goes the title track). But the passage of time, mortality and grief also crop up again and again, touching on themes ranging from injustice and surveillance to the roots of terrorism. But i/o is not a pathetic record. Despite all the reflection, the mood is never depressed. The album is musically exuberant, often interspersed with moments of joy and ultimately full of hope, rounded off by the furiously optimistic final song 'Live And Let Live'.
'i/o' was largely recorded at Real World Studios and Gabriel's home studio. The long time it took to create the film can also be seen in connection with the size of the cast list. Gabriel has kept his close circle of confidants around him, allowing guitarist David Rhodes, bassist Tony Levin and drummer Manu Katché to shine once again. Several songs bear the signature of long-time companion Brian Eno. Further contributions come from Richard Russel, pianist Tom Cawley, Josh Shpak and Paolo Fresu on trumpet, cellist Linnea Olsson and Don E. on keyboard. Gabriel's daughter Melanie contributes backing vocals as does Ríoghnach Connolly (THE BREATH). Richard Chappell, Oli Jacobs, Katie May and Richard Evans, all from the regular REAL WORD environment, are responsible for programming and various other instruments. Also heard are the SOWETO GOSPEL CHOIR and the Swedish men's choir OPRHEI DRÄNGAR as well as the NEW BLOOD ORCHESTRA under the direction of John Metcalfe.
As someone known for pushing boundaries, Gabriel doesn't just release a dozen songs with 'i/o'. All twelve tracks come in two stereo mixes each, the bright-side mix by Mark "Spike" Stent and the dark-side mix by Tchad Blake. "Tchad and Spike are two of the greatest in their field and they definitely give the songs a different character. Tchad is more of a sculptor, building an experience out of sound and drama. Spike loves sound and composing images. He's more of a painter." Both versions are included on the double CD package and are alternatively available as a separate double LP. There is even another version with the In-Side Mix in Dolby Atmos by Hans-Martin Buff, who, says Gabriel, "has done a wonderful job of creating these much more three-dimensional mixes." It is included in the 3-disc Blu-ray set.
The idea of involving visual artists to always create a work of art to accompany new music is a continuation of an idea that has already been implemented at US and UP. Each of the twelve new pieces was given to a well-known artist to create an associated work, whether a painting, photography, sculpture or even playdough. With Ai Weiwei, Nick Cave, Olafur Eliasson, Henry Hudson, Annette Messager, Antony Micallef, David Moreno, Cornelia Parker, Megan Rooney, Tim Shaw, David Spriggs and Barthélémy Toguo, an extremely impressive team of partners was created. Another visual connection to Peter's past albums is created by the cover photo. Nadav Kander made the recording, which is reminiscent of earlier motifs in which Gabriel - with the exception of 'So' - was also present, but was obscured or alienated in a fascinating way.
And while these echoes of the past echo through the new album, 'i/o' is fundamentally a record of - and for - the here and now. Many of the themes may be timeless. But they are also warnings that our time is running out, both for the planet and for ourselves. Or, as Gabriel sings on 'So Much': "This edition is limited".
The long wait was worth it. 'i/o' is another triumphant album.
Tracklist

01. Panopticom
02. The Court
03. Playing for Time
04. i/o
05. Four Kinds of Horses
06. Road to Joy
07. So Much
08. Olive Tree
09. Love Can Heal
10. This Is Home
11. And Still
12. Live And Let Live
Formats

PGLP21 2LP Bright-Side Mix: 2LP black vinyl, 33rpm. Gatefold jacket, obi-strip, 32page booklet and hi-res download card.
PGLPX21 2LP Dark-Side Mix: 2LP black vinyl, 33rpm. Gatefold jacket, obi-strip, 32page booklet and hi-res download card.
PGCD21 2CD Bright-Side Mix | Dark-Side Mix: 2CDs, one Bright-Side Mix, one Dark-Side Mix. 6panel digi-pack, with obi-strip and 32page booklet.
PGCDBR21 2CD+Blu-ray Bright-Side Mix | Dark-Side Mix | In-Side Mix: 2CDs one Bright-Side Mix, one Dark-Side Mix. 1Blu-ray with the In-Side Mix (Dolby Atmos) and 24/96 hi-res stereo mixes. 8panel digi-pack, with obi-strip and 32page booklet.
PGBOX21 4LP, 2CD, 1Blu-ray Bright-Side Mix | Dark-Side Mix | In-Side Mix: Foil blocked, clamshell box with obi-band. Bright-Side and Dark-Side Mixes across 4 pieces of black vinyl, 33rpm. 2CDs one Bright-Side Mix, one Dark-Side Mix. 1Blu-ray with the In-Side Mix (Dolby Atmos) and 24/96 hi-res stereo mixes. Casebound book with expanded liner notes and a poster. *Release date 8 March 2024
Source: Press Release
See also (all categories):