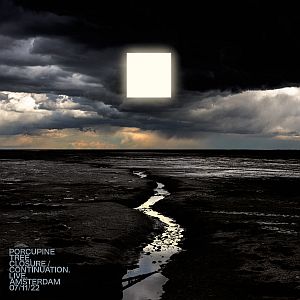 When PORCUPINE TREE went on hiatus in 2010 after their biggest ever headline show at London's Royal Albert Hall - following a career that spanned an excess of 20 years and 10 studio albums - they were very much a cult band. Although massively revered by their diehard community of fans, they remained largely unknown in the wider world - a very British anomaly whose unique music could veer sonically between fierce, expansive Rock'n'Roll, ambient techno and skywards soaring acoustics in the space of a single song and whose lyrics more often than not dwelt in the darker corners of the human psyche.
By the time PORCUPINE TREE (Steven Wilson - vocals, guitars, keyboards; Richard Barbieri - keyboards, synthesizers; Gavin Harrison - drums) announced their return in 2021, things were a little different. Their cult had grown, and grown.
PORCUPINE TREE's eleventh album 'Closure/Continuation' was released to a clean sweep of glowing reviews. It reached No 2 in the UK album chart, No 1 in Germany and was Top 10 all across Europe. The band's subsequent arena tour crossed four continents and played to over 150,000 people, many of whom would never have seen the band before. Each night, the band played for nearly three hours and mined a deep, rich back catalogue that had lain dormant and untouched for the past decade. Fan reaction from city to city was nothing short of ecstatic.
'Closure/Continuation'. Live documents PORCUPINE TREE's triumphant return to the stage perfectly. A live recording captured on 7th November 2022 at Amsterdam's 17,000 capacity Ziggo Dome, it places the listener/ viewer right at the heart of the stage for the duration of the show as psychotropic visuals explode behind the band as they play a superlative set of songs that features - to use Steven Wilson's words – "no hits", where each one is received like an anthem from an alternate universe.
'Closure/Continuation.Live' features Wilson, Barberi and Harrison and touring musicians Randy McStine (guitars) and Nate Navarro (bass) play much of PORCUPINE TREE's 2022 reunion album (including the singles Harridan and Of The New Day) alongside classic tracks like 'Trains', 'Fear of a Blank Planet' and 'Anesthetize'. To mark the announcement of 'Closure/Continuation.Live', a specially selected cut of Harridan is online everywhere now. A particular high point of both the studio album and the Ziggo Dome set, it showcases the band in blistering form.
Released by Music for Nation / Sony Music: BLU-RAY/ DVD: 1x Blu-ray disc with full live show + Dolby Atmos surround Sound Audio, 5.1 Audio and 24 bit High Resolution Audio (Excluding bonus features), 1x DVD of full live show - preorder here:
https://porcupinetree.lnk.to/CCL
Tracklist

01. Blackest Eyes
02. Harridan
03. Of the New Day
04. Rats Return
05. Even Less
06. Drown With Me
07. Dignity
08. The Sound Of Muzak
09. Last Chance To Evacuate Planet Earth Before It Is Recycled
10. Chimera's Wreck
11. Fear of a Blank Planet
12. Buying New Soul
13. Walk The Plank
14. Sentimental
15. Herd Culling
16. Anesthetize
17. I Drive The Hearse
18. Sleep Together
19. Collapse the Light Into Earth
20. Halo
21. Trains
Further configurations are available from the band store:
https://porcupinetree.lnk.to/PTCC/townsend
Source: Press Release
See also (all categories):