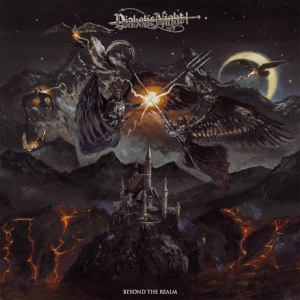 Artist: Diabolic Night
Title: Beyond the Realm
Genre: Blackened Thrash
Release Date: 15th November 2019
Label: High Roller Records
Review Flash

This interesting Black / Thrash outfit is hailing from North Rhine-Westphalia. Conceived in 2013, 'Beyond the Realm' marks their full album debut. DIABOLIC NIGHT is an uncommon exception for me because I normally stay far away from anything that remotely reminds me of Black Metal but I think the fine instrumental arrangements and the rather great Thrash part in this sparked my interest and baited me into doing this review. And hey it is indeed mastered by Patrick W. Engel of Deaf Forever and High Roller Records fame so I had to give it a try and what could go wrong when the involved people call themselves Heavy Steeler (vocals, guitar, bass) and Christhunter (drums)?
DIABOLIC NIGHT really often remind me of VENOM (if I ever heard a VENOM tune that rudimentary sounded so well composed and arranged as any of these here). These guys know their craft even if I don't dig the vocals (harsh stuff, not very melodic at all). Heavy Steeler sounds pissed and quite drastically evil all the fucking time, if you like that you should give this a few spins because even I realize that in their field these guys seriously kill. Many times this is raw technically great speed metal with melodies that almost rival those of my beloved NWOBHM.
Conclusion: Not a 100 percent my cup of tea but damn interesting!
Rating: 7.5 / 10