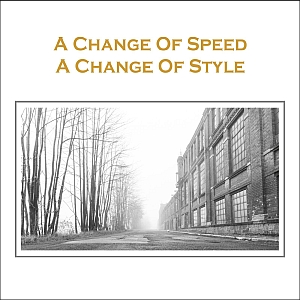 Nocturnal Culture Night Fest proudly presents: 'A Change Of Speed, A Change Of Style' - A Collection Of Joy Division Songs, Performed By Various Artists
JOY DIVISION, despite its short existence, certainly ranks among the main influences of many European bands. Today, 35 years after the group's tragic ending, you will find on this CD a collection of JOY DIVISION songs/ versions, performed by different artists from various countries. Most of these artists were impressed by the loud and aggressive style of Joy Division's live performances, and by their mesmerising stage presence. While the pioneers have long gone, their work and its intensity are still there for us to enjoy and be inspired by, and the works contributed by the participating bands and musicians on this recording are a testament to JOY DIVISION 's lasting relevance.
Album Details

Artists: Der Blaue Reiter (E) - The Devil and the Universe (A) - Dive (B) - The Eternal Afflict (D) - Evi Vine (GB) - Godlesstate/formerly Six Comm (GB) - The Invincible Spirit (D) - Sieben/Matt Howden (GB) - Merciful Nuns (D) - No Sleep by the Machine (S) - Phillip Boa and the Voodooclub (D) - Plastic Noise Experience (D) - + Bonus Tracks (Download only): Die Krupps (D/USA) - Psyche (CDN) - Kirlian Camera (I)
Release Date: Friday 4th of September 2015 @ NCN Festival
Formats: Available on CD Digipak (16 pages booklet) and as Download
Further info:
www.JoyDivision-Sampler.com
/
www.JoyDivisionSampler.com
Track by Track
01 – The Devil & The Universe – I Remember Nothing

Impressive and powerful, The Devil And The Universe´s trademark ritualistic psychedelia is applied to the original with great effect. A perfect mood setter for an inspiring ride through the world of Joy Division.
02 – Dive - Isolation

The song's title theme is given an appropriately minimalist Belgian electro-treatment by DIVE / Dirk Ivens, proving that Joy Division's brand of impressionist sound aesthetics also works in an entirely electronic context.
03 – No Sleep By The Machine – Shadowplay

Slowed down and electrified, dotted with speech samples, this version is strongly reminiscent of mid-to-late 80s dark-wave / proto-techno, bridging the gap between post-punk and its estranged offspring, synth-pop and EBM.
04 – Plastic Noise Experience – She´s Lost Control

The original's gloomy monotony offers itself for this harsher, almost agreppo-/electro-industrial adaptation by one of the forerunners of today's Hellectro / post-apocalyptic techno tribes.
05 – The Invincible Spirit - Atmosphere

Notorious for odd cover versions, The Invincible Spirit deliver one of the most exciting surprises with this dynamic, yet sensual interpretation. Thomas Lüdke dares to not apply the TIS-typical dark-electro vocal mode and instead delivers the lyrics clean, and just as touchingly emotional as Ian Curtis.
06 – Godlesstate (Formerly Six Comm) – New Dawn Fades

Exploring the depths of desolation and despair, Patrick L., cartographer of humanity's nightmares, takes us on a trip through nocturnal darkness, towards a new light.
07 – The Eternal Afflict – Twenty Four Hours

Old time epic-electro legend The Eternal Afflict take us on an up-tempo dance floor ride: 24 hours in 4 minutes, 20 seconds of feet shuffling fun.
08 – Der Blaue Reiter - Decades
Time to lean back and listen: DBR delve into the moods and textures that made Joy Division so exciting, and are not afraid to take their time for good measure.
09 – Sieben (Matt Howden) – Transmission (Live)

Another JD classic, rearranged as a one-man-and-his-violin-piece by SIEBEN (Matt Howden), which blows away audiences on a regular basis and is thus featured here with a "live" recording.
10 – Evi Vine – Dead Souls

Incredibly dense, thrilling and as alluring as it is frightening, this impressive version has Evi's detached vocal delivery turn claustrophobia into something beautiful.
11 – Phillip Boa And The Voodooclub – Love Will Tear Us Apart

Germany's successor to Ian Curtis, Phillip Boa, pays homage to Joy Division's often-covered anthem by adorning it with a pairing of a sensual melancholy and powerful Rock'n'Roll, delivered by the Voodooclub.
12 – Merciful Nuns – The Eternal

Gothic veterans Merciful Nuns provide a fittingly gloomy pinnacle of dark, pathos-driven Rock as conclusion to an eclectic collection of Joy Division tunes.
Tracks 13 – 15 are exclusive to the digital DL version/bonus tracks:
13 – Die Krupps – Isolation

German Joy Division contemporaries Die Krupps apply their time-tested slant at industrial rock to one of the catchiest Joy Division songs. This track is a re-mastered Version from 1992.
14 – Psyche – Disorder

A seamless blend of semi-acoustic guitars and electronic drums propel this pop anthem forward, hinting at the potential Joy Division might have had in the 1980s, only a part of which was fully realised by New Order.
15 – Kirlian Camera – The Eternal

The title might as well have been "Ethereal" for its lofty, removed weightlessness. A very unusual, intriguingly gloomy and experimental approach for Kirlian Camera, who in recent years have focussed on dance floor aesthetics. This track shows them from their avant-garde and dramatic side.