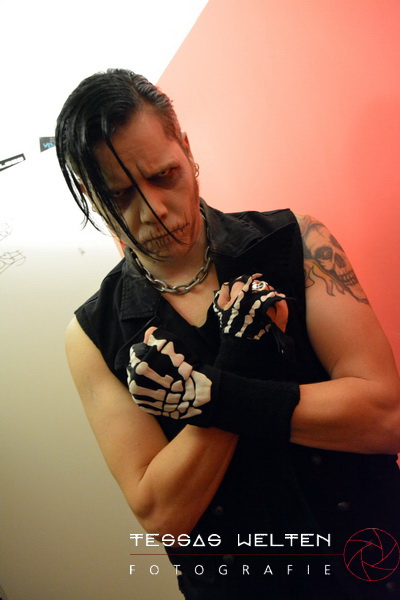 Before Halloween, everyone was busy planning the celebration and I was no exception, but I had an additional mission: to find a good horror company which could be interesting for our project. And I was lucky because what is better than Horror Punk? Rod Usher, singer of THE OTHER, agreed to answer our questions. At the band's concert in Frankfurt, taking place on the eve before Halloween, I had a possibility to shoot all necessary photos and enjoy the show. I hope you will like our interview as well.
Reflections of Darkness [RoD]
: When did you get your first tattoo and what was it? Did it take much time until you decided to get it done?
Rod Usher
:
I was already old and apparently had a very wild moment. When my ex-girlfriend had made an appointment for a tattoo (with Jango from Cologne), I just made one appointment too. It was relatively spontaneous. However, I've never regret it.

RoD
: How many tattoos do you have? Could you please tell us their story?
Rod Usher
:
Since I have only one, telling its story is quickly done. I am a huge MISFITS fan and the "mascot" of the band, the Crimson Ghost, is simply a cool motive. I took the version of Basil Gogos from the 'American Psycho' album because it looks beautifully sculptural and Jango has added flames around it. I am very satisfied, even years later.
RoD
: Do you already have all the tattoos that you wanted or will you get some new ones in the future?
Rod Usher
:
From time to time I think to make my entire arm full of Universal Monsters. And then I buy yet another beer instead.
RoD
: Have all your tattoos been done by one tattoo artist or by different ones? How do you choose the tattoo artist? In addition, who draws your sketches?
Rod Usher
:
Jap, all my many tattoos are made by the same tattoo artist. I chose him because I had known his work already. Today, I would like to have something by James Rowe. He has already drawn a lot for my band THE OTHER, for MISFITS, NEKROMANTIX and many other and he is now a great tattoo artist.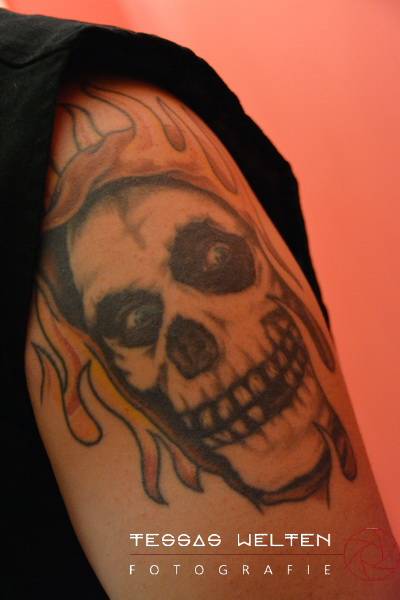 RoD
: Getting tattooed hurts, how do you cope with the pain during the sessions?
Rod Usher
:
It was not that hard on the shoulder. But I am not really enthusiastic about the pricking. I could do better without the pain.
RoD
: Do you regret getting tattooed sometimes?
Rod Usher
:
No, mine is hidden under the shirt. But sometimes when I look at the 18-year-olds with their neck tattoos, who perform their Kung Fu moves to Hardcore on the dance floor of our local open-air disco, I wonder sometimes if one or the other can bury his dream of being a bank clerk.
RoD
: What is your taboo in terms of tattoos? What kind of tattoo would you never get done and don't like to see on other people?
Rod Usher
:
Face Tattoos. I do not like them. Even on Kat von D. In addition, I think that the female breast should remain tattoo-free. Otherwise, you will have the feeling that the lady is never totally undressed when you come closer.
RoD
: Some people say that the drive to acquire body art is addictive while others say it fails to meet the true definition of an addiction, simply calling it a passion. Is it really impossible to stop?
Rod Usher
:
I have stopped this in earlier period and now voluntarily advised others who did not get rid of it.
RoD
: Last Year's tattoos are a new trend; many people do not care about the meaning, they just want to have something coloured on the skin, to be in trend. Those people often just go into a tattoo salon and ask which drafts they have. Tattoo artists are not artists any more, they produce consumer goods. Not all of them, of course. How do you feel about this situation?
Rod Usher
:
Since Mandy from Gera has not only blond hair but tattoos too, a skin image is certainly no individuality statement anymore. Every third person in Germany is tattooed, I read recently. I work in the advertising industry and constantly people say: "Ey, let's take a model with tattoos that is so wild and rebellious". Well, it is not anymore if even insurance companies are doing advertising with tattooed models. And it is clear that not only the "creative" people coming from the subculture are getting tattooed. What used to be the tribal and then the cherry or the stars, today is just the Chinese character or the Koi with Japanese cloud in the background. Fashion, music, look... Everything is massively marketed and adapted from the mainstream. You are almost rebellious today if you do not have a tattoo. Too bad, because I like good tattoos.
RoD
: I would like to talk about the social aspect of tattoos, too. Previously, many people believed that if you have a tattoo, you will be never be successful and will not find a "good" job. Have this state of mind and people's perceptions changed or are these prejudices still alive?
Rod Usher
:
This cannot be generalized. My parents think that tattoos still are antisocial, but they are however also over 70. Otherwise, tattoos are only offensive if they are large-area or show polarizing motives. With a Pamela Anderson barbed wire around the upper arm you will surely not raise anyone against you.
RoD
: Which advice would you give to people who are going to get their first tattoo? How to choose a tattoo artist? Colour or black and white? Any practical advice?
Rod Usher
: I am the wrong person for this question. I got my tattoo when it was clear that I would not suddenly think tomorrow that punk rock is crap. And if more tattoos will come, then it will be pictures which I will stand by when I am 80. So surely no Koi or Tribal. I like my tattoos to be colourful and cartoonish, but the same is true for black and grey pictures. I would say: No band names, no partner names, no worldly wisdom. All this passes away.
Project by Daria Tessa and Daniela Vorndran, Interview by Daria Tessa
Pictures by Daria Tessa (
https://www.facebook.com/tessaswelten
)