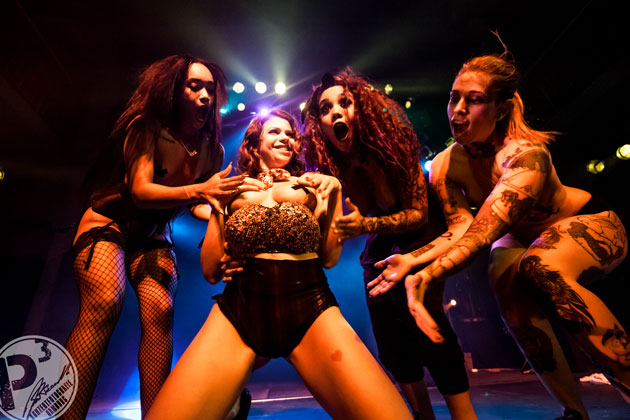 Gruenspan, Hamburg, Germany
25th November 2016
Suicidegirls: Blackheart Burlesque

What do we all have in common in the cold days of every years season? We get ourselves warm drinks at home under thick blankets, watching the latest 'Walking Dead' episode. We are wrapped in warm clothes, running to Christmas markets by the fire to get more warm drinks, eating steaming hot Grünkohl, Wurst and Kassler (kale and smoked sausages, so to say) … and so on and on. To cut it short: we all are looking for warmth, more or less in this case. Even warmer? Hotter? The hotter the better? We will see: Ladies and Gents, from the United States of America, the land of the free and the home of the brave, the original SUICIDEGIRLS and their first tour throughout Germany, first kicking it off at Gruenspan, Hamburg.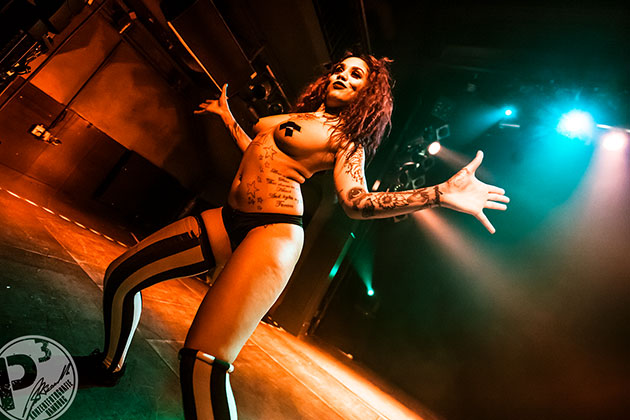 First, the nice venue looks pretty empty, but shortly before the show starts it's getting fuller and fuller but still there is – against all expectations – a lot of capacity left. Not sold out. This evening is announced as X-Rated (FSK 18 in Germany), what means, that no one under 18 is permitted to attend the show. Alright, something wicked this way comes? Katherine Suicide alias Rebecca Crow takes the stage and is today's host, checking first of all the credibility of the crowd: "How many of you following the SUICIDEGIRLS on Instagram? How many of you follow us on Twitter? How many of you have a membership to suicidegirls.com?" Not so many.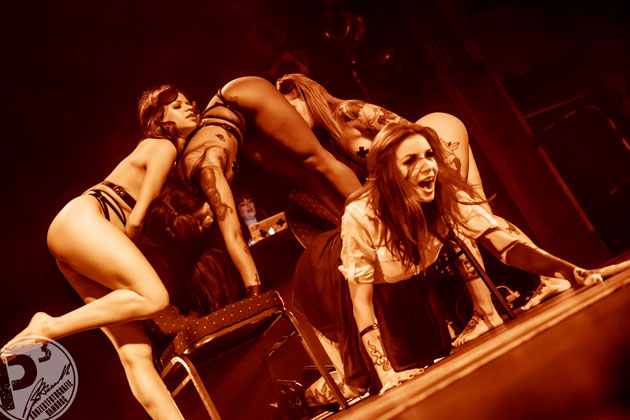 She goes on and welcomes everyone, trying to lure out the German audience to raise the hands and beers and voices to get this place warmed up, it's noticeable that no one knows what to expect – so just let the show begin… Five SUICIDEGIRLS entering in cute Japanese Panda costumes and do their sexy and kinky dancing stuff to pumping music, which is controlled by a reserved "DJ"-Lady with her laptop in the background of the stage. They dance, they animate the crowd, they shake their hips and lifting skillful piece by piece of their costumes. Shouts and cheers when the black-cross-taped boobs come to light. The music stops, the light goes out, cautious applause. And to blurt it out: the rest of the evening follows the same principle over and over again. 2-3 minute shows with a lot of cross-section-hints throughout the pop- and trash-culture. Beautiful ladies in various roles in various sexy outfits, group and single performances.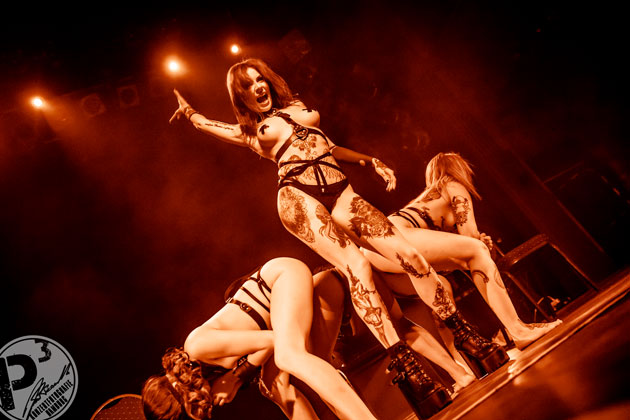 To name a few: Superhero-Show a la Big Bang Theory; Frank the rabbit from Donnie Darko to Gary Jules' version of 'Mad World'; a Rumba and Salsa performance; an even softer leather and eye-masks Shades of Grey allusion than in the books or the really bad movie (sic!); MJ's Thriller-Undead-Dance; Prince of Bel Air a la Dubstep; Spice Girls (finally "naked", LOL). Some GIRLS actually sing Amy Winehouse or Arielle The Mermaid songs with (sleazy) altered lyrics, which is really funny and nice; Harley Quinn (amazing resemblance!) from the Suicide Squad in proper style with baseball bat, staple joker cards to her butt cheeks and of course the Star Wars performance with Storm Trooper masks (ok, the most attractive Storm Troopers and Boba Fett the world has ever seen). All this enriched with titty twisting and ass shaking in style. For the most part, that's it.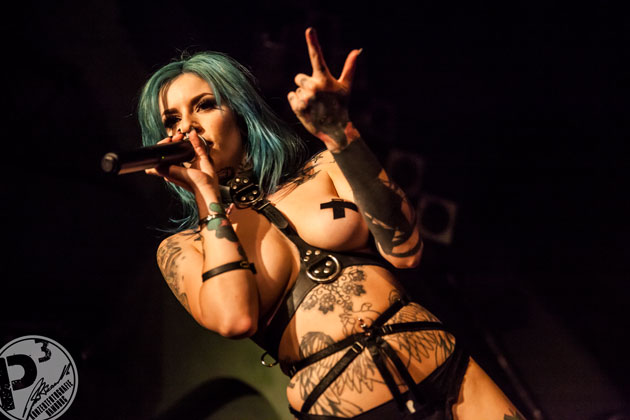 But fortunately there are some slots, where the GIRLS interact with the audience: a couple is needed to do a crash course in lap dancing, guess what, yeah, the boyfriend has do the job and he is doing pretty sovereign. Hamburg likes it. Just like nerdy Patrik, who has to do a ninth-grade-school-test from the US, reading and answering questions while a fine looking lady giving him a diverting dance. Great moment and a cool great guy. Also the ladies of Hamburg were asked to do a little sexy dancing contest, and they do without flinching. All stage enterers are winners, they get a one year free membership to
www.suicidegirls.com
.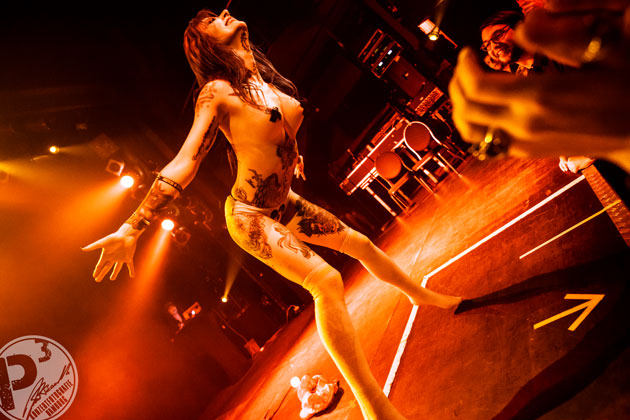 Altogether it seems like a big promotional campaign to the infamous website, named over and over again, which is after the fifth time pretty annoying, just like the same procedure in every performance, culminating in showing the breasts ("Do you wanna see my tits?"). After all somewhat lame, compared to the high ticket prices. Yes, everything looks sexy, funny, deliberately cheap and trashy and they do their best to deliver good show (what it is), the mood gets also better and better (by drinking more beer) but still there is a slight feeling that something is just missing, a little bit of WOW, a little bit of MORE show or anything like that - the final crowd surfing by one SUICIDEGIRL is no saver in this. There is another factor, that must be entitled here: Dear SUICIDEGIRL, you are in Hamburg, St. Pauli, Reeperbahn, the most well-known red light district in the world, so there must be something more to rehash the northern German mood.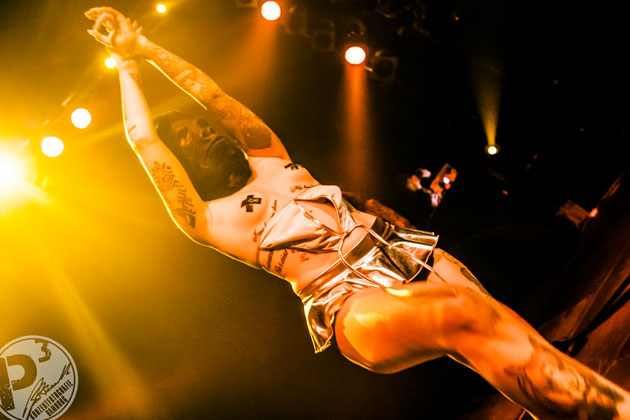 Maybe in the States it is something special, something weird to see almost naked, pierced, tattooed chicks, calling themselves SUICIDEGIRLS, the self-titled sexy freaky cult… but yeah, here it's nothing special, maybe it's just the name, the brand and the curiosity. But it's okay, it's just entertainment. And by the way: why is this show X-Rated? There were no completely nudity at all (Burlesque), not even alcohol flowed in the visitors throats a la Coyote Ugly, so no one will ever know, just like the disconcerting motto: Blackheart(?) Burlesque. Again, no one will ever know, but for sure there are currently many black hearts out there: it's fucking Christmas time again! Be safe, survive the evenings in company of your (beloved or not) relatives and… Jingle the balls and stick it up your… yeah.
http://blackheartburlesque.com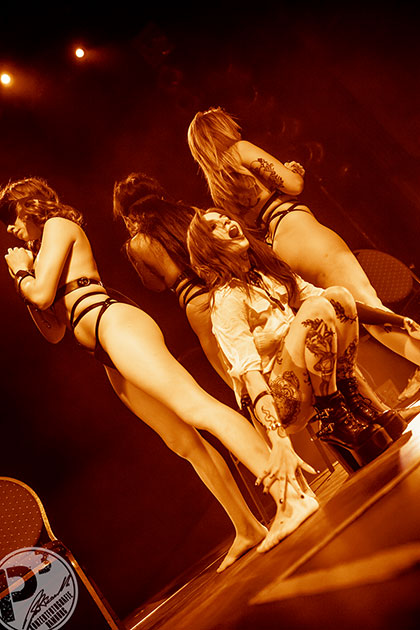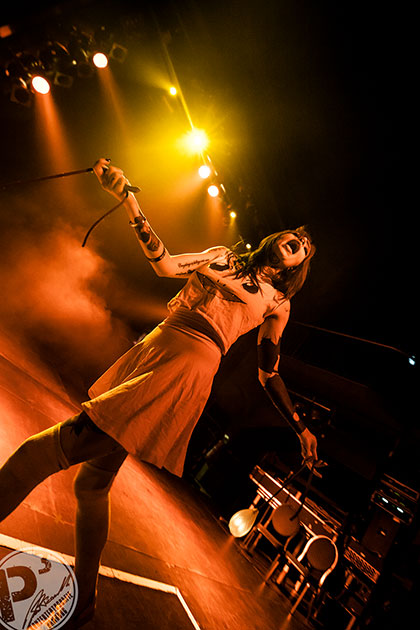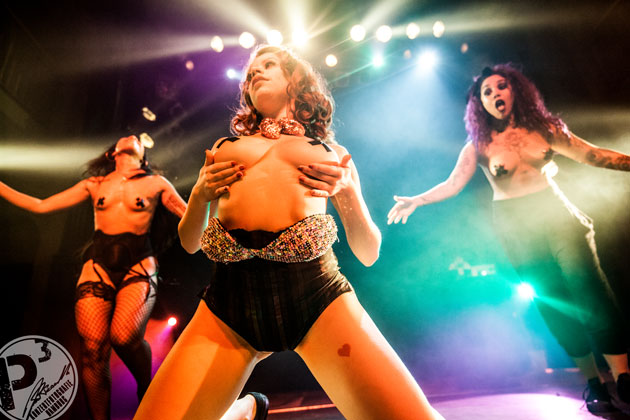 All Pictures by Jan Termath (
http://www.profound-passion.com/
)