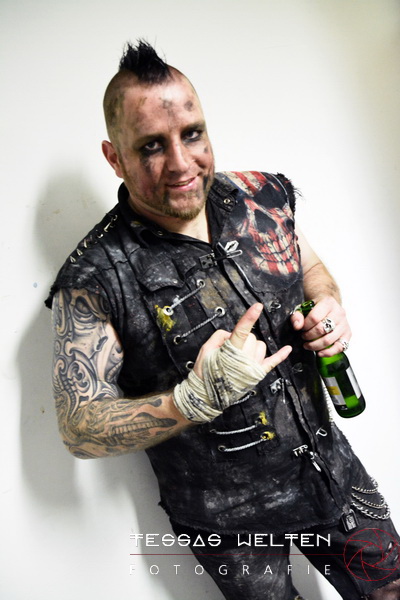 Today is our last interview from this special project for 2016. It is big fun for us to look for new people and great tattoos for you and we hope you like it. We will come back with this project beginning of the next year and have already prepared new surprises for you. So stay tuned. This time we have spoken about tattoos with Bastian, vocals and front man of the dark electro Band INTENT:OUTTAKE from Leipzig. So enjoy this interview.
Reflections of Darkness [RoD]
: When did you get your first tattoo and what was it? Did it take much time until you decided to get it done?
Bastian
:
So, I got my first tattoo with 21 and it was a classic tribal on the arm. After that it had happened to me and months later, I got half of my back beautified. Of course, I already liked tattoos as a teenager, but I thought about it relatively long and I waited for the right tattoo artist / moment.
RoD
: How many tattoos do you have? Could you please tell us their story?
Bastian
:
I am a big fan of morbid / melancholic / abstract tattoos. For me personally, this kind of art is a way to beautify my body and tell a story on my skin. Of course, some tattoos also have a deeper meaning. On the right forearm, for example, I have a compass. Instead of heavenly directions it shows on the letters L, K, G, and F. These letters stand for things which are very important in my life. L stands for Liebe (love), K for Kraft (strength), G for Glück (happiness), and F for Familie (family). In addition, there are many skulls in my sleeve because death is a big topic in my lyrics and my life. Is there a life after death? When are you really dead? What comes after death? On the left arm I have tattooed the word "KAFLETZTI". This is our battle cry and a friendship tattoo. Many of my closest friends have the same one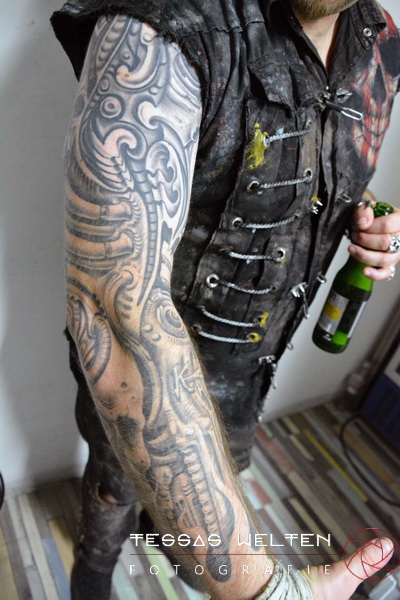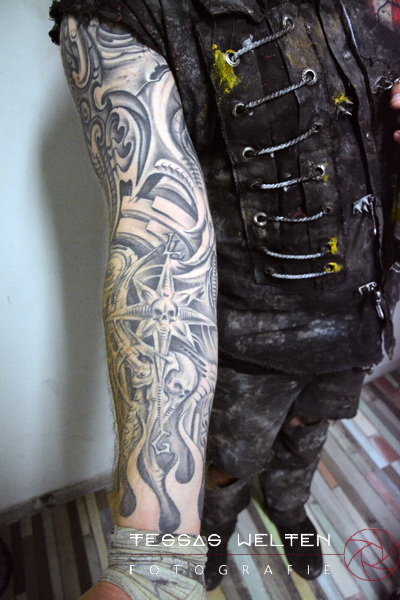 RoD
: Have you already got all the tattoos that you wanted or will you get some new ones in the future?
Bastian
:
There will be more. Dates are already made! Unfortunately, the waiting time is 14 months :( Left arm + hand and maybe neck comes as next.
RoD
: Have all your tattoos been done by one tattoo artist or by different ones? How do you choose the tattoo artist? In addition, who draws your sketches?
Bastian
:
Of course! ;) I have looked a lot in magazines and listened to recommendations of my friends. The first tattoo I've drawn by myself and the second one I assembled by myself. My sleeve was drawn on my ideas freehand and was tattooed after that.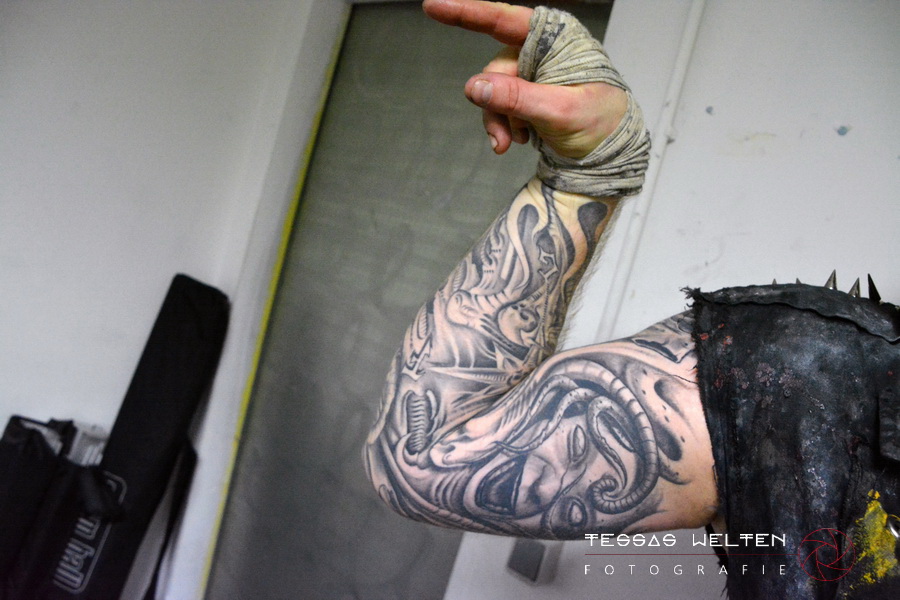 RoD
: Getting tattooed hurts, how do you cope with the pain during the sessions?
Bastian
:
Yes, there are places where it is very painful. However, you need go through this. You have to suffer for beauty (I always think so). However, in some places it is also good. Nevertheless, I think that the body gets used to the pain quite quickly.
RoD
: Do you regret getting tattooed sometimes?
Bastian
:
No
.
RoD
: What is your taboo in terms of tattoos? What kind of tattoo would you never get done and don't like to see on other people?
Bastian
:
Racist motives. Personally, I would never make any facial, head, intimate, or religious tattoos. Other people can do what they want. I do not have to live with it :)
RoD
: Some people say that the drive to acquire body art is addictive while others say it fails to meet the true definition of an addiction, simply calling it a passion. Is it really impossible to stop?
Bastian
:
I really think that addiction is the wrong word. You fall in love with this new look on your skin and want more and more of it. OK yes you become addicted ;)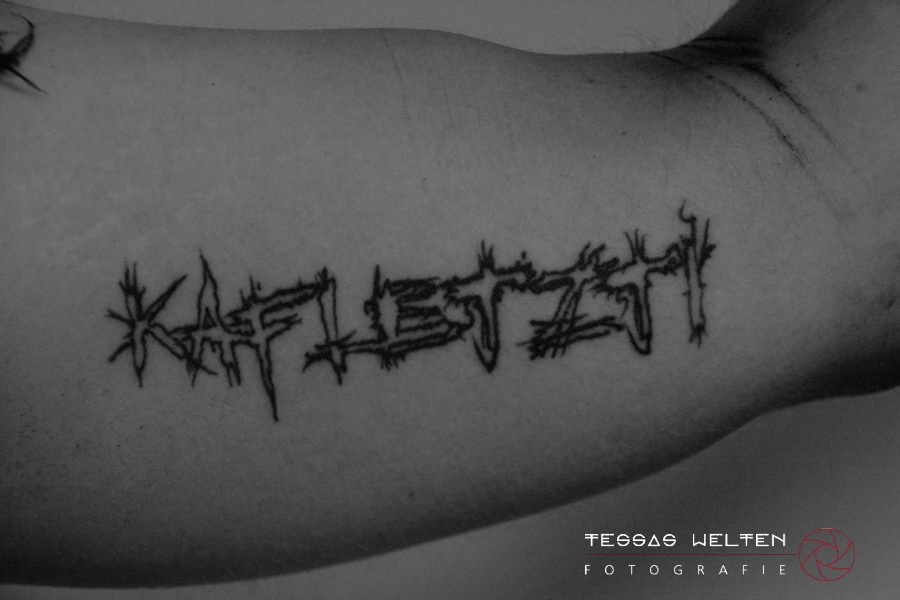 RoD
: Last years' tattoos are a new trend; many people do not care about the meaning, they just want to have something coloured on the skin, to be in trend. Those people often just go into a tattoo salon and ask which drafts they have. Tattoo artists are not artists any more, they produce consumer goods. Not all of them, of course. How do you feel about this situation?
Bastian
:
Difficult question. I think everybody should do what he or she likes. A good tattoo artist will notice very quickly whether one is serious or not. If he is not only interested in your money. However, the tattoo removal industry is supposed to live too.
RoD
: I would like to talk about the social aspect of tattoos, too. Previously, many people believed that if you have a tattoo, you will be never be successful and will not find a "good" job. Have this state of mind and people's perceptions changed or are these prejudices still alive?
Bastian
:
In the older generation, these prejudices are still alive, but the above-mentioned "fashion phenomenon" made tattoos socially acceptable. What I consider is very beautiful. Of course, there are professional branches where tattoos are inappropriate, but everyone needs to decide for himself.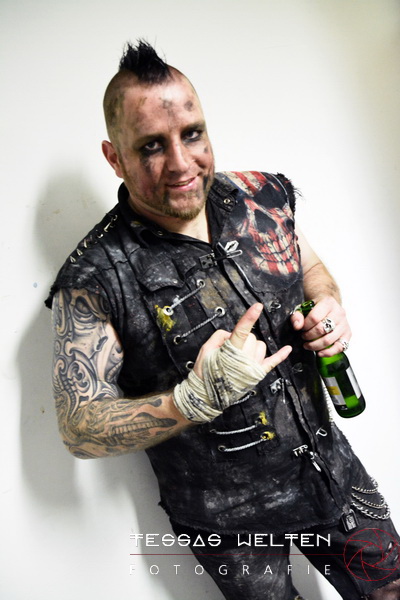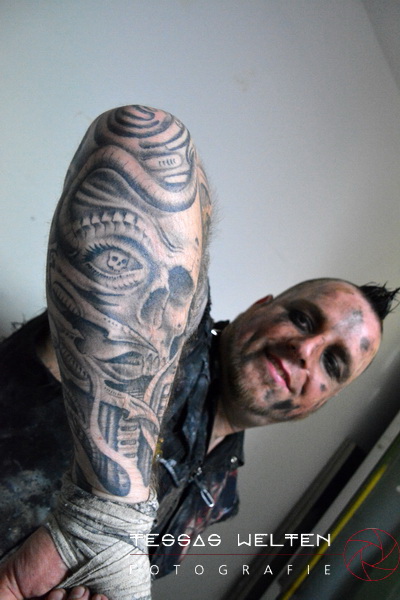 RoD
: Which advice would you give to people who are going to get their first tattoo? How to choose a tattoo artist? Colour or black and white? Any practical advice?
Bastian
:
Tattoos stay forever! Therefore:
- The right choice of motive (Consider it well and take your time)
- find the right tattoo artist (For each motive, there is the right tattoo artist)
- consider long waiting times (Bad tattoo artists have no waiting times)
- Designs and ideas (You will recognise a good tattoo artist when he make a draft of your ideas with you.)
- View the portfolio of his works (Every good tattoo artist has one or few albums with their works. Look at them closely)
- Ink (Whether it's colourful or monochrome, if you have a good tattoo artist, he will use good / non-harmful ink)
Project by Daria Tessa and Daniela Vorndran, Interview by Daria Tessa
Pictures by Daria Tessa (
https://www.facebook.com/tessaswelten
)
See also (all categories):