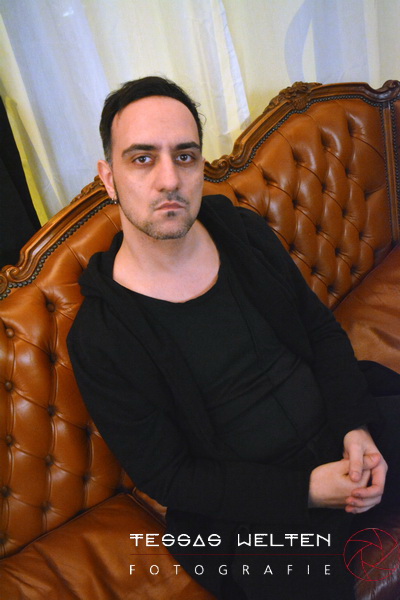 Our Guest today is a very special and important musician for me. So I have taken some time to go to Rome to do this interview and a few other. Many people know Richard from his band SPIRAL69, but last year he has presented his solo work too. The first EP, 'You will know me after these Songs of Faith, Death and Love', was released on 20th December last year and the first album 'The King Of Nothing' will be released later this year.
Reflections of Darkness [RoD]
: When did you get your first tattoo and what was it? Did it take much time until you decided to get it done?
Richard
:
I was 17, it was a tattoo of a famous Japanese Manga on the left arm... it was already a few years that I wanted to do it, I was taken by my father to his friend, a tattoo artist!
RoD
: How many tattoos do you have? Could you please tell us their story?
Richard
:
I've got 26 tattoos... the stories are quite a few to tell... I can tell you that the most important are
- A heart on my chest celebrating my mother passed away three years ago
- The title of a famous song by THE SMITHS on the left arm (there is a light that never goes out) that reminds me that there is always a light in the darkest hours.
- Two skull candy on my chest in memory of a very happy period of my life.
RoD
: Have you already got all the tattoos that you wanted or will you get some new ones in the future?
Richard
:
I want to make many more...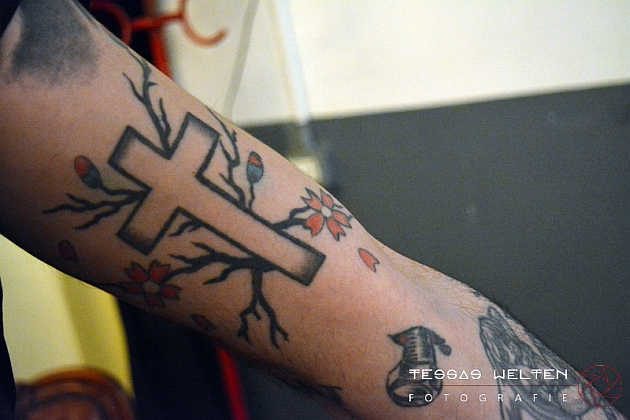 RoD
: Have all your tattoos been done by one tattoo artist or by different ones? How do you choose the tattoo artist? In addition, who draws your sketches?
Richard
:
No, they were made by many different artists in different parts of the world... I like to discover new artists with different styles and get them to their best expressions on my skin… Sketches are always done by me together with the artist who will make the tattoo... It is a ritual that I like!
RoD
: Getting tattooed hurts, how do you cope with the pain during the sessions?
Richard
:
Pain Is Love <3
RoD
: Do you regret getting tattooed sometimes?
Richard
:
Never!
RoD
: What is your taboo in terms of tattoos? What kind of tattoo would you never get done and don't like to see on other people?
Richard
:
I hate the swallows. All types of swallows.
RoD
: Some people say that the drive to acquire body art is addictive while others say it fails to meet the true definition of an addiction, simply calling it a passion. Is it really impossible to stop?
Richard
:
I can't stop... but I think it is always your body that asks himself the ink… it is a sort of addiction yes!
RoD
: Last Year's tattoos are a new trend; many people do not care about the meaning, they just want to have something coloured on the skin, to be in trend. Those people often just go into a tattoo salon and ask which drafts they have. Tattoo artists are not artists any more, they produce consumer goods. Not all of them, of course. How do you feel about this situation?
Richard
:
I have seen the birth and death of this thing... now it is a trend that already passed... there are many assholes now seeking ways to remove tattoos paid gold in the hot of the moment, they were convinced they wear some fashionable clothes…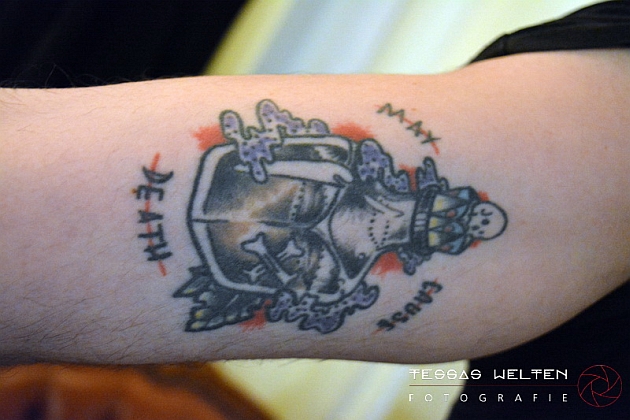 RoD
: I would like to talk about the social aspect of tattoos, too. Previously, many people believed that if you have a tattoo, you will be never be successful and will not find a "good" job. Have this state of mind and people's perceptions changed or are these prejudices still alive?
Richard
:
This thing has changed slightly but it is still so... at least regarding Italy... Here if you have visible tattoos, you cannot do important work, and people will still look at you like a bandit! :)
RoD
: Which advice would you give to people who are going to get their first tattoo? How to choose a tattoo artist? Colour or black and white? Any practical advice?
Richard
:
First of all it is important to get a tattoo with intelligence, if you REALLY want to be tattooed and want to bring an indelible mark on the body. Be very well informed about the artist who will make the opera and see many of his works. Then think about it very well... because it is a one way street.
Project by Daria Tessa and Daniela Vorndran, Interview by Daria Tessa
Pictures by Daria Tessa (
https://www.facebook.com/tessaswelten
)