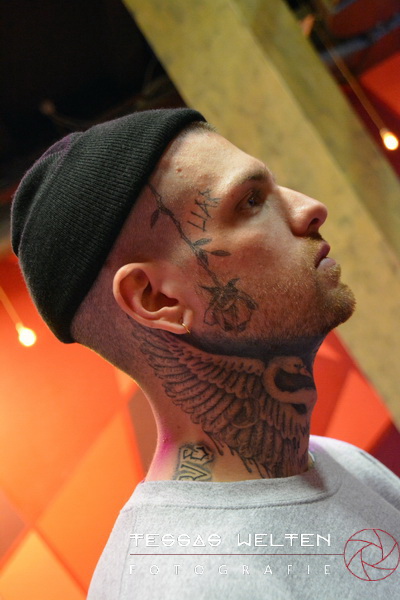 We are continuing our search for new and interesting artists for you. When I saw Boris for the first time, I knew I want this man to be a part of our project and luckily it has worked out. Many of you know Boris as finalists of "The Voice of Germany 2016" from "Team Yvonne". But I got the possibility to see another side of Boris, a gig with his Hardcore band COYOTES, which is quite a different but absolutely brilliant experience. Before this concert we took the time to talk about his tattoos.
Reflections of Darkness [RoD]:
My first question is not really connected with our project, it is rather general. I think you have been often asked about this. How is life after "The Voice of Germany"?
Boris:
It has changed a lot, but I've changed my life a lot before. Already a year ago I've moved away from home. And then I participated in "The Voice of Germany". Now I'm moving again, from Hamburg to Berlin. Yes, I met a lot of new people, gained a lot of experience. It was a really good experience.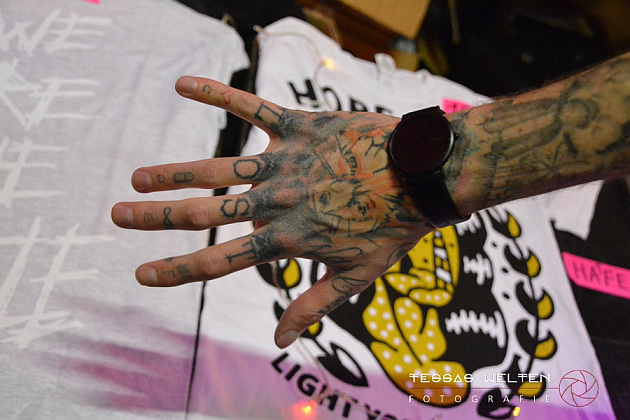 RoD:
What I personally absolutely admire is that after all you still doing your stuff with your band.
Boris:
Yes, nobody can take it from me.
RoD:
When did you get your first tattoo and what was it? Did it take much time until you decided to get it done?

Boris:
I did my first tattoo with 18. Nothing illegal. But my mother did not talk to me for two months after all. This was such an upper arm tattoo and I have a thought about it relatively long and asked a tattoo artist to make a sketch.
RoD:
How many tattoos do you have now?

Boris:
No idea, I can no longer tell the number. But there are still a few free places.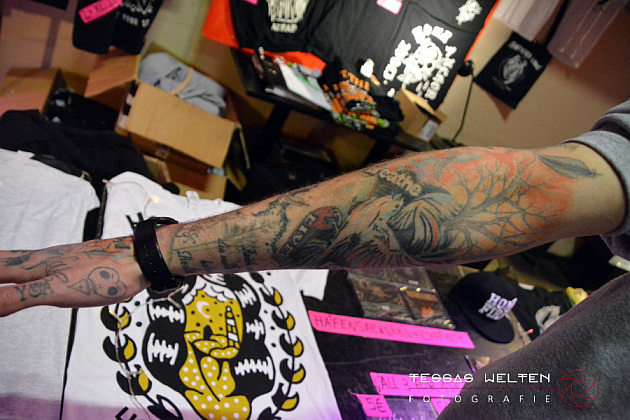 RoD:
Could you tell the stories about some of your tattoos? I am personally interested in the story of the rose which you have made during "The Voice Of Germany".

Boris:
So, the "Liar" and the rose are standing together. This means that you should not be lying to yourself all the time, that you should question your own thoughts and that you should turn your own world image upside down. That's why the rose is upside down. You should just look at everything from a different angle and ask yourself which of your thoughts in your head have been simply forced and of they are perhaps not your own thoughts. You should check what you really think, what you really want from life, what is really important to you and what are just concepts which are coming from outside.
RoD:
A further question if you like to get more tattoos you have actually already answered, I think…

Boris:
Yes, definitely, sure.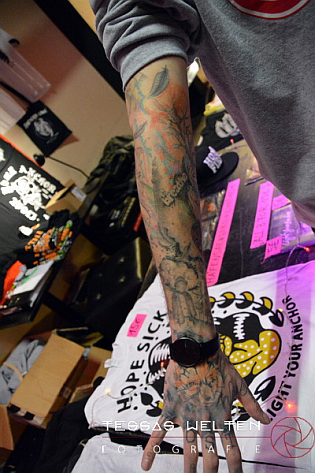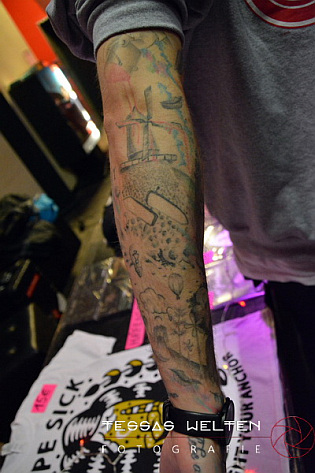 RoD:
And you probably did not get all your tattoos done by the same tattoo artist?

Boris:
Almost. My first tattoo was made by my buddy in Wuppertal. My other ones are from another tattoo artist who is also a good friend of mine. I still have two tattoos of friends, one from my drummer and one from my best friend.
RoD:
And who has made the sketches? Did you make them or were they made together with the tattoo artist?

Boris:
Partially, sometimes I did it, sometimes the tattoo artist, so mixed. One of my tattoos is a freehand work of a tattoo artist. I said, just do what you want. He was just making a tattoo without sketch directly on the skin.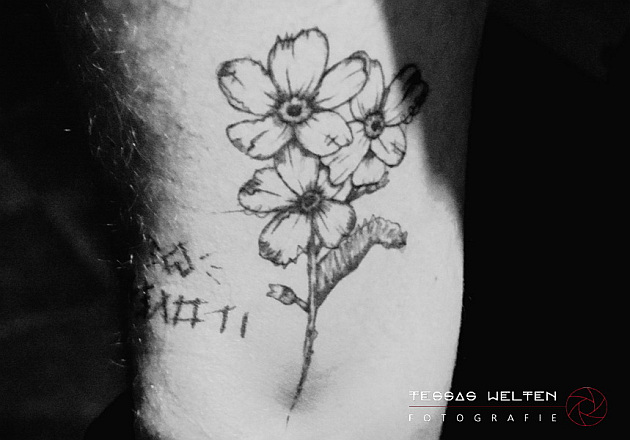 RoD:
Getting tattooed hurts, how do you cope with the pain during the sessions?

Boris
:
I'm such panic attack patient and I let myself be tattooed almost because I'm afraid of losing control. When I am tattooed, I always get the panic attacks and I just do it consciously to stay with me and not let me go. So it is also training for me.
RoD:
Ok, I heard such an answer for the first time… that you can also use tattooing as a therapy.

Boris:
Yes, I believe you.
RoD:
What kind of tattoo would you never get done and don't like to see on other people?

Boris:
I don't like tribal stuff or biomechanical tattoos. That's simply not my stuff. But I do not care about things others do. Others are supposed to do what they want to do. This is up to them.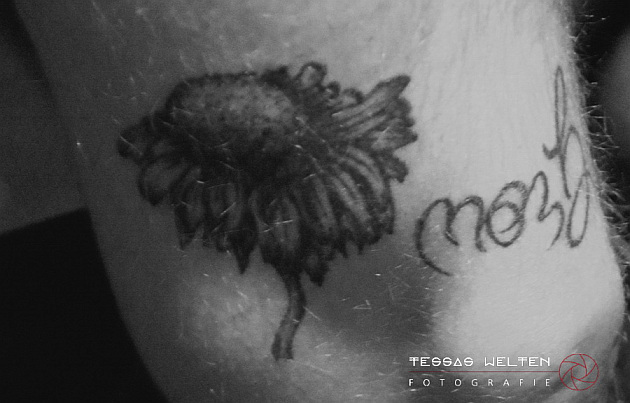 RoD:
Some people say that the drive to acquire body art is addictive while others say it fails to meet the true definition of an addiction, simply calling it a passion. Is it really impossible to stop?

Boris:
I think, if you have affection for it, it can make you addictive. But I would not call it an addiction now. It is more about a limit that you are crossing and a process that you simply can experience. This has nothing to do with addiction. It is simply about feeling pain.
RoD:
I think tattoos are something what brings us near to what we want to be.

Boris:
Yes, I agree.
RoD:
That's why some people are saying I will stop only when I have no more free space.

Boris:
Yes, and it will probably be the same for me too. I think.
RoD:
Currently, tattoos are a new trend; many people do not care about the meaning, they just want to have something coloured on the skin, to be in trend. Those people often just go into a tattoo salon and ask which drafts they have. How do you feel about this situation?

Boris:
I do not care. If people get a tattoo only because of a trend, it's their own fault. They do not favour themselves. If it is only a phenomenon of fashion, the time will come when they will not like it anymore. That's why I'm sorrier than I'm angry about it. It's their bodies, but probably they will get annoyed. But I think they will never do it again.
RoD:
I feel very sorry for the tattoo artists every now and then when they turn from an artist to a mass producer.

Boris:
Yes, but as a tattoo artist - I am a tattoo artist myself - you can simply refuse. You do not have to do it. Anyone who participates in such a mass production is just to blame himself. Either he wants to do it or he can say no at any time. That's my opinion. I do not make Schlager music because I could make more money. I'll do what I want and like to do.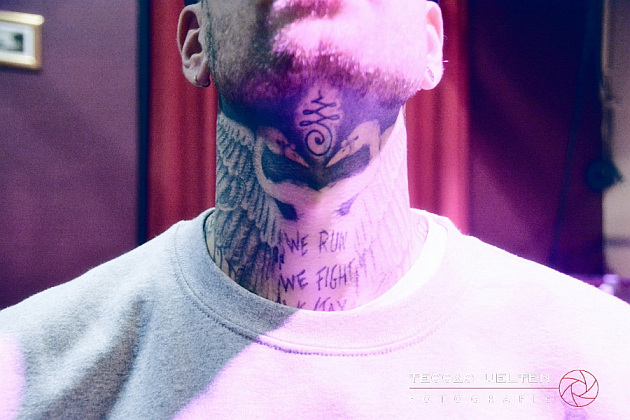 RoD:
I would like to talk about the social aspect of tattoos, too. Previously, many people believed that if you have a tattoo, you will be never be successful and will not find a "good" job. Have this state of mind and people's perceptions changed or are these prejudices still alive?

Boris:
There are people who look askance at me, it's true. I do not know about the job, I never wanted a normal job. That's why I cannot judge it.
RoD:
Yes, with you it is the case that you have visible tattoos too; there is no way to cover them in some way.

Boris:
I've also deliberately made that. I think to take myself out of the choice to do a normal job.
RoD:
Which advice would you give to people who are going to get their first tattoo? How to choose a tattoo artist? Colour or black and white? Any practical advice?

Boris:
With black you can do nothing wrong. And yes, it should have a meaning. And I would not make a tattoo of any names of your girlfriend or boyfriend. Grandma, Grandpa is ok but everything else I find difficult. Otherwise, for the first tattoo, as I said, the meaning is important, that you can identify yourself with it. And you should also check out a few works by tattoo artist, try out a few different things, talk to some tattoo artists and go to one with whom you personally feel most comfortable. It is, of course, very important to have a good connection to the tattoo artist.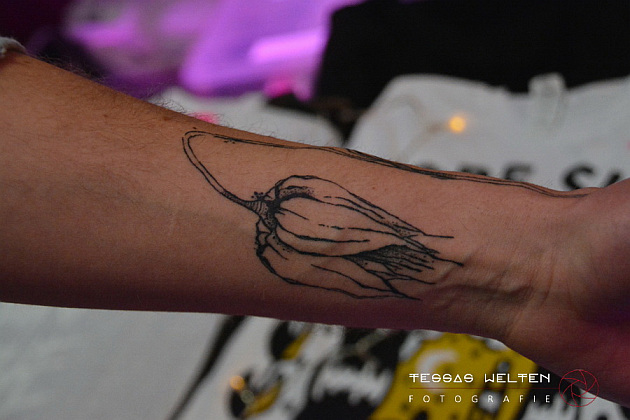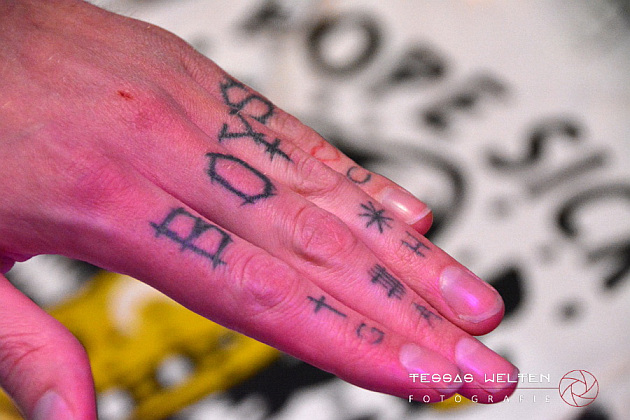 Project by Daria Tessa and Daniela Vorndran, interview by Daria Tessa
Pictures by Daria Tessa (https://www.facebook.com/tessaswelten)