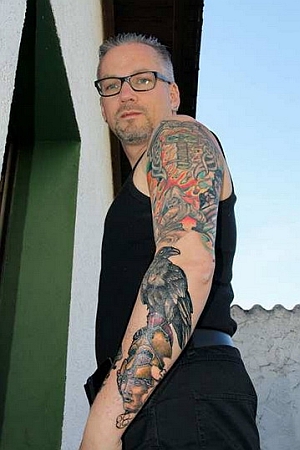 Today, Sven Phalanx from SCHWARZWALD and SCHATTENSPIEL agreed to answer our questions. He fascinated me with his Edgar Allan Poe tattoo and the magic steampunk air balloon. Let's find out how he came to these ideas.
Reflections of Darkness [RoD]
: When did you get your first tattoo and what was it? Did it take much time until you decided to get it done?
Sven
:
I have made my first tattoo when I was 18 or 19. It's a dragon on the shoulder and I got it made in the cellar by a buddy... almost a youthful folly! I have not thought about it for a long time... I found tattoos always great and as a child, I always proudly put tattoo stickers from gums on my arms.
RoD
: How many tattoos do you have? Could you please tell us their story?
Sven
:
How many? Counting full-tattooed arms as one tattoo? ;-) I have tattoos on arms, chest, shoulder and leg. There are no direct stories behind them. For example, I have dedicated my arms to my two favourite writers Edgar A. Poe and Jules Verne. A paw print of my dead cat, a music key as sign dedicated to music, an engagement tattoo and the infinity sign as a friendship tattoo with two important people - you can see this as my story.
RoD
: Have you already got all the tattoos that you wanted or will you get some new ones in the future?
Sven
:
Currently, I am working on my Edgar A. Poe project on the left forearm. I have already had the first meeting. If I have all tattoos made? Surely not... my body is a project that never ends. I still have so many ideas, but just too little space on the body! In between, however, I often take longer breaks, so I will not be completely colourful in five years, but can spent a lot of time with making this.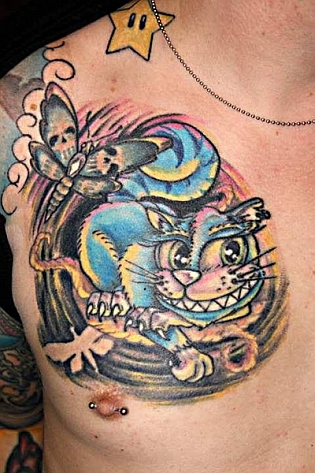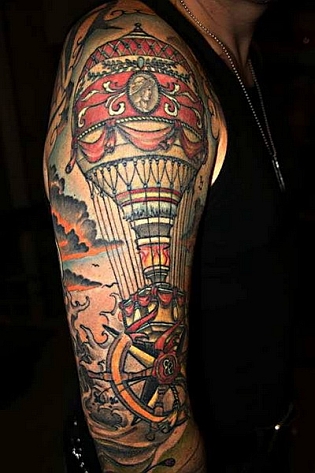 RoD
: Have all your tattoos been done by one tattoo artist or by different ones? How do you choose the tattoo artist? In addition, who draws your sketches?
Sven
:
At the beginning I had different tattoo artists, until I got to know my current tattoo artist. I trust him blindly, I tell him what I want to do, he greatly implements my ideas and he also makes sketches.
RoD
: Getting tattooed hurts, how do you cope with the pain during the sessions?
Sven
:
The joy is greater than the pain and I love to see how during many hours a great work will be implemented on my body to stay there for eternity!
RoD
: Do you regret getting tattooed sometimes?
Sven
:
I have no regrets and I will not have any. Maybe I would not do one or another of them nowadays, but it is a reflection of my development; with each life section you have different preferences and interests and I can find this on my skin again.
RoD
: What is your taboo in terms of tattoos? What kind of tattoo would you never get done and don't like to see on other people?
Sven
:
Everybody is supposed to get what he/ she likes or what is important for them. My personal taboo are tattoos in the face.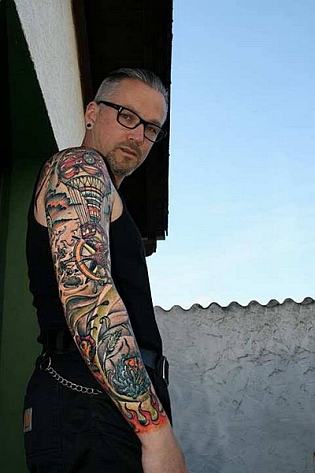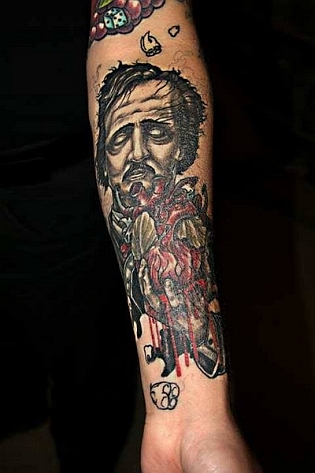 RoD
: Some people say that the drive to acquire body art is addictive while others say it fails to meet the true definition of an addiction, simply calling it a passion. Is it really impossible to stop?
Sven
:
I can only confirm this... either you make one and then never again or you'll be just addicted to make the next one!
RoD
: Currently, tattoos are a new trend; many people do not care about the meaning, they just want to have something coloured on the skin, to be in trend. Those people often just go into a tattoo salon and ask which drafts they have. Tattoo artists are not artists any more, they produce consumer goods. Not all of them, of course. How do you feel about this situation?
Sven
:
I often realize this during my tattoo sessions and I am partly sorry for the tattoo artists. I accept them as artists and get them as much freedom as possible to do their creative work. People who want getting tattooed for fashion reasons do not see tattoo artists as artists, but as service providers. I have seen a tattoo artist who told a young woman that she should think again a night about this idea after he had invested twenty minutes to move a sketch each time a few millimetres because the customer has always told that it's not right and it looks bad on this position... I thought this was a great reaction from the tattoo artist to send her home and he had the laughter on his side!
RoD
: I would like to talk about the social aspect of tattoos, too. Previously, many people believed that if you have a tattoo, you will be never be successful and will not find a "good" job. Have this state of mind and people's perceptions changed or are these prejudices still alive?
Sven
:
Unfortunately, there are still these prejudices... especially in professional life. Small "trend tattoos" are largely accepted, but big tattoos are still marked as "asocial". And I notice that tattoos on women are considered as sexy... when men are tattooed rather not. But there are enough people who like the "Bad Boys"!!!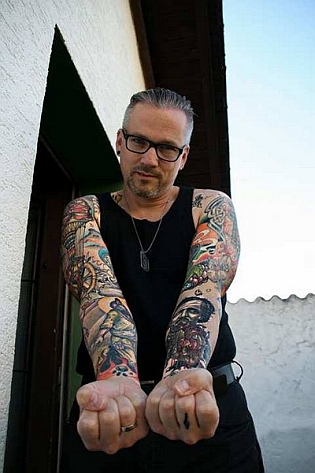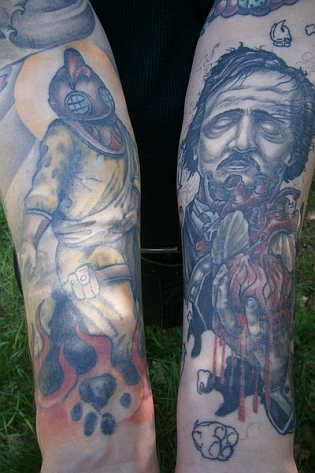 RoD
: Which advice would you give to people who are going to get their first tattoo? How to choose a tattoo artist? Colour or black and white? Any practical advice?
Sven
: Think well about it before and not only when you are already in the tattoo studio! It is for eternity and it also hurts... but that is exactly how it should be! Look for a tattoo artist with whom you feel good and free and you are on the same wavelength, that is the most important thing. Colour or black depends on your taste, so you should decide it for you... I personally like it colourful!
Project by Daria Tessa and Daniela Vorndran, interview by Daria Tessa
Pictures 1-6 by Jill James
Picture 7 by Polarlicht
More about Schwarzwald and
Schattenspiel