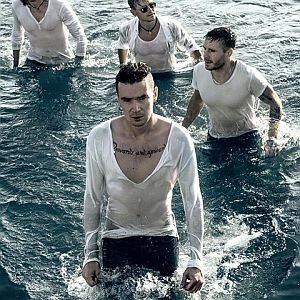 Today, we are happy to present an interview with another great musician from Ukraine - the lead singer of the Rock band EPOLETS, Pavlo Varenytsya. The musicians are having a busy time touring Ukrainian cities to support their new album 'Діти моря' ('Children of the Sea'). However, we managed to speak with Pavlo, who was glad to support our tattoo project. We hope that we were able to expose some marine parts of the soul of the captain of the ship called EPOLETS.
Reflections of Darkness [RoD]
: Before we start talking about tattoos, I would like to ask you a few questions about your band. As we know, you have recently released a new album 'Діти моря' ('Children of the Sea'). Please tell me if you are satisfied with the end result of your work? How did your fans react to the new songs?
Pavlo
:
In fact, it's the first time in our band's history that we needed so much time to "give birth" to an album, if that's the right metaphor. We did not record this album because we had too few songs and we wanted to have more. We have so many songs. But we wanted to try to release a couple of singles in order to give people the first taste of the album, and then just release the rest of the songs and go on tour. The only way we can gauge how the audience accepted the album, is probably only based on how our concerts go. And so far, everything was very cool at our shows, we really liked how they went! It's very difficult to gauge success using social media now because Vkontakte social network was shut down in Ukraine, and that's where our main audience was - same as for most Ukrainian bands out there. We are starting to use Facebook more, but not everyone has fully migrated to this platform yet. As for concerts, everything is going well. In fact, each album that we release is accepted by the listeners in a different way. 'Діти моря' is our fourth album. And I think that it will start getting more traction and attract new listeners after the New Year's. But our main audience received the album very well.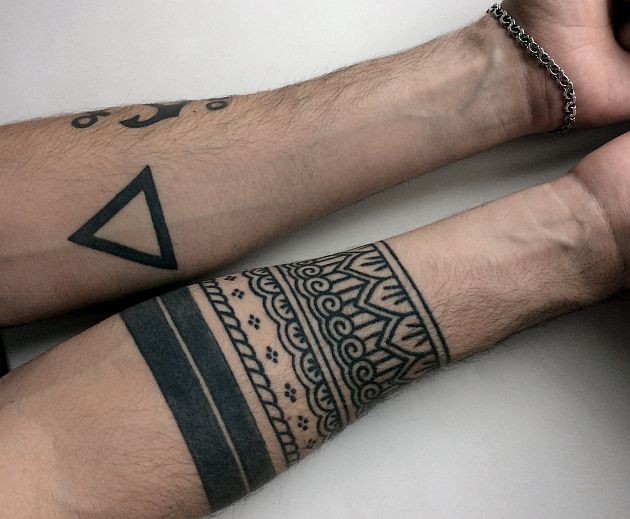 RoD
: EPOLETS participated in such a large-scale Ukrainian project as X-FACTOR. How much do you think this project affected your band, and you personally? How important are projects like this for young Ukrainian bands?
Pavlo
:
Participation in such projects is still one of the few ways to quickly introduce your music to a large number of people. From this point of view, this is a very handy tool.
RoD
: And what if you were invited to take part in project like this, but somewhere else instead of in Ukraine? Would you be interested?
Pavlo
:
Yes, it would still be interesting even if it was not in Ukraine. With that being said, there are no such projects in Ukraine anymore. "Voice of the Country" is the only show of that kind that we have left.
RoD
: Let's go back to the main subject of our conversation. As I said earlier, the main goal of our tattoo project is to show that tattoos are a form of art. Do you agree with this statement?
Pavlo
:
Yes, of course. A tattoo is a picture. And any drawing is a form of art. It is a way of expressing yourself, making a statement of sorts. After all, you can tattoo a specific word, and it will not just mean that you are saying something to the world, it will help you motivate yourself. Or you can gradually get more and more tattoos that will form a larger piece, like works of art hanging on a wall, but instead you will be using your body to display them. But when it comes to me, I'm terrified of big tattoos. However, I still want to get a complete "sleeve" someday. In my opinion, you need to nurture and gradually develop the idea of any tattoo that you want to get. I do not get tattoos spontaneously. I plan them thoroughly. I can draw a test version the day before to get used to it. It also makes it easier to see, whether I chose the right place.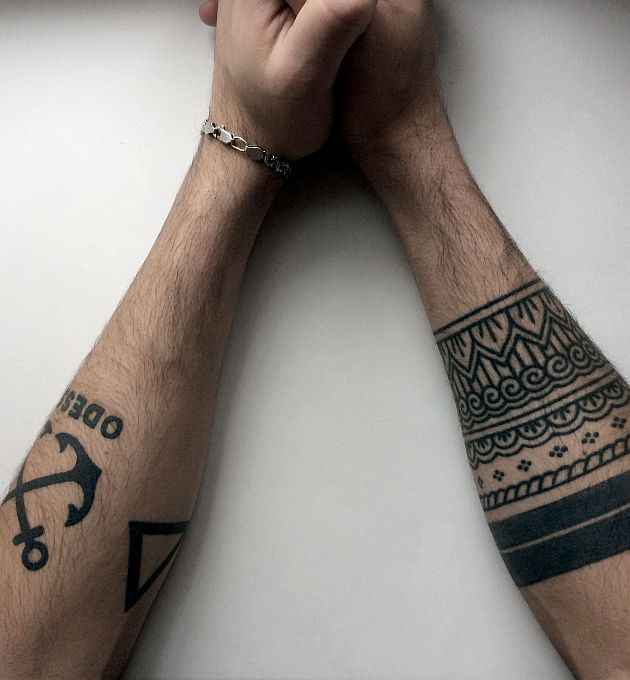 RoD
: When did you get your first tattoo and what was it? How long did it take you to decide to get it?
Pavlo
:
My first tattoo was completely thoughtless. It is a triangle on my hand. I just wanted to make me our logo - dogma, but then changed my mind, and the only thing that remained was a triangle. I do not want to touch it for now - I have not figured out what to do with it yet.
RoD
: How many tattoos do you have? Can you tell us how you got them?
Pavlo
:
Well, I have dedicated one arm to the marine theme. I did all the sketches myself. There are two anchors, and I would like to add a sailboat that I worked on in Odessa. And I wanted to start with a lotus flower on my other arm. Lotus is a flower that sprouts from something dark but is very light in itself. That is a ray of light that breaks out of darkness. I liked the idea, but all the sketches I looked at were too feminine. I thought that this could be easily misunderstood. As a result, I decided to continue the Indian theme and go with the patterns in this style. And then our guitar player and I proceeded to make me two lines. The end result was not successful - it turned out very crooked. I had to process it, and it will be better when I collect all the beautiful patterns. I have the words "Onwards" and "Upwards" tattooed on my chest (there is an old saying that literally translates "go ahead and keep singing" - it means "go ahead and try"). The tattoo on my neck is also one of my first tattoos - it is a bird, which is a symbol of freedom. That's the way I express my love for freedom.
RoD
: Did you already get all the tattoos that you wanted, or do you plan to get some new ones in the future?
Pavlo
:
I have been trying to start my next tattoo for a year and a half. I want to finally finish my sleeve, to completely fill it with patterns. And I would like to do three waves and add the name of our album 'Діти моря'. I can spell out the word "sea", with marine tattoos on the other arm. I would like to add a sailboat, as I already said.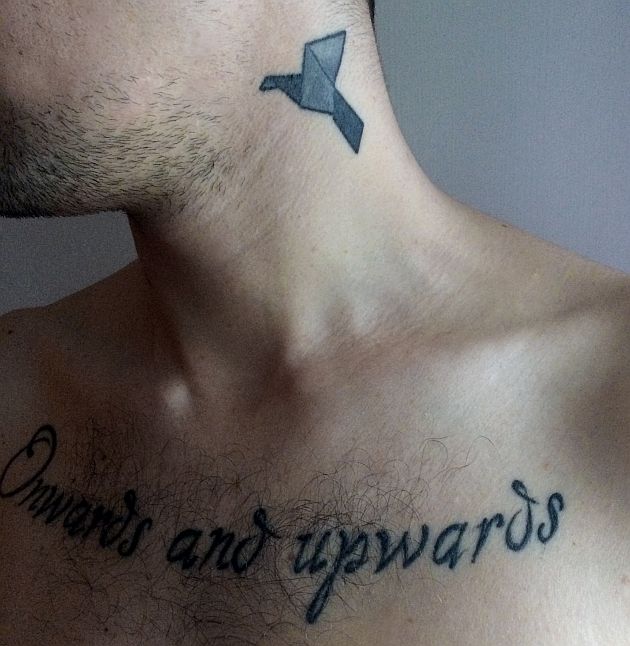 RoD
: Did you get all your tattoos done by the same tattoo artist or by different ones? How do you choose a tattoo artist? And finally, who draws your sketches?
Pavlo
:
Most of them were done by one tattoo artist. The only exception is the tattoo on my chest. It was done by a friend of my friend. I usually get inked by the same tattoo artist from Odessa. I do the sketches myself, but if something does not work out, then I show the concept to that artist, and she refines them.
RoD
: Getting tattooed hurts. How do you cope with the pain during the sessions?
Pavlo
:
I can fall asleep in the process, but more often I listen to music or read a book. However, it was very painful to get my chest tattooed, especially the spot over the bones. I think it hurts to tattoo any part of your body with thin skin that is close to a bone.
RoD
: Have you ever had any regrets about getting tattooed?
Pavlo
:
Never. A couple of weeks ago, I realized that I was too busy to start working on my next tattoo design. It seems to me that I made a new one every year. It was a tradition. And I have been dragging on with this one for almost two years now.
RoD
: Is there a taboo for you when it comes to tattoos? What image would you never get yourself and what don't you like seeing on other people?
Pavlo
:
I do not like tattoos on legs. Especially on girls. I believe that women's legs are the part of the body that cannot be emphasized with tattoos. The reason behind it is that girls can have beautiful legs or ugly legs, and in both cases, it is not necessary to decorate them.
RoD
: Pasha, there are no ugly girls!
Pavlo
:
I did not say that there were ugly girls!
RoD
: There are no girls with ugly legs!
Pavlo
:
Well, it's a taboo for me. I have never seen a pretty tattoo on a girl's leg. By the way, I don't like tattoos on guys' legs either.
RoD
: Some people say that the drive to acquire new body art is addictive while others say that it fails to meet the true definition of addiction, simply calling it passion. Is it really impossible to stop?
Pavlo
:
No, that's not the case for me, although I've heard this before. I even heard it from our first drummer, who was completely covered in tattoos. He told me that if you start, you will not be able to stop. But if you take me for example, then I have not been able to find time to add anything for the second year in a row. So that's not true.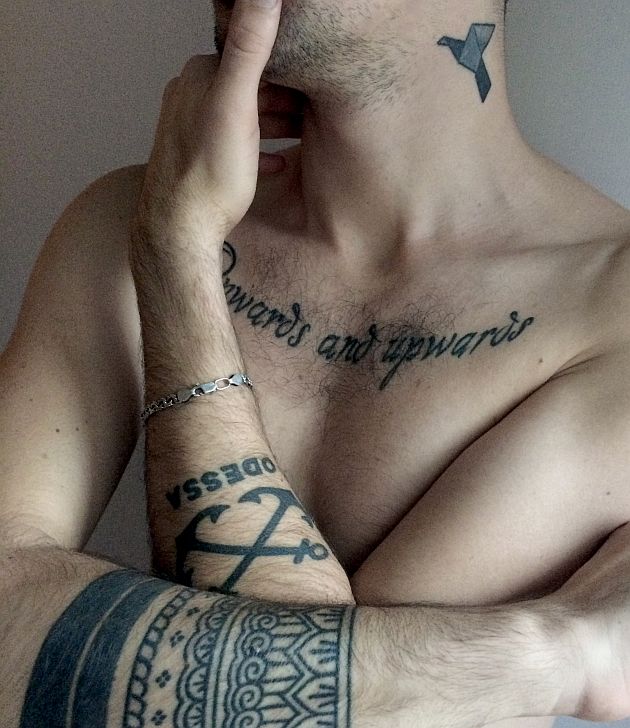 RoD
: Tattoos have become a fashion trend; many people do not care about the meaning behind them, they just want to have something colourful on their skin, to be trendy. Those people often just go to a tattoo salon and ask them to show the available drafts. Tattoo artists are not artists any more, they are kind of like production line workers now. Not all of them, of course. How do you feel about this?
Pavlo
:
It is a trend. Now is the time for it, but it will pass. Everything is changing fast these days.
RoD
: I would also like to talk about the social aspect of tattoos. Back in the day, many people believed that if you had a tattoo, you would never be successful and would not find a "good" job. Has this mind-set and people's perception changed or do these prejudices still exist?
Pavlo
:
Based on the stories my friends tell me, I think it's not true anymore. I find it difficult to judge from my personal experience, since I have never had an office job. Our "enterprise" is our band EPOLETS. And I did not have any tattoos back when I was working at sea, but I'm sure I would not have upset anyone even if I had been completely covered in tattoos. Just like nobody was upset that I had long hair and pierced ears.
RoD
: What advice would you give to the people who are going to get their first tattoo? How should they choose a tattoo artist? Should they get it done in colour or in black and white? Can you give any practical advice?
Pavlo
:
I cannot give any advice about the colour. But personally, I do not like colourful tattoos. I would give only one advice - try to get in touch with an experienced tattoo artist, and make sure that they use sterile equipment. The choice of a tattoo, or deciding when you want to start doing them you are all up to you, and in my opinion, there should not be any counsellors on this matter. It is the same as with choosing a sexual partner - you cannot advise someone that he cannot have sex with a blonde or brunette. Everyone makes their own choices.
Listen to the new EPOLETS album favourite platform:
iTunes:
https://goo.gl/dJHx6v
Deezer: https://goo.gl/HfAABe
Spotify: https://goo.gl/kdxsmu
Soundcloud: https://goo.gl/1e5BbX
Youtube: https://goo.gl/Mnx8Zr
Official page: http://epolets.com/
Project by Daria Tessa and Daniela Vorndran, Interview by Iryna Kalenska, Daria Tessa & Perverted-Puppet
Photos: Photo 1: Dmitry Komissarenko, Photo 2-5 Pavlo Varenytsya