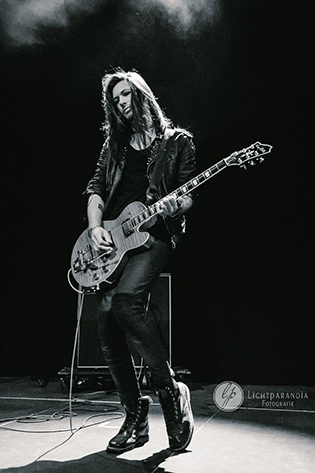 Our search for new interesting artists is going on. Our guest today is Nikolas Eckstein from Goth Rock, Darkwave band WISBORG from Hanover. In April this year, the band has released a new album, 'The Tragedy Of Seconds Gone', at Danse Macabre Records and currently working on new release. And in December you will have the possibility to see all this tattoos about you will read here today live, because WISBORG is going on tour together with VIRGIN IN VEIL, THE SPIRITUAL BAT and ASTARI NIGHT.
Reflections of Darkness [RoD]
: When did you get your first tattoo and what was it? Did it take much time until you decided to get it done?
Nikolas
:
I was 18 when I got my first Tattoo, it's the ankh of the 'Vampire: The Masquerade' RPG. Kinda nerdy, but at that time I was totally into that stuff; vampires, video games, role-playing games and so on. The love for video games is still existent and manifests in another tattoo I got around 10 years later as well. The decision was very spontaneous, I just thought it'd be pretty cool. I wouldn't get it today, but as with every tattoo I have I never felt sorry for getting it. It's a part of my history and represents that specific time for me.
RoD
: How many tattoos do you have? Could you please tell us their story?
Nikolas
:
My left arm is full of symbols that define me. It's not a real sleeve tattoo, even though I got it from the same artist over a pretty short period of time. The old ankh is now embedded in crows that come out of the head of a zombie face. I have to admit that there's not that much behind it, I just love the zombie genre in general. The omega symbol stands for the transience of all things, but not in a depressive, nihilistic way, but as a reminder to carpe the fuck out of that diem. The "Nowhere" writing refers to my belief of where we all come from and where we're all gonna go - the typical atheism thing. It also represents how I feel about my family roots; there were a lot of important times where I had to find my way on my own, so it feels like I'm just coming from nowhere. The clock around the elbow, well... carpe diem, use your time, etc., etc...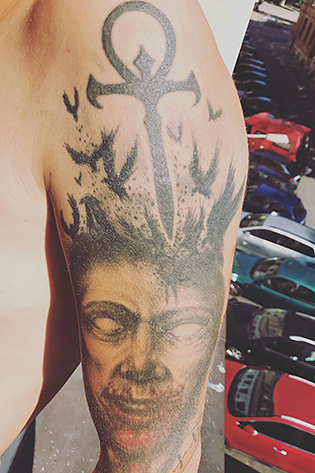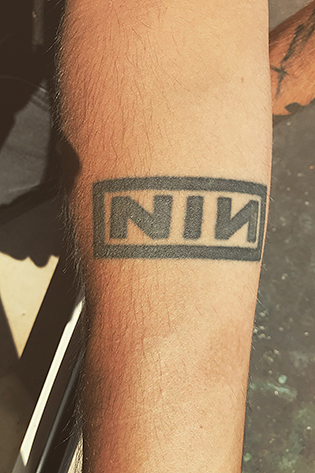 There are two frames on the back of my upper arm; one shows a metal tower within a natural surroundings, the other shows a dragon-fly. The tower is a real tower from the town where I grew up. It actually doesn't really look like it, but well, it's just a reference. I have a lot of good memories attached to that place from when I played there as a kid. The dragon-fly is my symbol for an unprejudiced way of seeing strangers. Even though it looks dangerous and got nicknames like "horse-stinger" or "devil's darning needle", they actually don't sting and aren't dangerous in any kind of way. You can transfer that to the first impression you get from some people, most of the time you have to look behind the facade. That's something I practice to this day. And then there's my old school video game menu. I've been playing video games since my youth and never lost the passion for doing it.

On my right leg is a graphical narwhale which was done by my ex-girlfriend. I got her a tattoo machine for Christmas and she needed someone to practice on. I'm not sure if she's still into doing it. On my right lower arm is the NINE INCH NAILS logo which I got shortly after my first tattoo. Of course I'm a pretty huge fan of Trent Reznor's music, but it also accompanied my last 15 years of lifetime. In nearly every situation there's somehow a NIN Song that fits to my mood and thoughts. The newest thingy is the door on the back of my right upper arm. I liked the idea because a door is pretty symbolic regarding the possibilities you have. Lock it, leave it ajar, push it open or peek through the keyhole. The door was done by Naemi tattoart & illustration (https://www.facebook.com/naemirothtattooundillustration) in a copperplate style. I knew her for many years, but at some point we lost contact somehow. The tattoo was a very good reason to meet up again. The door is actually a real door from the city of Valletta on Malta. Naemi was there on vacation right before I went to her with my tattoo idea and took pictures which we used as reference.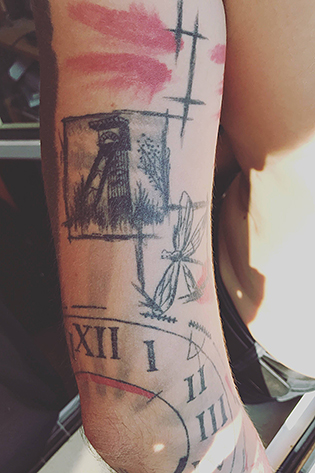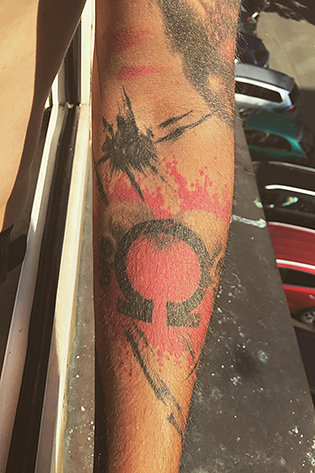 RoD
: Have you already got all the tattoos that you wanted or will you get some new ones in the future?
Nikolas
:
Of course there's a lot more to come, that's the thing when you start getting tattoos. I plan on getting a portrait of Cesare, the sleepwalker from "The Cabinet of Dr. Caligari", in reference to the first single I released with WISBORG. Our band is silent movie themed, and I think it's a good way of getting the memories and feelings from working with Konstantin under my skin.
RoD
: Have all your tattoos been done by one tattoo artist or by different ones? How do you choose the tattoo artist? In addition, who draws your sketches?
Nikolas
:
Overall, there were four people involved with my body. I actually don't know the name of the first artist, but he just did the sketches I brought to him anyway. Back then when I still lived in Hanover I used to go to Mirko who worked at Kustom Kings. I think he got his own studio now. He had a great impact on my whole arm, the zombie portrait for example is completely improvised by him. I just had a vague idea of what I wanted. In every session, we were deciding spontaneously which motive we're gonna do and where it's gonna be. The red ink-lines were scrawled with real paint first and then immortalized with tattoo ink. I really love these kind of spontaneous workflows, I do it the same way when it comes to making music with WISBORG. I really love Naemi's interpretation of the door. I saw her first sketch and knew that it was perfect. I'll definitely visit her again.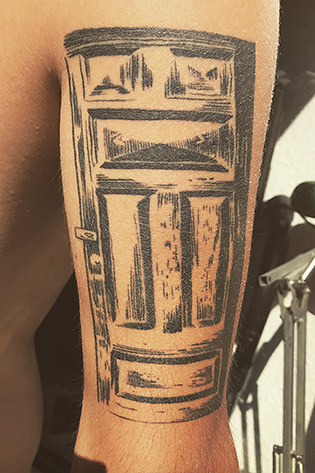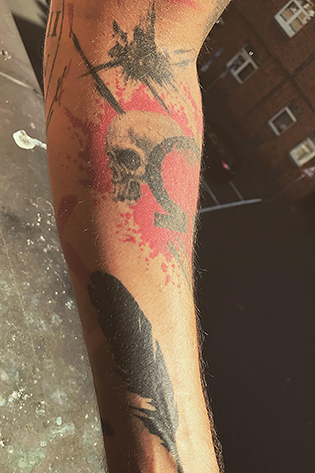 RoD
: Getting tattooed hurts, how do you cope with the pain during the sessions?
Nikolas
:
Fortunately, I never had a problem with that kind of pain and never had to pause a session. On the other hand, the body parts where I have tattoos aren't as critical as, for example, the hips.
RoD
: Do you regret getting tattooed sometimes?
Nikolas
:
I never did. I wouldn't get all of them today, but every single one stands for a specific time in my life that I wouldn't want to forget.
RoD
: What is your taboo in terms of tattoos? What kind of tattoo would you never get done and don't like to see on other people?
Nikolas
:
A swastika on the chest.
RoD
: Some people say that the drive to acquire body art is addictive while others say it fails to meet the true definition of an addiction, simply calling it a passion. Is it really impossible to stop?
Nikolas
:
There are some people who are just fine with their one or two tattoos, so I guess we don't have to worry about having a real addiction; still, I understand the passion behind it, since it actually drives me to go on. Plus I'm really into the look, for me it will always be a kind of Rock'n'Roll thing.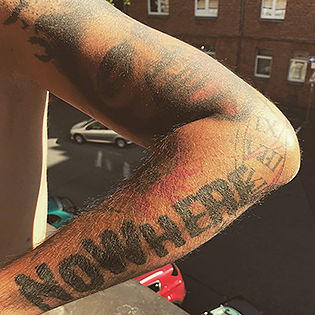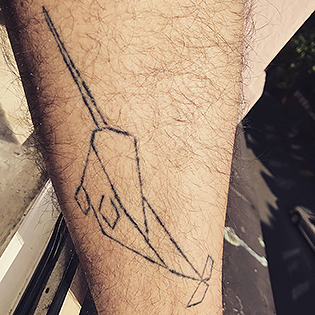 RoD
: Currently, tattoos are a new trend; many people do not care about the meaning, they just want to have something coloured on the skin, to be in trend. Those people often just go into a tattoo salon and ask which drafts they have. Tattoo artists are not artists any more, they produce consumer goods. Not all of them, of course. How do you feel about this situation?
Nikolas
:
That's something I really don't care about. Who are we to judge what other people do with their bodies?
RoD
: I would like to talk about the social aspect of tattoos, too. Previously, many people believed that if you have a tattoo, you will be never be successful and will not find a "good" job. Have this state of mind and people's perceptions changed or are these prejudices still alive?
Nikolas
:
Depends on the job, I guess. I don't think they will let you work in a bank with a face tattoo, but I'm a social worker, so luckily, no one really cares.
RoD
: Which advice would you give to people who are going to get their first tattoo? How to choose a tattoo artist? Colour or black and white? Any practical advice?
Nikolas
:
Give yourself some time, maybe half a year from the moment on the idea first popped up in your head. If you still want it, do it, but don't think too much about the consequences. It's probably not gonna be the last one anyway once you are infected, so don't worry too much.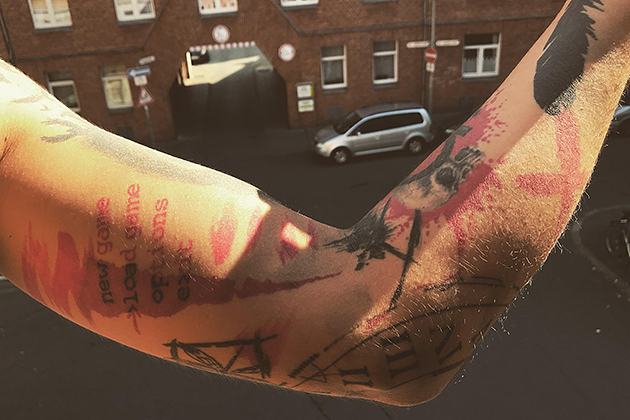 Project by Daria Tessa and Daniela Vorndran, Interview by Daria Tessa
Naemi tattoart & illustration (https://www.facebook.com/naemirothtattooundillustration)
Portrait Picture by Lichtparanoia Fotografie (https://lichtparanoia.wordpress.com), other pictures by Nikolas Eckstein.