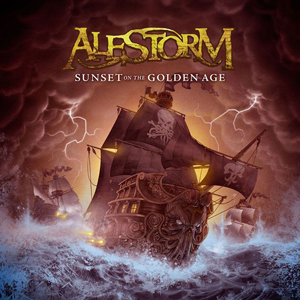 Artist: Alestorm
Title: Sunset On The Golden Age
Genre: Folk Metal / Power Metal
Release Date: 1st August 2014
Label: Napalm Records
Album Review

Bacon Powered Pirate Core – that´s what ALESTORM call their kind of music. And the music we encounter here is most probably not to be found at every corner in today´s music business. To be more precise, it is a combination of folk and metal, with some pagan and orchestral influences. Since their founding in 2008, they have already released four studio albums, 'Sunset On The Golden Age' is now their fifth release. When looking at the album cover, you already know what the music is about: pirates drinking rum, sailing the seas and conquering battles.
The musical composition is characterized by a fair balance of hard and heavy tunes as well as melodic parts. ALESTORM might, for this reason, be a pleasure for fans of strong and tough, drum- and guitar-laden metal, but as well for those who like good harmonies and melodies. A great surprise on the album is the song 'Hangover', a cover of the original version of TAIO CRUZ, probably making many lovers of classic metal shaking their heads in disbelief. In my opinion, it is a nice little gimmick putting the open-mindedness of the listeners to the test. Obviously, the guys of ALESTORM are crazy in a cool way and take themselves not too seriously.
The final result is a bunch of good and catchy pirate metal tracks. Grab yourself a glass of rum, sing and shout and swing and sway with some good friends. Cheers!
Tracklist

01. Walk the Plank
02. Drink
03. Magnetic North
04. 1741 (The Battle of Cartagena)
05. Mead from Hell
06. Surf Squid Warfare
07. Quest for Ships
08. Wooden Leg!
09. Hangover
10. Sunset on the Golden Age
Line-up

Christopher Bowes – vocals, keytar
Gareth Murdock – bass
Daniel Evans – guitar
Peter Alcorn – drums
Elliot Vernon – keyboards, additional vocals
Hildegard Niebuhr – violin
Tobias Hain – trumpet
Jonas Dieckmann – trumpet
Website

www.alestorm.net
/
www.facebook.com/alestormband
Cover Picture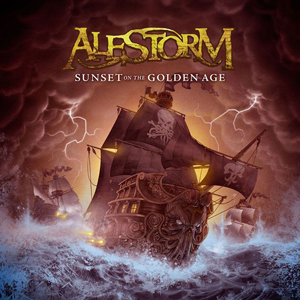 Rating

Music: 9
Sound: 9
Total: 9 / 10