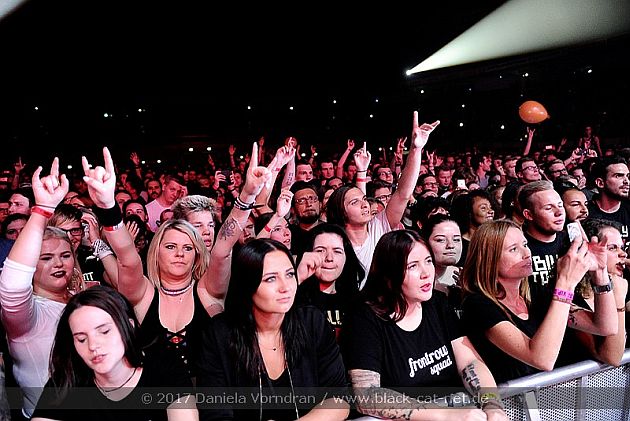 Westfalenhalle 1, Dortmund, Germany
7th August 2017
Billy Talent & Van Holzen

The last BILLY TALENT gig in Germany for a long time - no wonder that there were some long queues in front of the Westfalenhalle in Dortmund. Although the upper ranking of the arena wasn't even open it took really long for around eight thousand people to get in. But the wait should be worth it.
After finally arriving in the foyer some visitors took notice on an information booth about Multiple Sclerosis. As some of you may know, the original drummer of BILLY TALENT, Aaron Solowoniuk, suffers from this serious disease. A few years ago he started the organization "FUMS - Turning Anger Into Hope" to raise money and help people who also have to fight MS. In the meantime some guys all over the world founded local chapters of FUMS - one of these in North Rhine-Westphalia. If you're interested in establishing contacts with them, take a closer look at http://www.fums-nrw.org/.
Van Holzen

At 8 pm it was time to witness a 35-minute-performance of one of Germany's most promising young bands.
VAN HOLZEN
are three guys from Ulm (Baden-Württemberg) who released one self-titled 5-Track-EP in 2016 and a debut album called 'Anomalie' in early 2017. Both records achieved huge critical acclaim in German alternative music magazines. http://vanholzen.com / https://www.facebook.com/vanholzenofficial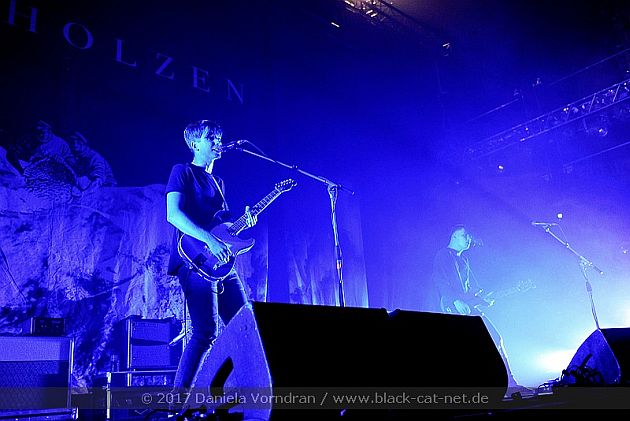 Music & Performance

Luckily lead singer Florian Kiesling, bass player Jonas Schramm and drummer Daniel Kotitschke did not spend too much time by asking "stupid rhetorical support act-questions" to the crowd in which nearly nobody seemed to know VAN HOLZEN. "We don't like to talk too much, we just wanna warm you up", said Kiesling after the first two songs. If that was their aim... well done! VAN HOLZEN's sound is hard-hitting, precisely played and dynamic. Some people may think there's a bit too much bitterness and frustration in the groups' lyrics and Kiesling's voice, but these young guys (no one of the trio is even at the age of 18!) know how to write good songs which can be described as a mixture of Stoner, Fuzz and Blues Rock. At least they got some loud applause after the closing track, the high-speed smasher 'Herr der Welt'. Prediction: Put those guys in the support slot of a
ROYAL BLOOD
or
QUEENS OF THE STONE AGE
concert and they immediately get hundreds of new fans. What a great way to start this concert evening!
Setlist

01. Jagd
02. Scheintot
03. Nackt
04. Keine Zeit
05. Masquerade
06. Honig
07. Reichtum
08. Erfolg
09. Herr der Welt
Rating

Music: 9
Performance: 6
Sound: 9
Light: 8
Total: 8 / 10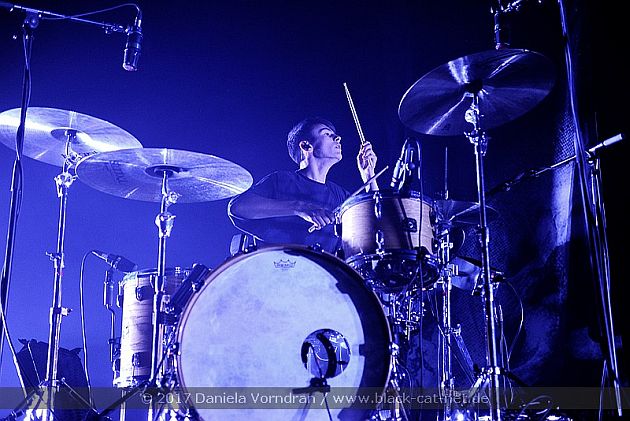 Billy Talent

In 1993, youth friends Benjamin Kowalewicz (vocals), Ian D'sa (guitar), Jonathan Gallant (bass) and Aaron Solowoniuk (drums) founded a Hardcore Punk group called PEZZ. Ten years and one album, called 'Watoosh!', later they changed their name to
BILLY TALENT
and had huge success in Germany and their home country Canada. With hits like 'Red Flag', 'Fallen Leaves' or 'Try Honesty' they became a festival headliner in many countries and received four platinum records in Germany. Their fifth and most recent album, 'Afraid Of Heights', came out in summer 2016. http://www.billytalent.de / https://www.facebook.com/billytalent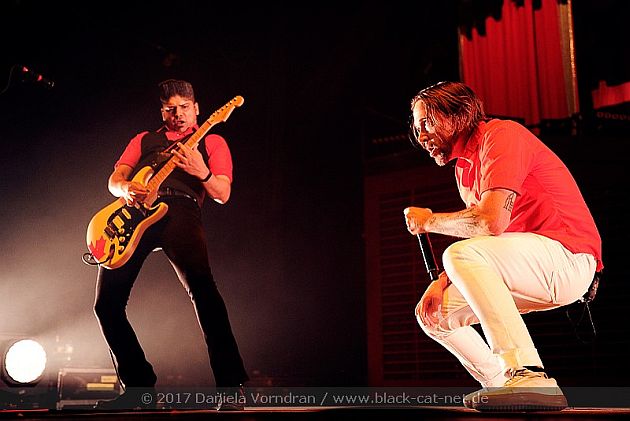 Music & Performance

But as a surprise, the stable from Toronto, Ontario put the focus on their first two albums during their current show. One half of the 21-song setlist only consisted of the self-titled debut and the incredibly successful follow-up 'Billy Talent II'. Starting with the traditional up-tempo track 'Devil In A Midnight Mass', the crowd freaked out. Result: Numerous circle pits, crowd surfers and some screaming little girls loudly singing along to an anthem of their youth. As always, Kowalewicz and his instrumentalists put a lot of passion in their performance - unfortunately again without Aaron Solowoniuk who hasn't been able to play live because of his MS disease since 2015. But Jordan Hastings, befriended drummer of Canadian Post Hardcore group ALEXISONFIRE, did a phenomenal job as Aaron's replacement.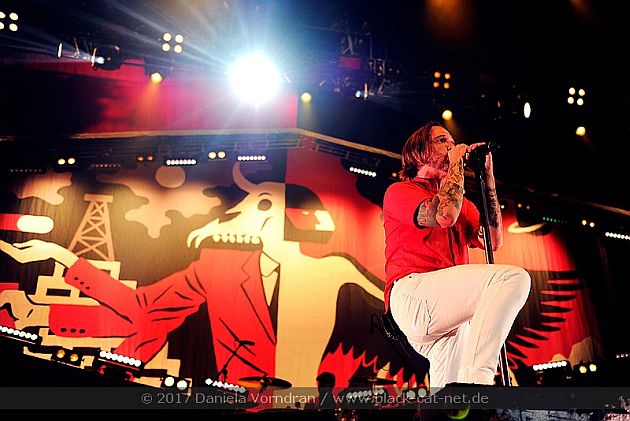 It's this mixture of speed and melodies, the know-how of writing catchy tunes, Kowalewicz's unique voice and D'sa's iconic guitar play that makes BILLY TALENT so entertaining. Visiting a live show gives you the feeling that every single song is a hit. Whether it's a simple pogo smasher like the new 'Louder than the DJ' or an old anthemic ballad like 'Nothing To Lose' or 'Surrender' - the audience never stops to scream their lungs out and is probably getting muscle ache the next day because of all the arm waving, jumping around and clapping. Combined with a really cool stage design (as you can see in the pictures below) and a well-coordinated light show this concert was worth every euro you paid for it. After the last song, 'Viking Death March', the quartet said farewell to their enthusiastic audience and made lots of attendees laugh. Or maybe a bit angry. Because if
George Michael
's kitsch-pop-legend 'Careless Whisper' is played as a chucker-out, it's time to go. Right?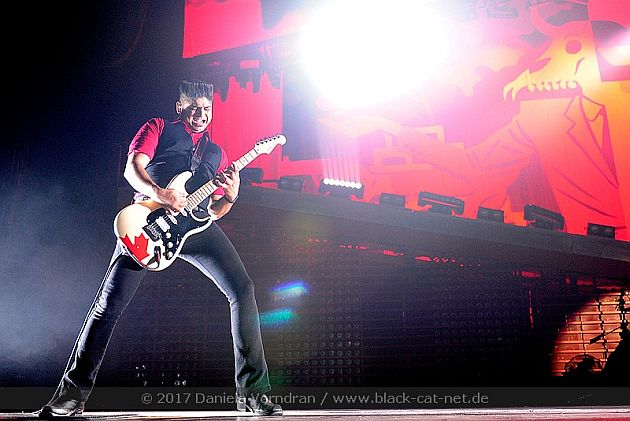 Setlist

01. Devil In A Midnight Mass
02. This Suffering
03. Big Red Gun
04. This Is How It Goes
05. The Ex
06. Ghost Ship Of Cannibal Rats
07. Rusted From The Rain
08. Pins & Needles
09. Surrender
10. Nothing To Lose
11. Cure For The Enemy
12. Saint Veronika
13. Leave It All Behind
14. Surprise, Surprise
15. Afraid Of Heights
16. Louder Than The DJ
17. Devil On My Shoulder
18. Red Flag
---
19. Fallen Leaves
20. Try Honesty
21. Viking Death March
Rating

Music: 9
Performance: 9
Sound: 8
Light: 9
Total: 8.7 / 10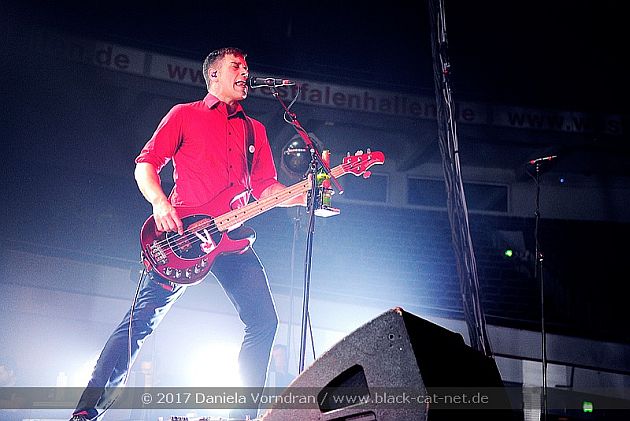 All pictures by Daniela Vorndran (
http://www.vorndranphotography.com
/
http://www.facebook.com/blackcatnet
)