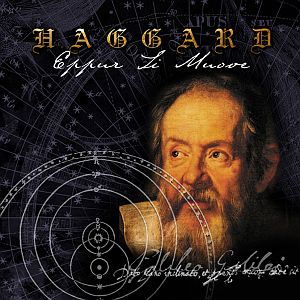 Title: Eppur Si Muove
Artist: Haggard

Genre: Death Metal / Symphonic Metal
Release Date: 6th April 2010 (Re-release)
Label: Artoffact Records
Album Review

German band HAGGARD releases albums seldom but to the point. It's seems that Asis' thirst for symphonic music finally prevailed over the metal tendencies. So the new work of his formation, entitled 'Eppur Si Muove' is almost void of heavy, vigorous tracks. Symphonic neoclassic with light guitar arrangements is the maximum heaviness which HAGGARD ventures to make now. The album is conceptual and this time it's devoted to the life, believes and ideas of Galileo Galilei. Its title in translation from Italian conveys Galilei's historic phrase "and it does move", relating to our planet, of course.
The line-up of the band deserves a special attention: the main work as usually was done by HAGGARD's mastermind Asis Nasseri, but beside him in the process of recording there took part twenty members of the project, nine guest musicians and an orchestra. As for the sound, the formation is still unique and recognizable: wonderful choruses, crystal soprano of the female vocalists, symphonic arrangements and a complicated concept in the spirit of medieval musical tradition together produce a striking impression. In the lyrics there interweave English, Italian, German and Latin languages. The instrumental parts were not turned over to a synthesizer and even the real piano was used for some passages.
So, 50 minute opus pleases from the first second and remains the intrigue till the end of the CD. The band recorded a strong and qualitative album which will definitely take a deserved place in the audio library of lovers of good music. But actually for the first introduction to HAGGARD's style the old album will be better.
Tracklist

01. All'inizio E La Morte – 6:50
02. Menuetto in Fa-Minore – 1:16
03. Per Aspera Ad Astra – 6:40
04. Of a Might Divine – 8:20
05. Gavotta in Si-Minore – 0:58
06. Herr Mannelig – 4:50
07. The Observer – 4:40
08. Eppur Si Muove – 8:19
09. Larghetto / Epilogo Adagio – 2:12
10. Herr Mannelig (Short Version) – 6:10
Line-up

Asis Nasseri (Vocals & Guitars) and several musicians
Website

http://www.haggard.de/
/
http://www.myspace.com/haggard2007
Cover Picture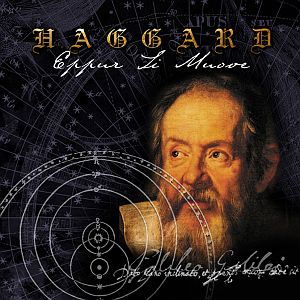 Rating

Music: 9
Sound: 10
Extras: -
Total: 9.5 / 10
{jos_sb_discuss:19}