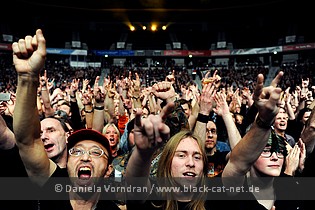 König-Pilsener Arena, Oberhausen, Germany
17th December 2015
Judas Priest & UFO

UK Metal legends JUDAS PRIEST are back to Germany for three gigs! In May/ June 2015 JUDAS PRIEST enthralled their fans with two solo concerts in Berlin and Hamburg and also on the festivals Rock im Revier in Gelsenkirchen and Rockavaria in Munich. In response to their fan's great demand, the band was coming back again. The only show in NRW on their "Redeemer Of Souls Tour 2015" was taking place in Oberhausen on 17th December. Special guests were the British Hard Rockers UFO.
UFO
English heavy metal and hard rock band UFO was formed in 1969 and became a transitional group between early hard rock and heavy metal and the New Wave of British Heavy Metal. UFO's discography contains numerous album releases, Live albums, singles, compilations and two videos. In 2004 UFO released their 17th studio album You Are Here with their new permanent guitarist Vinnie Moore. More releases followed until 'A Conspiracy of Stars', the band's 21st and latest studio album released in February 2015. Over their long history, the band had many line-up changes and currently consists of Phil Mogg (vocals), Andy Parker (drums), Paul Raymond (keyboards, rhythm guitar) and Vinnie Moore (guitar).
http://www.ufo-music.info
/
https://www.facebook.com/UFOofficial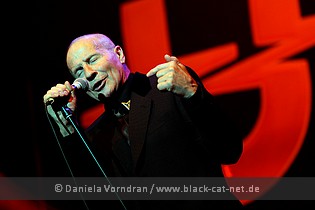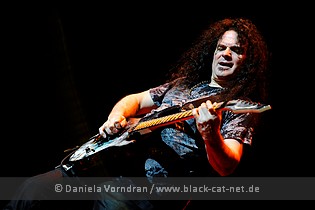 Music & Performance

UFO was one of the most influential bands in the genre with their hits from the 70s such as 'Doctor Doctor', 'Lights Out', or 'Only You Can Rock Me'. Currently, they are touring with their 22nd record 'Conspiracy of Stars'. Some songs from the new album, like 'Run Boy Run' or 'Messiah of Love', found their way into the setlist which mainly consisted of the old and well-known songs though. Of course UFO is a legend. But still their supporting show for JUDAS PRIEST in Oberhausen was not really legendary for me. Yes, of course songs like before mentioned 'Only You Can Rock Me' or 'Doctor Doctor' are real hits and also excited the fans in the hall, but mainly, the show, lasting nearly one hour, was rippling under its breath. Contrary, the guitar solos of UFO are one of the best things the British band has to offer. All in all a good show, but not a real highlight. So, anyone was now waiting for JUDAS PRIEST.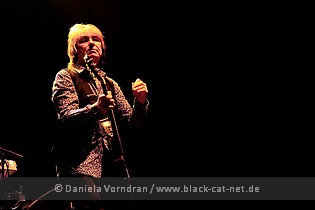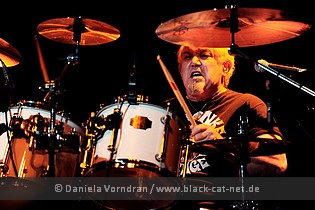 Setlist

01. Mother Mary
02. Run Boy Run
03. Lights Out
04. Venus
05. Only You Can Rock Me
06. Burn Your House Down
07. Let It Roll
08. Messiah of Love
09. Rock Bottom
10. Doctor Doctor
Rating

Music: 7
Performance: 7
Sound: 8
Light: 8
Total: 7.5 / 10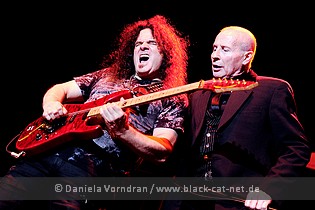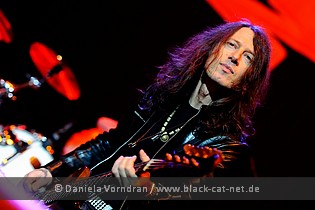 Judas Priest
There aren't that may bands around that have reached so much and influenced so many musicians like JUDAS PRIEST. A ton of bands even call themselves after popular JUDAS PRIEST songs. With their 17th studio album 'Redeemer of Souls' they've outdone themselves once again producing yet another classic in their long career. After being number three in the German charts and number six in the American charts they had an impressive comeback in July 2014. After their world tour in 2011/12 the Heavy Metal pioneers from Birmingham, England, decided to add another chapter to their 40 years of band history. 'Redeemer of Souls' was a collaboration of singer Rob Halford, founding member Glenn Tipton and the new member Richie Faulkner, who replaced guitarist KK Downing in 2011. JUDAS PRIEST's debut album 'Rocka Rolla' was released in 1974. Since their classic 'British Steel' (1980) the founders of classic Heavy Metal produced two further milestones in the genre: You can find 'Screaming For Vengeancea' (1982) and 'Painkiller' (1990) in almost every Metal CD collection around the world.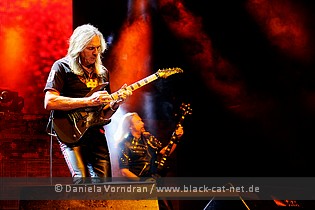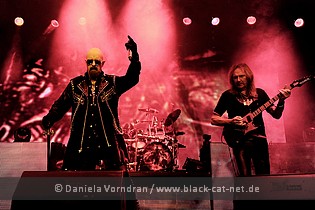 The Britons are not only responsible for the leather look of several bands, but have also written countless classics: There is no Metal party without 'Breaking The Law', 'You've Got Another Thing Coming' or 'Living After Midnight'. Until today, JUDAS PRIEST have sold over 45 million records. It's the 40th anniversary of their debut album and with 'Redeemer of Souls' the Metal veterans show how timeless Heavy Metal can be. And there's no talk of retirement; JUDAS PRIEST aren't planning of storing their famous stage-Harley-Davidson away in the garage. JUDAS PRIEST is Ian Hill (bass, backing vocals), Rob Halford (vocals), Glenn Tipton (guitars, keyboards, synthesiser, backing vocals), Scott Travis (drums, percussion) and Richie Faulkner (guitars, backing vocals).
http://www.judaspriest.com
/
https://www.facebook.com/OfficialJudasPriest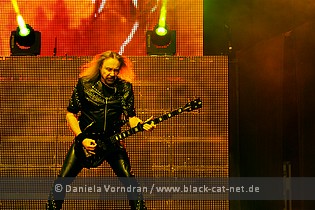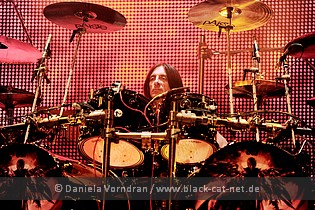 Music & Performance

Even though the band was already on their farewell tour in 2012, JUDAS PRIEST could not stop performing on stage at all and is still alive. Sure, they are not the youngest anymore and especially Rob Halford needs a walking stick on stage. But the priests are still good for a fantastic Rock show. Does the age makes them holding back when performing on stage? No way! During introducing sounds of 'War Pigs' and 'Battle Cry, the band entered the stage which while the black curtain covering the stage was falling down. When the curtain fell down, with lots of colourful lights and full power, PRIEST started with 'Dragonaut' from the current album. But it is the following 'Metal Gods' from the band's sixth studio album taking the show to another level. Halford's voice is good today… this was not always the case in the past. And also the audience was excited from the very start and you heard mostly man screaming "Priest, Priest, Priest" over and over again in-between the songs and holding the devil horns high up into the air.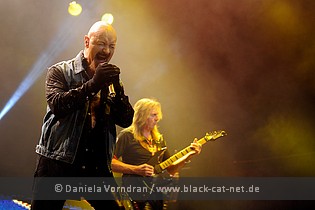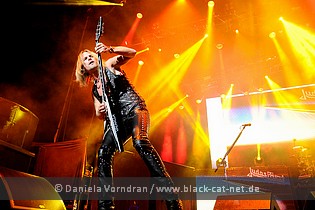 The whole band was in top form. I.e. Richie Faulkner was clearly not a disappointment to the fans. He was flawlessly playing a Gibson Flying V guitar and obviously did not have a problem to share stage and deliver the goods alongside the familiar face and high energy of Glenn Tipton. Both guitarists were perfectly playing together. Bassist Ian Hill produced a brilliant low-end thump along with drummer, Scott Travis that was non-stop. And last but not least there was singer Rob Halford. He was incredible. His screams were waking people up. During the show, he was changing clothes over and over again, wearing black tight black leather or jeans with rivets… and several more. And still he stays ultra-cool. Not the youngest anymore, he's still a real entertainer, walking like a robot or standing like a priest holding a mass for the audience while the string fraction of the band is posing for the audience. But there was not only the band as show element, there was also a big video screen in the back where the shown pictures were underlining the song visually. Of course towards the end of the show, Halford is driving onto stage with his Harley Davidson, dressed in SM biker outfit with leather cap on his head and riding crop in his hand.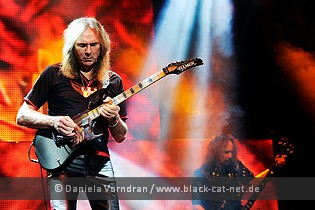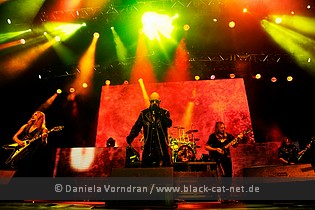 JUDAS PRIEST kept the level high during the whole show where they were presenting several new songs, but also their big hits, like 'Breaking the law' or 'Turbo Lover' where the mood of excitement reached the highest level. People were screaming and shaking their hair. With 'Living After Midnight', JUDAS PRIEST finally left the stage for good, leaving lots of jubilant happy fans back to the final sounds of QUEEN's 'We are the Champions'.
Setlist

-War Pigs (Black Sabbath song) (Song played from tape)-
-Battle Cry (Song played from tape)-
01. Dragonaut
02. Metal Gods
03. Desert Plains
04. Victim of Changes
05. Halls of Valhalla
06. The Rage
07. Turbo Lover
08. Redeemer of Souls
09. Beyond the Realms of Death
10. Screaming for Vengeance
11. Breaking the Law
12. Hell Bent for Leather
-The Hellion (Song played from tape)-
13. Electric Eye
14. You've Got Another Thing Comin'
15. Painkiller
16. Living After Midnight
-We Are the Champions(Queen song) (Song played from tape)-
Rating

Music: 9
Performance: 9
Sound: 9
Light: 9
Total: 9 / 10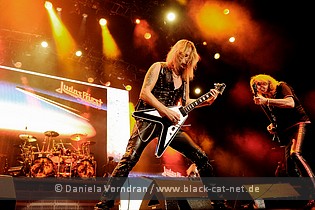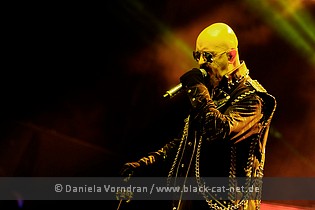 All pictures by Daniela Vorndran (
http://www.vorndranphotography.com
/
http://www.facebook.com/blackcatnet
)