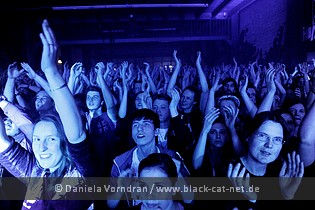 Skater's Palace, Münster, Germany
11th January 2016
Will Varley, Skinny Lister, Frank Turner & The Sleeping Souls

After several shows in September last year, FRANK TURNER now is back on an extended tour through the bigger venues again, together with his SLEEPING SOULS, the known energetic rock show and the songs of his new and sixth studio album 'Positive Songs for Negative People'. The show in Münster was one of the first of the tour and like several others to follow, the concert was sold-out, meaning a huge crowd was waiting for Frank and his band. But first, the audience could enjoy the two supporting acts, WILL VARLEY and SKINNY LISTER.
Will Varley

British folk singer and co-founder of the arts collective Smugglers Records WILL VARLEY began playing open mic nights in London in the early 2000s. After moving to Kent in 2010, he released his debut album 'Advert Soundtracks' in 2011 and toured the album on foot. 'As The Crow Flies', his second album, was out in September 2013 and received positive reviews. In February 2014, he was invited for the first time by FRANK TURNER to support him, back then at his homecoming show at Winchester Assembly Rooms. In March 2015, Varley signed a record deal with Xtra Mile Recordings. Short afterwards, a live EP was released. His newest album is called 'Postcards From Ursa Minor' and was released in October 2015. Following the release he began a huge tour, opening for label mate FRANK TURNER and now he follows him once more.
http://www.willvarley.com
/
https://www.facebook.com/willvarleymusic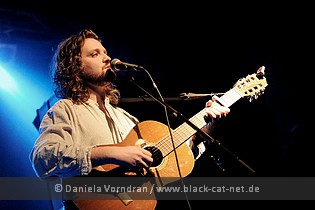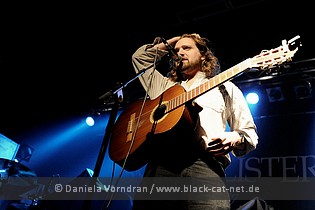 Music & Performance

It was 8:00 when WILL VARLEY started his short, five sings grasping 30 min set. All alone on stage, he faced already a packed hall and soon he had the audience in his hands with his likable attitude, his songs and lots of charm. Along to the songs he told little funny stories, causing lots of laughs. And also his lyrics were partly really funny. And so, soon the mood in the hall was really jolly and people were singing along. I spotted a few attendees knowing every song by heart and loudly singing the lyrics. Seems Will already has some fans here in Germany. His short set was really a nice and entertaining start into the evening.
Setlist

01. The Man Who Fell to Earth
02. Talking Cat Blues
03. King for a King
04. Weddings and Wars
05. I Got This Email
Rating

Music: 8
Performance: 8
Sound: 8
Light: 7
Title: 7.8/ 10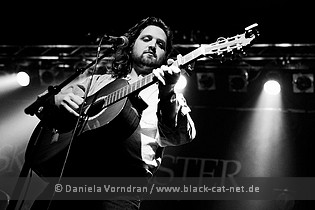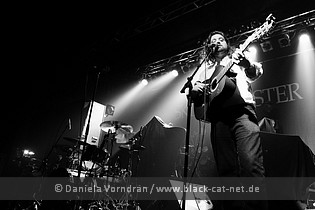 Skinny Lister

Six piece British folk band SKINNY LISTER from London was started in 2009. The band is mostly playing original compositions. Like WILL VARLEY and FRANK TURNER, they are signed to Xtra Mile Recordings in the UK. With 'Plough & Orion', the band released a first single in 2009. After several more singles and EPs, the first album, 'Forge & Flagon', was out in June 2012. Besides all those releases, the band toured a lot and way playing big festivals like Glastonbury or Summer Jam, just to name two of them. In 2013, the band returned to the studio to record their second album, 'Down on Deptford Broadway', which was released mid-2014. In autumn 2015 SKINNY LISTER supported FRANK TURNER in the USA and UK. During their existence, the band had several line-up changes and today consists of Dan Heptinstall (lead vocals, guitar, and stomp box), Max Thomas (melodeon, mandolin and vocals), Lorna Thomas (vocals), Michael Camino (double bass and vocals), Thom Mills (drums) and Sam "Mule" Brace (guitar, concertina, vocals).
http://www.skinnylister.com
/
https://www.facebook.com/skinnylister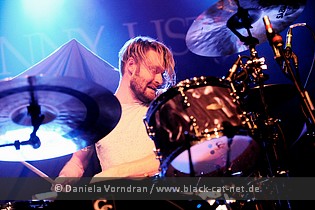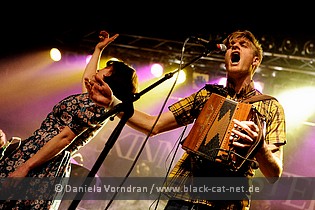 Music & Performance

The change-over was rather short and already at 8:45, SKINNY LISTER entered the stage. From the first moment the spread a huge energy. People in front of stage were screaming, loudly singing along and jumping. With their catchy songs, SKINNY LISTER got the party started. They played with huge enthusiasm and fire. And they were very close to the audience. Every now and then, one of the band came front or jumped into the pit. Towards the end, even Michael with his double bass came down and was surfing the crowd while playing the instrument. Short before the end of the show, it was also time for a picture of the band with the audience behind them and when you look at this picture on Facebook now, you only see happy faces. Musically, I liked WILL VARLEY more, but the mood SKINNY LISTER spread was amazing and now, anyone was hot for FRANK TURNER and his band.
Setlist

01. Raise A Wreck
02. George's Glass
03. Cathy
04. What Can I Say?
05. Bold as Brass
06. John Kanaka
07. Rollin' Over
08. Trouble On Oxford Street
09. Seventeen Summers
10. This Is War
11. Forty Pound Wedding
Rating

Music: 7
Performance: 9
Sound: 8
Light: 7
Title: 7.8 / 10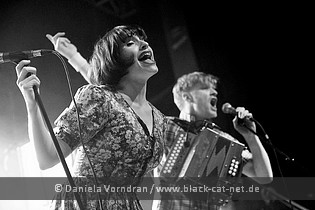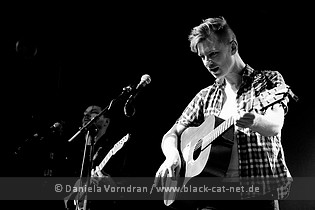 Frank Turner & The Sleeping Souls

English folk / singer-songwriter FRANK TURNER started in 2001 with becoming the singer of the punk band MILLION DEAD. He has released several records with them. After the band had called it quits in 2005, he started pursuing a solo career and released his first album, 'Sleep Is For The Week', in Great Britain to overly positive reactions in 2007, followed by 'Love, Ire & Song' in March 2008. 'Poetry of the Deed' was out in September 2009. Both in the studio and during live performances, TURNER is accompanied by his backing band, THE SLEEPING SOULS. To date, FRANK TURNER has released six solo albums, three rarities compilation albums, one split album and five EPs. His sixth studio album, 'Positive Songs for Negative People', was released on 7th August 2015. Also this record deals with the great themes of life like a majority of Turner's music and prevails over the worst experiences and raps it into a mix of wonderful, intricate doodles and powerful hymns. Overall, the record reflects the way which Frank Turner has passed in the last 10 years. FRANK TURNER & THE SLEEPING SOULS are Frank Turner (vocals, guitar), Ben Lloyd (guitar, harmonica, mandolin), Tarrant Anderson (bass), Matt Nasir (piano, organ, guitar, backing vocals) and Nigel Powell (drums, percussion, backing vocals).
http://www.frank-turner.com
/
https://www.facebook.com/frankturnermusic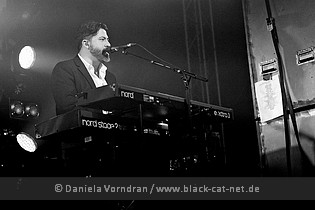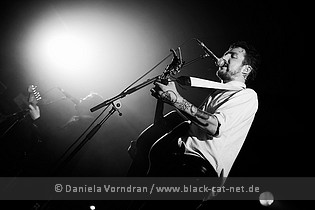 Music & Performance

Fans hat to wait nearly forty minutes until finally Frank and his band entered the stage at 10:00. The show started with 'The Next Storm' which was welcomed with huge applause. During the 27 songs, there was nearly no rest or downbeat. Just when Turner was up to play 'Polaroid Picture', he had to say something serious. As you surely know, 11th January was the day when the world was shocked by the death of DAVID BOWIE. Already before the concerts started this evening, lots of his songs were played and now, Turner remembered this great artist with warm words and even if he knew not so many of his songs, he was dedicating 'Polaroid Picture' to him. This was a touching moment to me and many other fans. Afterwards, the jolly mood rose again and the fans enthusiastically celebrated with the band. FRANK TURNER's music hardly is that usual singer / songwriter stuff since it has a punk flavour to it and one crucial thing that like a spark was jumping from person to person in the big crowd in front of the stage. Hard to put it in words, but picture it like a kind of aura and happiness in his heart and face that is unbelievably strong.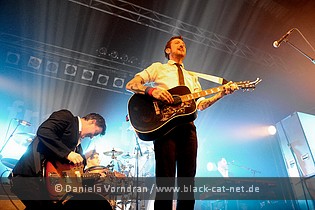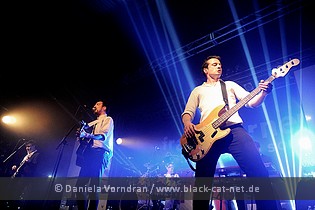 While most songs of the set of course were played with his band, there were a few in the middle of the show he presented alone, showing his great singer / songwriter abilities. Overall, the mix of the energy of folk, the raucous nature of punk, and the uplifting spirit of poppy songwriting exited everyone in the room. It was an incredible scenery and mood. When it was all over, screams for an encore got loud and of course the band came back for several more songs. Great show and if you never saw FRANK TURNER and his band live on stage, you should go and buy a ticket for one of the upcoming shows to check them out.
Setlist

01. The Next Storm
02. I Am Disappeared
03. The Road
04. Losing Days
05. If Ever I Stray
06. Try This at Home
07. Josephine
08. Polaroid Picture (Dedicated to David Bowie)
09. Glorious You
10. Peggy Sang the Blues
11. The Opening Act of Spring
12. Vital Signs (Frank solo)
13. Time Machine (Frank solo)
14. The Ballad of Me and My Friends (Frank solo)
15. Reasons Not to Be an Idiot
16. Glory Hallelujah
17. Mittens
18. Long Live the Queen
19. Out of Breath
20. Photosynthesis
21. Plain Sailing Weather
22. Get Better
23. Recovery
---
24. The Angel Islington (Frank solo)
25. The Way I Tend to Be
26. I Still Believe
27. Four Simple Words
Rating

Music: 8
Performance: 9
Sound: 8
Light: 9
Title: 8.5 / 10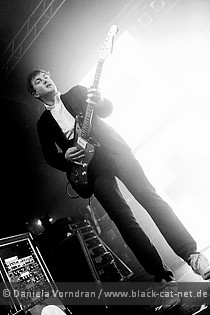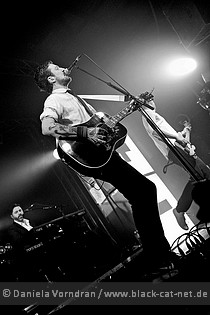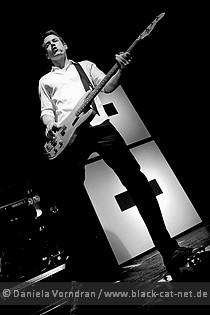 All pictures by Daniela Vorndran (
http://www.vorndranphotography.com
/
http://www.facebook.com/blackcatnet
)
See also (all categories):