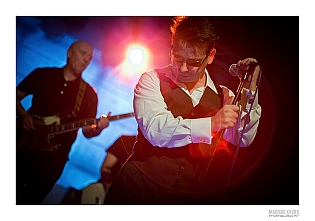 Zappa, Antwerp, Belgium
18th December 2015
Honeymoon Cowboys at Bimfest Festival

In my cold-wave youth, the regular "top 5 bands list" had four obvious names : JOY DIVISION, BAUHAUS, SIOUXSIE & THE BANSHEES and THE CURE. The fifth one was depending on the musical preference of each of us. CHRISTIAN DEATH for the Batcave addicts, THE SISTERS OF MERCY for the people who preferred a touch of electronic vibe, or SIGLO XX for the post-punk freaks, like me. I saw them live once, it was in 1989 in Paris, I was only sixteen. More than 25 years after, I must admit that I still put myself in the category of the hardcore but enlightened fans of this cult Belgian cold-wave band.
I was of course very interested by HONEYMOON COWBOYS, the new project involving ex-members of SIGLO XX. The band is formed by Antonio Palermo (guitar) and Klass Hoogerwaard (drums), both of the former band, together with Tom Van Troyen (vocals) from SPIRAL OF SILENCE, Kris Dries (bass) and Thomas François (keyboards). Furthermore, their live versions of SIGLO XX songs were so impressive, that I was really excited to see them on stage, especially with a setlist containing 50% of SIGLO XX tracks, as the Bimfest festival has announced.
https://www.facebook.com/honeymooncowboys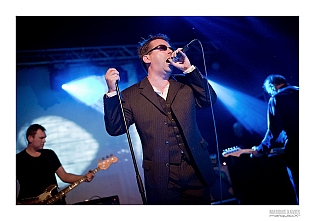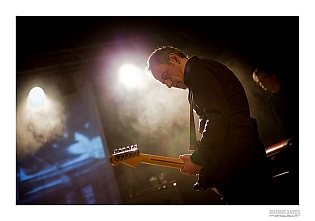 Music & Performance

The beginning of the concert was the HONEYMOON COWBOYS songs. Their dark rock sounds, with a gloomy touch due to the piano/synth makes a direct bond with the last effort of SIGLO XX, 'Under A Purple Sky'. As if HONEYMOON COWBOYS has pursued the legacy where SIGLO XX stopped it, and the result is really worth it. When Dirk Chauvaux, the original SIGLO XX bass player, joined them on stage, began the cover songs part. We all know how covering other bands could be risky, but : is it still covers when 3 original members are playing the songs? Kris Dries, the HONEYMOON COWBOYS bassist, moved to a second guitar job, which created a wider musical atmosphere due to the presence of these two complementary guitars. Moreover, the distinctive style of Antonio Palermo added to the detailed play of Klass Hoogerwaard revealed instantaneously the resonance of the old hits of SIGLO XX. Another major element causing the success of the covers is the tessitura of Tom Van Troyen, which is in the same vein as the former frontman Erik Dries. But, with his own character, more in violence or fully in emotion, his vocal performance provides to all SIGLO XX songs a deep and sincere feeling of truth.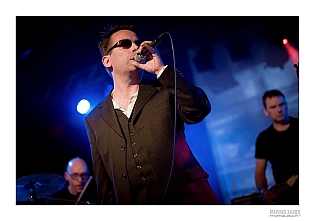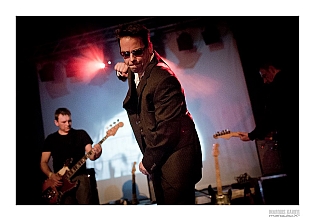 As you may have understood, HONEYMOON COWBOYS is a "new" band to follow. Their concert was intense and, for the fans, nothing less than dreams of pleasure.
HONEYMOON COWBOYS performing their song 'Prison'
HONEYMOON COWBOYS performing 'The Art Of War' of SIGLO XX
Setlist Honeymoon Cowboys

01. The Sky Turns Blue
02. Power
03. Time Is Not Our Friend
04. Prison
05. Broken Men
06. Sea Without Mercy
Setlist Siglo XX covers

01. The Pain Came
02. No One is Innocent
03. Waiting For A Friend
04. Sister In The Rain
05. The Art Of War
06. The Beginning
07. Everything's On Fire
08. Day Of The Lords (Joy Division cover)
Rating

Music: 10
Performance: 10
Sound: 8
Light: 8
Total: 9 / 10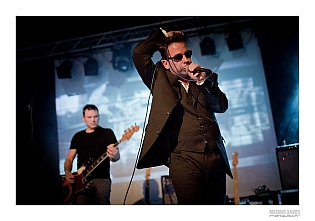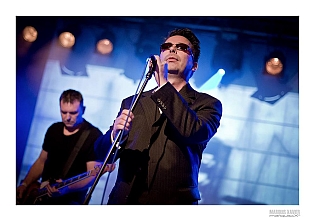 All Pictures by Xavier Marquis (
http://www.peek-a-boo-magazine.be/
)
See also (all categories):