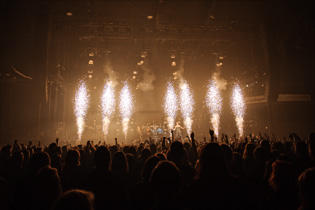 Espoo Metro Arena, Espoo (Helsinki area), Finland
13th November 2015
Nightwish

NIGHTWISH is probably the most well-known band from Finland, together with other acts such as APOCALYPTICA and HIM. The band released the latest album 'Endless Forms Most Beautiful' on March 27th, 2015 and that naturally became the core of the massive show that kicked out the current global tour on November 13th in Espoo, Finland. The record earlier topped the charts in Finland and Czech Republic and is recognized as one of the band's best work. The album's peculiarity is also in its super-long composition 'The Greatest Show on Earth' lasting 24 minutes, that was also partially performed on the gig.
http://www.nightwish.com
/
https://www.facebook.com/nightwish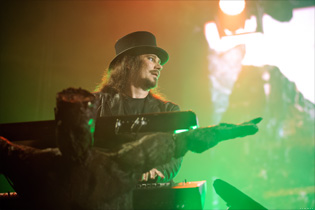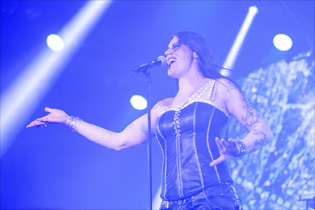 Music & Performance

The show occupies one of the best venues in Helsinki area, Espoo Metro Arena, actually a professional ice rink where some of best world's figure skaters were competing just few weeks ago, and where more large metal shows are planned for the time ahead. Fun fact is that a thick covers are used on top of ice to build everything for the show and for the crowd, while there is a layer of ice beneath, and some other day you can come to skate in the very same place, kind of, when nobody is trying to play live music in the same spot. The place has a typical appearance of large arena with a floor and seating places rising very high above.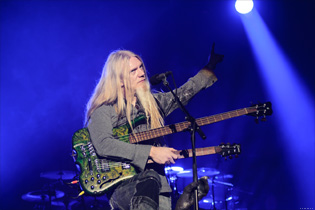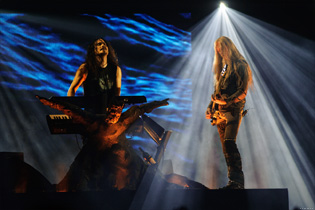 The show uses a major, packed with lights and gear stage that takes advantage of huge arena and fills it with shafts of light and plenty of smoke. I would say it was so much smoke that you can't see a lot behind it even on the images taken right in front of stage. But it is rather normal to rely on lights and effects for large concerts, where it is not quite possible to see the performers on close distance. On the last NIGHTWISH show to date I attended, 'Imaginaerum', the band used a very long and thin video screen. Gladly, for this year more of screen-space was added beneath the one, so almost all backdrop was covered with video-wall, less the space used for light strobes. This improved greatly overall visual experience from the gig as it permitted the band to perform in front of large projections.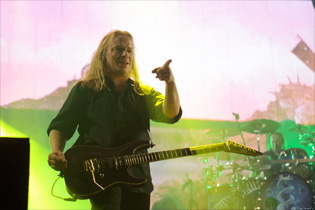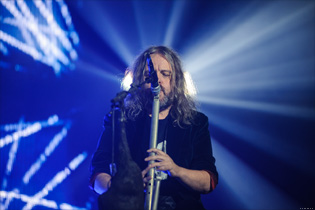 The show largely rests on the most recent material and, of course, some of the main songs that are considered classics. The music of NIGHTWISH features grand orchestral elements and live show is complemented by a great deal of pyrotechnics. While most of the time the stage was shining like a brilliant, giving off coloured light, flames and some video stuff for good measure, perhaps the most magical moment was when Marco Hietala and Troy Donockley were performing 'The Islander'. It is a deeply lyrical song (and was made into a music video which is a masterpiece on its own right), stage lights were off and it was time for all these little lights in audience hands - so all the area became a little universe with stars.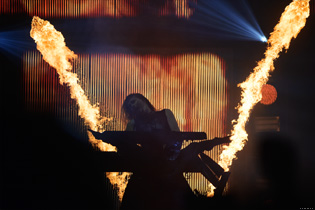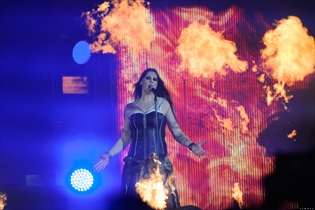 This was my second time hearing Floor Jansen and I would estimate her performance as better than Annett Olzon's and much more fitting the band sound. Perhaps band thought the same as the Sleeping Sun, seldom, if ever, performed by Annette, was right back in the set list. The concert was very satisfying, and Marco Hietala and Floor were mainly front stage. Tuomas Holopainen was, as usual, away from communication with crowd, but made some progress in that sense by making himself more visible from behind his synth stand than he used to be few years ago. The latest album is inspired by Darwin works, so stage design featured some tree trunks, and at some point one of the songs was accompanied - not really matching the fast symphonic-metal sound - by a sea life imagery with fish, coral, turtles and the like.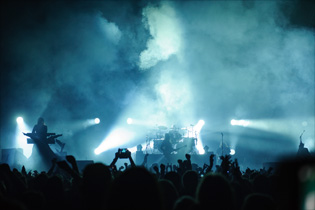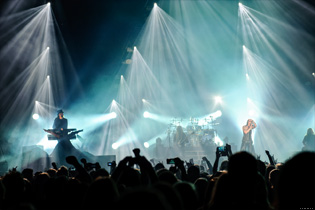 A certain disappointment is that Troy Donockley was almost hidden in mid-stage by thick, very abundantly lit smoke so one can barely see him - his pipe's music is alone a great gem in NIGHTWISH's compositions and he totally deserves more stage presence. Apart from sea life stock videos, other background choice was fitting quite well. The show lasted for good two hours and ended with a great deal of confetti covering the crowd.
Setlist

01. Shudder Before the Beautiful
02. Yours Is an Empty Hope
03. Ever Dream
04. Storytime
05. My Walden
06. The Islander (First half performed solo by Marco)
07. Élan
08. Weak Fantasy (Preceded by a Dawkins' narration)
09. 7 Days to the Wolves
10. Alpenglow
11. The Poet and the Pendulum
12. Nemo
13. Stargazers
14. Sleeping Sun
15. Ghost Love Score
16. Last Ride of the Day
17. The Greatest Show on Earth (Chapter I: Four Point Six; Chapter II: Life; Chapter III: The Toolmaker)
18. The Greatest Show on Earth (Chapter IV: The Understanding; Chapter V: Sea-Worn Driftwood)
Rating

Music: 8
Performance: 9
Sound: 7
Light: 7
Total: 7.8 / 10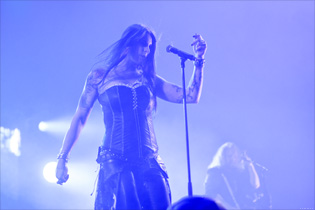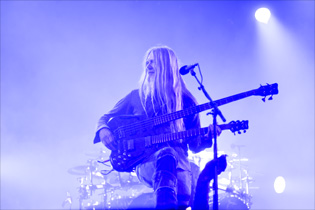 All Pictures by Askar Ibragimov