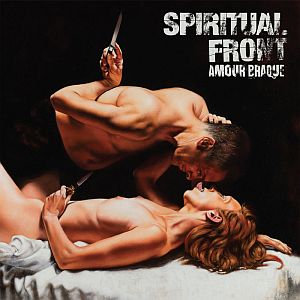 Artist: Spiritual Front
Title: Amour Braque
Genre: Neo Folk
Release Date: 23rd March 2018
Label: Prophecy Productions
Album Review

Imagine a cobblestone street, late afternoon, copper gold light, people passing by in a hurry. Or a slightly forgotten, rusty club, little stage flooded by dim, dispersed light, cigarette smoke, specks of dust dancing in the air and the musicians presenting their ballads to decadent melancholies, sentimentally or bitterly going down the memory lane of their very own. That's what I first saw when I started listening to 'Amour Braque'.
I have always thought of SPIRITUAL FRONT as of one of those bands who combine various forms of art into one - theatre, cinema, music, and image. These all coalesce and create, I'd say, an effect of almost cinematic, dark folk. Simone Salvatori's charismatic way and his manner of a leading actor make the barriers between the artist, the listener and the music disappear. His talent seems to be channeling the emotions with no mistakes or obstacles.
The very opening of the album - Simon speaking directly to the listener with the music arising in the background - signals what the album nature is: a story told to an anonymous listener, a personal ballad, a soundscape build upon warm, velvety voice, pulsating drums and invigorating guitars, a journey through external and internal, a monologue. The music presented is a combination of what may be described as neo folk, pop, dark rock and cabaret - a vivid, pulsating, extremely plastic, imaginative sonic matter that drives its quality from vocalic sensuality and the overpowering line of guitars.
Guitars, in my view, serve the purpose of modifying the tone for the whole release - they are either harsher ('Battuage') or softer ('An End Named Hope', 'The Man I've Become'), they run freely ('Pain is Love'), they apply rocky and monumental tone ('Vladimir Central'), they are pop ('Tenderness Through Violence'), very tango ('Disaffection'), or very NICK CAVE like ('Children of the Black Light'). Altogether, the majority of pieces included are very smooth, gentle, of dramatic, ballad quality. They will make you think of tango, cabaret, noir movies; they feature sentiment, melancholy and yet an undertone, dark beat. The diversity and musical richness is also achieved thanks to the participation of the guests on the album: MATT HOWDEN, KING DUDE, CLIENT to name just a few.
When you look at the cover of the album you see a couple in love embrace who yet hold knives in their hands. It's a perfect illustration of the textual part of the album - what love and its bites are, wounds one gets on the way, dependence, change that comes with the experience and life hacks, sexuality, human shadow - altogether it's a very intriguing study of human nature and vulnerability. Mad love - perfect title for an extremely emotional, sensual and theatrical album.
To conclude, there is music that goes to head first - you appreciate its mastery, quality, perfection of performance. And there is music that instantly hits your heart - evokes some feelings perhaps long and intentionally forgotten, yet still present underneath. SPIRITUAL FRONT definitely are skilled at the latter and in spite of their artistic mastery it's the sensual and emotional effect they have upon the listener that makes them so outstanding and appreciated for most.
Tracklist

01. Intro/ Love's Vision
02. Tenderness through Violence
03. Disaffection
04. The Abyss of Heaven
05. Children of the black Light
06. Pain is Love
07. Beauty and Decay
08. Devoted to you
09. This Past was only mine
10. Battuage
11. An End named Hope
12. The Man I've become
13. Vladimir central
Line-up

Simone "Hellvis" Salvatori - Vocals and acoustic Guitar
Andrea Freda - Drums
Riccardo Galati - Guitars
Website

http://www.spiritualfront.com / https://www.facebook.com/spiritualfrontofficialpage
Cover Picture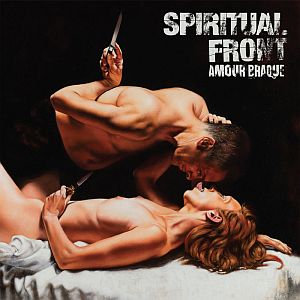 Rating

Music: 10
Sound: 10
Total: 10 / 10