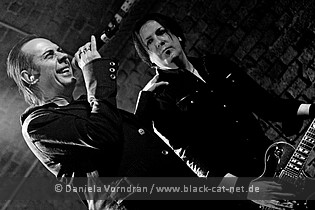 Matrix, Bochum, Germany
21st October 2011
Peter Murphy & Loudboy

The British gentleman is most prominent for being the front man and singer of Goth Rock legend BAUHAUS (1978-1983). One year later, he started his solo career. Now he's on tour in support of his newest body of work 'NINTH', which is the first new record in 7 years. On his shows, he's building a connection to the audience and if you want to know how it was in Bochum where he played supported by LOUDBOY, just read our review.



Loudboy

LOUDBOY is John Andrews. This nickname was given to him by Helmet's Page Hamilton after a short stint in his band. He was also long-time guitarist of New York's Independent-Rock-Institution BOTANICA. The self-titled debut album was released on 14th Oct 2011 via Rent a Dog. On this album, there are guest vocals by NENA (in whose band John is playing guitar; furthermore LOUDBOY's drummer is NENA's husband) and PETER MURPHY to be heard. So it is not surprising LOUDBOY supporting the ex-BAUHAUS singer now on his tour. LOUDBOY, alias Lohn Andrews (vocals, guitar, songwriting), was supported on stage by Philipp Palm on drums, Jason Binnick on bass, Miriam Eicher on violin and keyboards, and Gabriel Holz on guitar. http://www.loudboy.net / https://www.facebook.com/Loudboymusic / http://www.myspace.com/571682203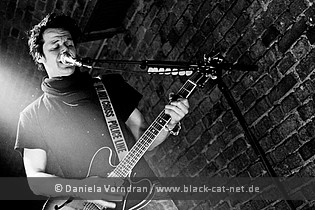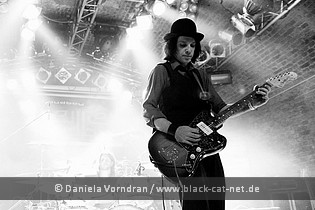 Music & Performance
When we entered the venue, it still looked pretty empty and I feared especially the support act would play in front of just a handful people. But he had several own fans waiting outside, even having brought a cake for him, and making lots of noise during his show later. In the given 35 minutes, John Andrews, aka LOUDBOY presented songs out of his debut album wearing the same name. The Power-Pop he offered was all in all pretty calm, even though there were of course some faster songs presented as well. I want especially point out 'Pretty Bleak', a song originally recorded together with PETER MURPHY. This one really hit me. This band is definitely worth checking out! Seems the people in the hall who did not know him before were also impressed, giving him quite a lot applause. He was obviously overwhelmed by the people's reaction.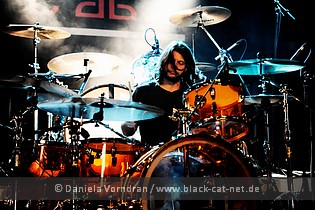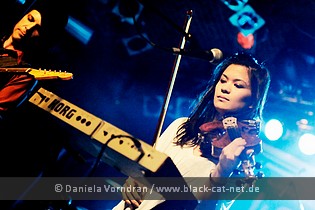 Setlist
01. She haunts me, dear
02. Rabbit & Turtle take the City
03. I Gain a Gain
04. Pretty Bleak (on album with Peter Murphy)
05. In & Out
06. Underhill
07. Saturday at the Beach
08. Wonderful

Rating
Music: 8
Performance: 8
Sound: 7
Light: 7
Total: 7.7 / 10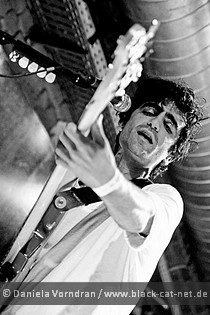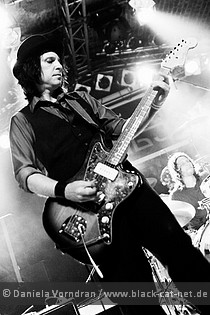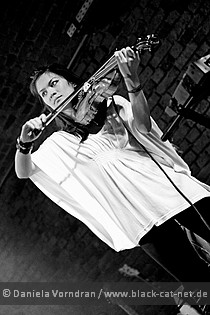 Peter Murphy

PETER MURPHY, often called the Godfather of Goth with prominent cheekbones, baritone voice and gloomy poetics as his trademarks, is mostly known as lead singer of BAUHAUS. But he also released several solo albums, 'Ninth' being the latest one released in 2011. His solo work is more varied than the BAUHAUS one was, reaching from pseudo-pop to haunting ballads that showcased his deep and complex vocals. After converting to Islam and moving to Turkey, also some oriental influences can be heard in his music. Besides Peter Murphy (vocals, guitar), the live band consists of Mark Thwaite of THE MISSION and TRICKY (guitar), Nick Lucero (drums) and Jeff Schartoff (bass, violin). http://www.petermurphy.info/ / https://www.facebook.com/petermurphyinfo / http://www.myspace.com/officialpetermurphyspace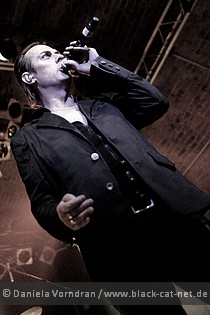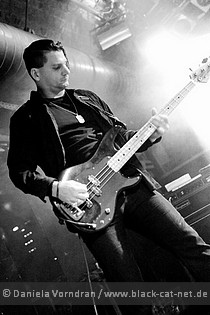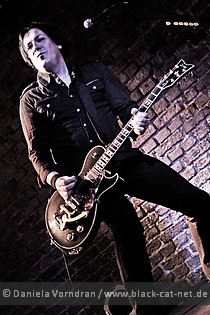 Music & Performance
I missed this man on his solo tours several times, just seen BAUHAUS before, but finally I made it and I was really anxious to see this show. Finally, the hall was pretty well filled as well and so, the show could start. And it did right away with several songs from the latest album 'Ninth' out earlier this year. There were some technical problems at the beginning with Peter's in-ear monitors. He ripped them out already during 'Peace to Each': Technicians reacted fast and built up two monitor speaker in front of him, taking away a little space to he could not stand right at the rim of stage like used to. Anyway, he seemed to be in very good mood talking a lot to the people. There especially was one guy he had several conversations with, I guy he obviously knew, making a lot of jokes with him. Then, 'Disappearing' came next followed by 'I spit roses', also from the current album. Then, the conversation started anew, but for some people it seemed to be too much and one guy shouted: "Please sing another song!" The song following was 'Silent Hedges', originally by BAUHAUS, and people loudly sang along… "Going to hell again, again, again…". Soon, the tempo went a bit slower. During 'Gaslit', Peter held the hand of a happy girl in the audience. Then, a cover version of one of the probably greatest songs ever came up: 'Hurt'. The mood was wonderful and anyone sung the lines. It even did not matter that the guitar was a little booming during the song.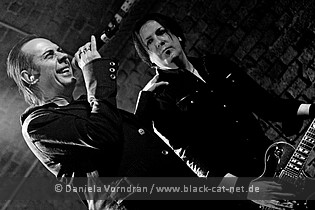 All in all, the sound was pretty good during the whole show, and so were the light illumination any song in a wonderful way. Soon, the songs turned faster again and when the set reached BAUHAUS' 'In The FLat Field', Peter was running over the stage in circles and from one wall to the other like a madman. Then, he walked over to the drummer, discussing the setlist with him. Seems, they discussed some changes before the set went on! After about 75 minutes, with 'The Prince & Old Lady Shade' and 'Uneven & Brittle', the main set was over. The encore bloc was opened by an acoustic version of 'A Strange Kind of Love' ending with some lines out of 'Bela Lugosi's Dead', the biggest BAUHAUS classic. When after 'Cuts you up' the band wanted to leave stage again, probably to wait for more "encore" shouts, Peter asked them to stay on stage. Then he performed an a-capella version of 'Cool, Cool Breeze' which ended the show. Sad enough, that According to the setlist, 4 more songs were planned, all BAUHAUS ones, including the DAVID BOWIE cover 'Ziggy Stardust'. I don't know why they were not played. Was the mood not good enough? Was there no more time? We probably never know but what we know is that the show was amazing anyway!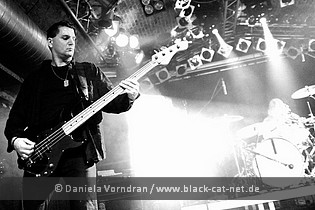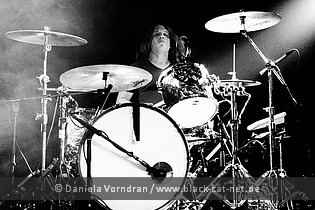 Setlist
01. Velocity Bird
02. Peace to Each
03. Memory Go
04. Disappearing
05. I Spit Roses
06. Silent Hedges (Bauhaus song)
07. Subway
08. Gaslit
09. Hurt (Nine Inch Nails cover)
10. I'll Fall With Your Knife
11. All Night Long
12. His Circle and Hers Meet
13. In The Flat Field
14. The Prince & Old Lady Shade
15. Uneven & Brittle
---
16. A Strange Kind of Love (ends with Bela Lugosi's dead)
17. See Saw Sway
18. Cuts you up
---
19. Cool, Cool Breeze (a-capella)

Rating
Music: 10
Performance: 9
Sound: 8
Light: 9
Total: 9 / 10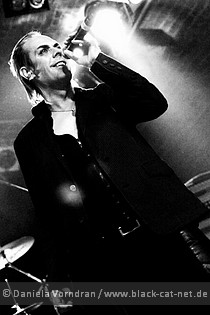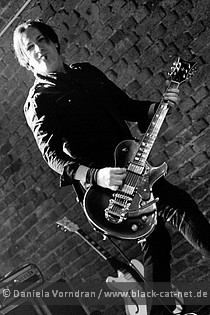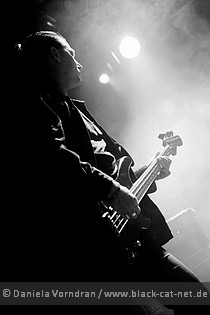 All pictures by Daniela Vorndran (http://www.vorndranphotography.com / http://www.black-cat-net.de/ / http://www.myspace.com/vorndranphotography / http://www.facebook.com/blackcatnet)