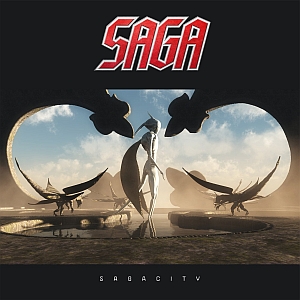 Artist: Saga
Title: Sagacity
Genre: Hard Rock / Heavy Metal
Release Date: 27th June 2014
Label: earMUSIC
Album Review

SAGA - founded in 1977 in Toronto, Canada - have a long band history. Many line-up changes, over two dozen albums in total and an excessive amount of touring make them old hats in the business. Their latest album, 'Sagacity', has been released in 2014 and is the second record since the return of vocalist Michael Sadler in 2011. Atmospheric keyboards and guitars introduce the opener, 'Let It Slide'. For me who has not heard much of SAGA before it came as a surprise - "That's their sound? It sounds almost funky!" Throughout the whole song I was honestly amused. Heavy guitars in the refrain, a clear bass line and the strange funkiness make this song very unique.
'Vital Signs' starts very quiet as well and has an almost oriental sound to it. Steady rocking guitars carry through the track, and Sadler's vocals blend in very well with the foreign sounding background. The third track, 'It Doesn't Matter Who You Are', comes along very 80s-like - for some reason my first thought was PETER GABRIEL's 'Sledge Hammer'. Distinctive guitars lead through and there's even a guitar solo. Which, in my opinion, is a wee bit too long, even though it is not long at all. But it kind of rips the song apart for me, sadly. 'Go With The Flow' surprised me with a change of pace. It begins with strumming guitars, sounds very happy throughout the verses, and then the chorus rocks this slow pace away. It's pretty much contrary to the follow-up, 'Press 9', which does fine with only subtle musical backing. The lyrics solve life's problems by pressing a simple button on an imaginary call centre and let's be honest, we all wished this would be possible in reality.
Pretty much as a punch in the face after this singsong comes 'Wake Up'. The name says it all! EDM elements blend in with heavy, rocking guitars and tapping your foot is guaranteed here. And afterwards you shouldn't even think of stopping tapping it, because 'Don't Forget to Breathe' keeps up the rocking sound with melodic guitar solos and a catchy riff. 'The Further You Go' sounds very old-school and reminds me strongly of GENESIS or SUPERTRAMP, and the keys/ synths definitely stand out in this track, although it is not as catchy as the following track, 'On My Way'. It combines the catchiness of an 80s pop song with progressive rock tendencies, an especially the fast, guitar-heavy interludes towards the end are a real highlight. 'No Two Sides' is a classic rock piece, bubbling synths and crisp riffs supporting Sadler's quirky vocal lines, and the follow-up, 'Luck', is no less rocking. Thoughtful verses blend in perfectly with a chorus that blasts your speakers, and of course a bone-shaking guitar solo is a must have. Without a doubt my favourite song on the album. The album closes with 'I'll be', which starts with a lengthy, very complex acoustic guitar solo that turns into a prog rock classic of its finest kind.
In conclusion: SAGA's newest work is probably a very classic piece to those who know the band already, but for me as a newbie it was more or less a surprise with its mixture of styles. Although not being the kind of album I'd throw in my record player voluntarily I have to say that 'Sagacity' is not bad. A bit too continuous for my liking, maybe even a little boring because none of the songs really stick out, but with so many years of experience, SAGA are probably not the ones to go all experimental again and rather stick to their distinctive sound.
Tracklist

01. Let It Slide
02. Vital Signs
03. It Doesn't Matter Who You Are
04. Go With the Flow
05. Press 9
06. Wake Up
07. Don't Forget to Breathe
08. The Further You Go
09. On My Way
10. No Two Sides
11. Luck
12. I'll Be
Line-up

Michael Sadler – vocals
Ian Crichton – guitar
Jim Crichton – bass, keyboards
Jim Gilmour – keyboards, vocals
Mike Thorne – drums
Website

http://www.sagaontour.ca
Cover Picture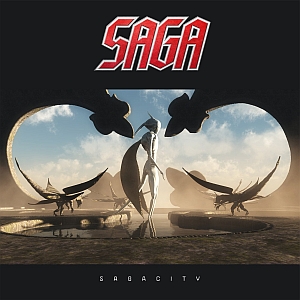 Rating

Music: 5
Sound: 8
Total: 6.5 / 10
See also (all categories):