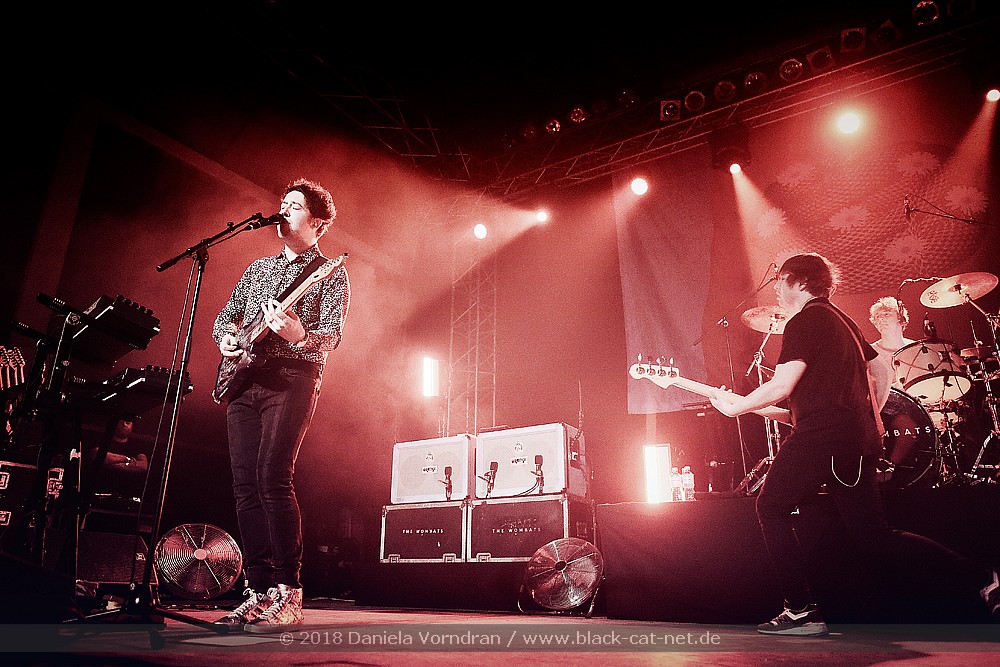 Jovel, Münster, Germany
6th April 2018
The Wombats + Support: The Magic Gang & The Night Cafe

In February, THE WOMBATS proved that they are still among the best and greatest indie guitar bands of our time. Then, their fourth album, 'Beautiful People Will Ruin Your Life', was released and already before, the single 'Lemon to a Knife Fight' was circulating, a downright classic up-tempo-number, content-wise a roller-coaster ride between euphoria and despair, musically a floor filler in every indie-club.
After the hit 2015 album 'Glitterbug' - top five in the British charts, over 200 million streams - and the subsequent big headliner tours, THE WOMBATS have retreated to different parts of the world. Over the long distances, ideas were exchanged and new songs designed, which were then completed during a two-week session in Norway. Together with producers Mark Crew and Catherine Marks, THE WOMBATS have pushed their limits. The claim was, according to Murphy, to produce a reclined album, which does not satisfy you with full steam at every listening. As you can see from this statement, the tragicomic is still in the blood of THE WOMBATS, and the single reveals the well-known penchant for irresistible hooks. Only the leaned back in the music, we are still looking for.
The show in Münster was sold out, like several others too, and the hall was packed. Especially the front rows were full of screaming young girls who already gave it all during the both support bands. It was a great concert evening for all and a big celebration. Not only the audience had much fun, also the bands on stage were visibly happy about the response they got.
The Night Cafe

https://www.facebook.com/nightcafeband/
Setlist
01. Felicity
02. Addicted
03. Together
04. Turn
05. Mixed Signals
06. You Change with the Seasons
The Magic Gang

https://www.facebook.com/TheMagicGang/
Setlist
01. Oh, Saki
02. All This Way
03. Getting Along
04. Alright
05. Caroline
16. Slippin
07. Your Love
08. How Can I Compete
09. All That I Want Is You
The Wombats

http://thewombats.co.uk / https://www.facebook.com/thewombatsuk
Setlist

01. Cheetah Tongue
02. Give Me a Try
03. 1996
04. Kill the Director
05. Black Flamingo
06. White Eyes
07. Techno Fan
08. Emoticons
09. Lemon to a Knife Fight
10. I Don't Know Why I Like You but I Do
11. Pink Lemonade
12. Jump Into the Fog
13. Moving to New York (With elevator music introduction)
14. Lethal Combination
15. Let's Dance to Joy Division
---
16. Turn
17. Tokyo (Vampires & Wolves)
18. Greek Tragedy
More on
The Wombats
,
The Magic Gang
&
The Night Cafe
All pictures by Daniela Vorndran (
http://www.vorndranphotography.com
/
http://www.facebook.com/blackcatnet
)
See also (all categories):