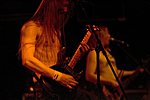 Röhre, Stuttgart, Germany
April 26th 2006
Ensiferum, Orphaned Land, Spellbound, Noise Forest

This evening the final concert event of this year's 'Wacken Road Show'-tour took place in the 'Röhre' in Stuttgart. It was the fourth 'W.O.A. Road Show' under the motto "Wacken comes to your town!" so far; this concert series is conceived as a kind of warm-up for the festival in August. 'Ensiferum' and 'Noise Forest' had already played last year's 'W.O.A.'. Actually, the German band 'Knorkator' were to conclude this concert evening, but they had cancelled their show; instead, 'Noise Forest
' got the chance to play. They were the first ones on stage to prove their skills. The 'Röhre', a modified tunnel section, is a pretty small venue for concerts; nevertheless, there was enough space, because the number of visitors really kept in limits. In the beginning, it seemed that most of them had more likely come to have a beer and a nice conversation. Near the entrance, a promotion stand offered its goods for sale - and everywhere you could see the obligatory skull. With a little delay the first band of the evening was finally announced and some people began moving towards the stage.
Noise Forest


In 1992 five guys founded the band 'Noise Forest' in Kiel, Germany. Today, Owe Koch is the only remainder of the original line-up. At the outset, they play a melange of hardcore and metal. Some demo tapes, line-up changes and musical orientation towards sludge-core with death metal influences later they ended up 1999 with their present line-up and their debut album 'Mortal Machines'. The slow tones gave more and more way to groovier mid-tempo-sounds. In the meantime, the band is signed by 'Armageddon'; their new studio work is titled 'Morbid Instincts' (2006). Line-up: Boris Kronenberg (vocals/bass), Owe Koch (vocals/guitars), Ali Orhan (guitars) and Dennis Köhler (drums).
http://www.noiseforest.de/
Music

The present day, 'Noise Forest' accentuate their harder facets, whereof one can convince oneself while listening to their new album. My impressions of their concert were very mixed. They unleashed a storm of intense sounds on stage, but were not really wowing, more likely a little prosy. After about forty-five minutes' time and an experienced delivered set, the guys left stage. Encores, as were asked for after this scene and also from the bands playing afterwards, seemed to be reserved exclusively for the headliner this evening.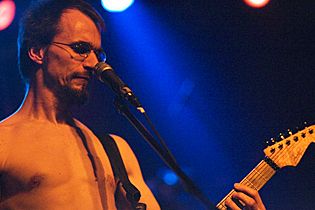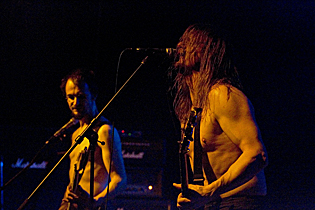 Performance

The guys from 'Noise Forest' did not have a simple task this Wednesday evening. Apart from a few fearless ones, the space in front of the stage was gapingly empty when they started playing. With appropriate loudness and their enthusiastic show they nevertheless managed to entice some more people to approach. Especially Boris, the band's vocalist and bassist, had a strong stage presence; over and over again he appealed to his audience and tried to get even the last ones remaining at the bar on their feet - with moderate success.
Rating
Music: 5
Performance: 5
Sound: 6
Light: 6
Total: 5 (5.3)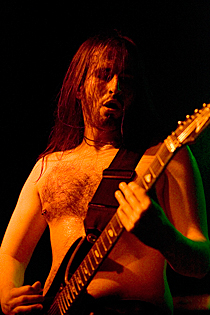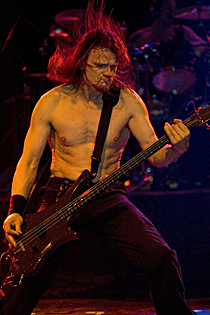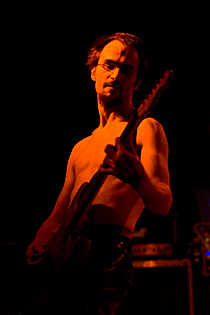 Spellbound


In 1998, David Maier and Kai Lohwasser got to know each other through an annunciation in the RockHard magazine. First, they played together in a melodic death metal band named 'Tears of Sadness'. As they did not want to continue with this kind of music, they decided to form their own band - with a little more speed and less melancholy. They gave it the name 'Spellbound'. The line-up is completed with Lennart Vocke on the microphone and bass and Daniel Tschoepe as a second guitarist. After two demo recordings they split up in the year 2000 due to private conflicts; two years later they reunited and released another demo, 'Violent Forces'. Finally, they ended up in the Stage-One-Studios with Andy Classen in 2005 and recorded their debut album, 'Incoming Destiny'. Line-up: Lennart Vocke (vocals/bass), David Maier (lead guitar/backing vocals), Daniel Tschoepe (lead guitar/backing vocals) and Kai Lohwasser (drums).
http://www.spellbound-thrash.de/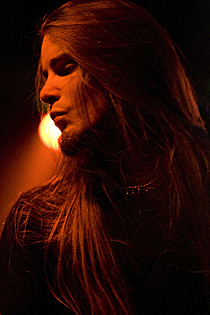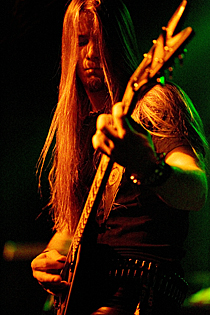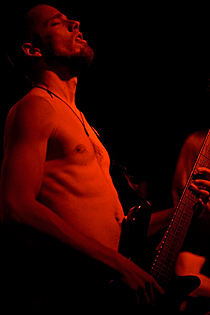 Music

The announcer had already heralded it: 'Spellbound' play good old-fashioned thrash metal, straight, without scrolls, oriented towards well-established Bay Area paragons. At the beginning - as is audible on their debut demo 'First Contact' from 1999 - elements from Black Metal and Power Metal are still built in. However, in the following releases they head more and more for down-to-earth thrash. Their hard, clean sound is by all means able to carry away the audience, but remains standard on balance.
Performance

Also their stage performance did not offer anything really salient. I guess, they suit quite well for such a concert evening, but do not really stick to one's mind.
Rating

Music: 5
Performance: 5
Sound: 6
Light: 7
Total: 5 (5.45)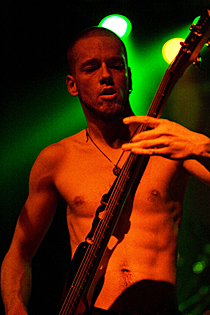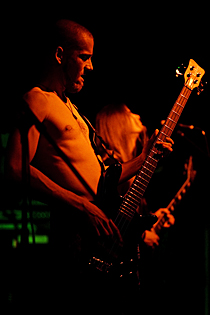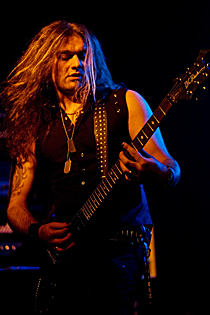 Orphaned Land


'Orphaned Land' stand for an extraordinary sound, mixing various elements of metal with oriental reminiscences, originating from their Middle Eastern roots. Founded in 1991, the Israeli band 'Resurrection', in the early days devoted to death metal, decided to change their name into 'Orphaned Land' one year later. Also their music undergoes a vital mutation. Their demo 'The Beloved's Cry' (1993, re-issued in 1999) was well received and they got signed by the French label 'Holy Records'. After two album releases, 'Sahara' in 1994 and 'El Norra Alila' in 1996 they had to take a compulsory break because of the political problems in their home country Israel. Five years later they started their comeback with a show in Istanbul, Turkey - under the motto "The Calm before the Flood". Their latest studio work, 'Mabool' (=the flood), was recorded in 2003 and appeared 2004 via Century Media; the limited first edition included an acoustic bonus CD containing the band's gig in Tel Aviv in 2002. Line-up: Kobi Farhi (vocals), Yossi Saharon (guitars), Matti Svatizki (guitars), Uri Zelcha (bass), Eden Rabin (keyboards) and Avi Daimond (drums).
http://www.orphaned-land.com/
/
http://www.myspace.com/orphanedmyspace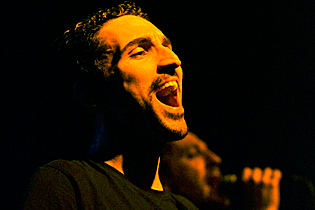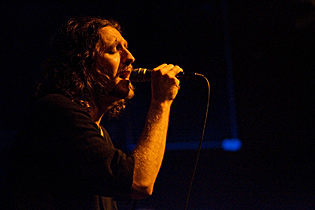 Music

'Orphaned Land' were announced as a band to whom especially the present girls would look forward to; the reason for this became obvious when the guys kicked off their show. It's not that they are lacking harshness, but they mix it up with melodic parts und folkloristic elements. And they provided the audience with a really successful musical performance. Their latest release, the concept album 'Mabool-The Story of the Three Sons out of Seven' contains lyrics in five languages, various exotic instruments as well as numerous guest musicians. Such a work can hardly be brought on stage adequately, above all when you are on such a small stage as the one in the 'Röhre'. Nonetheless, good sound and exciting songs made their performance an experience I will not yet awhile forget.
Performance

The visibly good-humoured guys from Israel displayed it: Metal can be eminently diversified and can result in prolific melanges with totally different music genres. Vocalist Kobi came on stage dressed in some kind of tunic and did not fulfil the typical metal cliché on the whole with his performance; his singing varied from Death Metal-like growling to clear vocals. They gathered a somewhat more numerous audience in front of the stage and it really was a delight to watch them, especially guitarist Yossi was incessantly grinning with pleasure and seemed to have a lot of fun.
Rating

Music: 8
Performance: 7
Sound: 7
Light: 8
Total: 7 (7.45)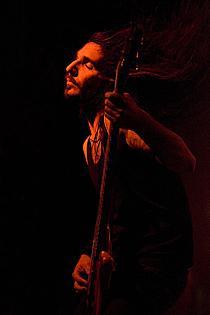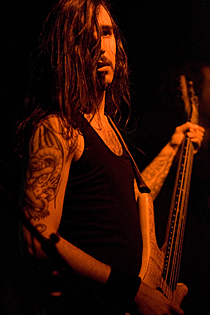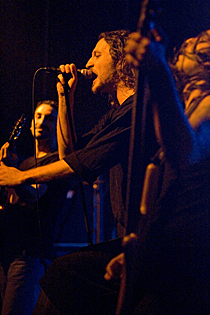 Ensiferum


In 1995 Markus Toivonen played the guitar in a Finnish metal cover band named 'Dark Reflections'; as he is fascinated by folk music and melodic Death Metal, he decided to start his own band together with drummer Kimmo Miettinen whom he has played with in his former band. Sauli Savolainen is the next one to join the band; the three decided to give it the name 'Ensiferum' (=sword bearer). In the year 1996 Jari Mäenpää from 'Immemorial' became the fourth member of the band - he's a vocalist and second guitarist. The following year saw the release of their first demo with three tracks on it. After that, some line-up changes occurred, two more demos were recorded and the band ended up having a deal with Spinefarm Records. Their debut album 'Ensiferum' appeared in 2001, after keyboard player Meiju Enho had joined the band. Their second album, 'Iron' (2003) was recorded at the Sweet Silence studios in Copenhagen by producer Flemming Rasmussen, who was also responsible for some of Metallica's earlier studio works. After the recordings, Jari left the band due to his other project 'Wintersun' and was replaced by Petri Lindroos from 'Norther'. The band's latest release was the EP 'Dragonheads' (2006). Line-up: Petri Lindroos (vocals/guitars), Markus Toivonen (guitars), Sami Hinkka (bass), Meiju Enho (keyboards) and Janne Parviainen (drums).
www.ensiferum.com/
/
http://www.myspace.com/ensiferumfinland
Music

'Ensiferum' play some sort of melodic Death Metal with folk influences, comparable to the sound of bands like 'Amorphis' or 'Dark Tranquillity'. The major part of the concert-goers gathered in the 'Röhre' this evening had obviously come to see the congenial band from Finland, as also many of the worn shirts bespoke. According to that, the space in front of the stage was well-filled when they turned up. They really do not lack loudness, and played their set sovereignty which was honoured with bawling and banging by the audience. New songs took turns with older stuff like 'Windrider' or 'Treacherous Gods'.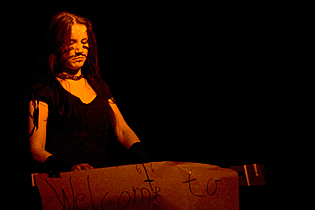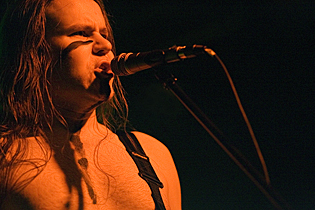 Performance

"Welcome to the Island of Doom" - a hand-painted placard promised, which was attached to Meiju's keyboard. The guys turned up on stage half-naked and with rudimentary black body and face painting; on Sami's chest the word "Kill" was written. They delivered a show bursting with energy and didn't seem to take themselves too serious, which surely yields them a lot of sympathy. Towards the end of their set there was a little surprise for the auditory when Beast Dominator, 'Finntroll''s man at the drums, wavered on stage, a beer in the hand, which obviously was not his first one this evening. After a short and funny conversation with the people in front of him he disappeared just to emerge again some minutes later in the middle of the next song and exhilarate the audience with the making of soap bubbles. The evening concluded with some encores from 'Ensiferum' plus parting words concerning the finishing of the 'W.O.A. Roadshow' for this year.
Rating

Music: 8
Performance: 7
Sound: 7
Light: 5
Total: 7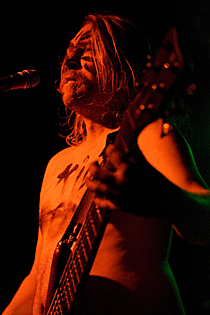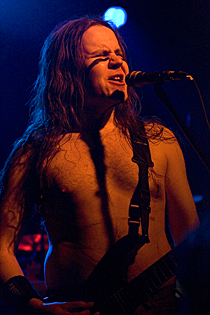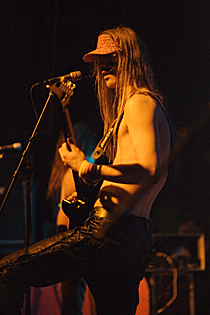 {jos_sb_discuss:17}