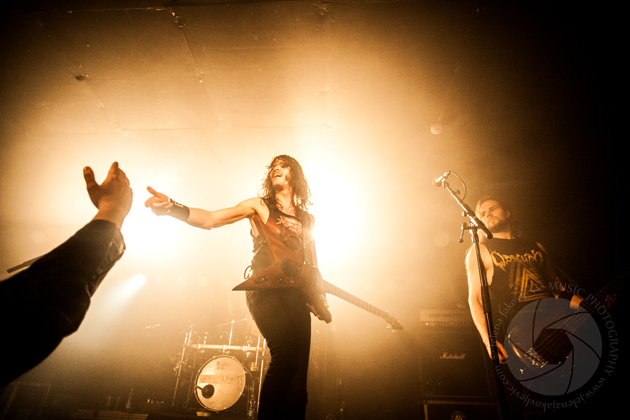 Rock Club Tapper, Tallinn, Estonia
17th November 2016
Evil Invaders, Exit & ApeX

When you mention Belgium and Metal, EVIL INVADERS should be the ones to blow your mind! I am watching them for the very first time and it seems surreal... like someone merged old metal souls from the 80's legends into new hyperactive kids. The result? You should see it on your own!! Fresh and old... Speed, Trash and Heavy Metal with the stunning performance!
Exit

The evening started with APEX, Thrash Metal band from Finland and EXIT, Death-Thrash Metal band from Switzerland. EXIT are: Beni the Animal, Steve the MetHaller, Mart4Finger, FastAndyBeer.
http://www.exit666.ch
/
https://www.facebook.com/EXIT666com
Evil Invaders
It is Thursday and Rock Club Tapper is not full, but EVIL INVADERS are delivering a cool, professional high end performance for us being there, making jealous everyone else. The new album is on the way, beware! EVIL INVADERS are: Joe (vocals & guitars), Max Mayhem (lead guitars), Senne Jacobs (drums) and Joeri (bass guitar).
www.evilinvaders.be
/
www.facebook.com/evilinvaders
/
www.instagram.com/evilinvadersbe
/
www.twitter.com/evilinvadersbe
All pictures by Jelena Jakovljevic