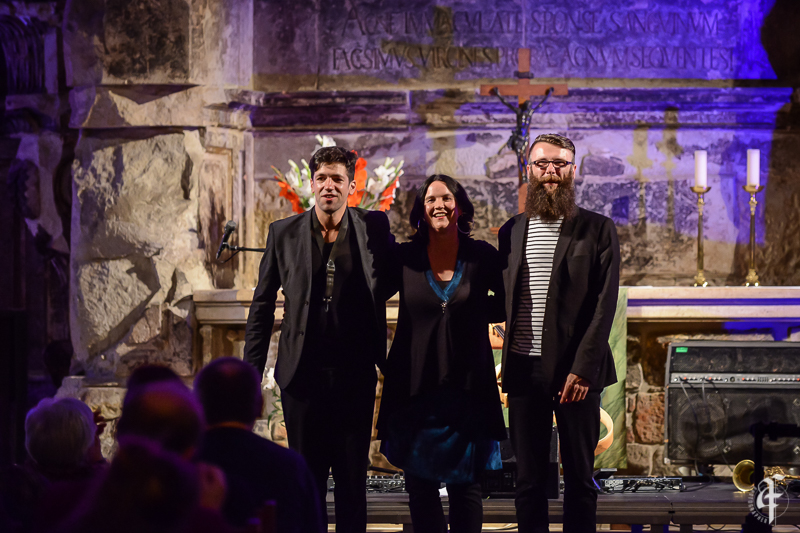 Dreikönigskirche, Dresden, Germany
17th September 2017
Land Über

A few words about magic… Do you know where magic is born? Musical certainly. Maybe where the fingers touch the strings or the bow appears, maybe one of the effects of the electronic cello turn on? But no. Everything is inside. These are the inner demons of the melancholic and dreamer.
Usually
LAND ÜBER
is a duet: Benni "Cellini" Gerlach and Karl Helbig. This time the singer Katharina Johansson joined them. She is with the group only at this tour. Katarina is happy to be with the group, but misses for the family that has remained in Sweden. Her wonderful voice was a good addition to the duet. The trio sounded under the arches of the church Dreikönigskirche voluminously and covered in a soft blanket of sounds. Among the familiar songs of LAND ÜBER were a Swedish Christmas song, a lullaby, the poem by Thomas Ritter 'Spring' and cover version of ELTON JOHN's 'Sacrifice'.
...How many sounds the instrument generates! Cello... more precisely, only the outline of a cello. Karl is also a magician and it turned out that even the sea can fit into the saxophone. This music was definitely decorating the evening in Dresden!
https://www.facebook.com/LandUeber / http://land-ueber.de
All pictures by Anastasia Filippova (https://www.facebook.com/anastasia.philippova.35)