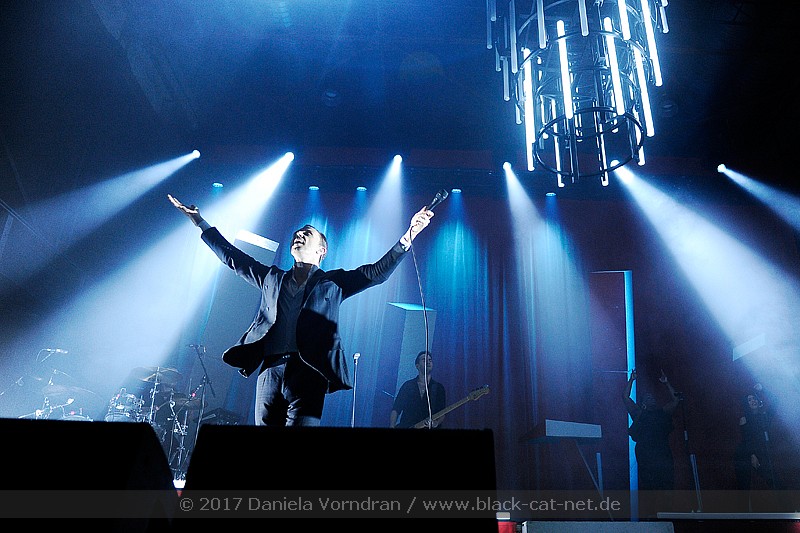 Palladium, Cologne, Germany
4th December 2017
Hurts & Tom Walker

Last Monday,
HURTS
were visiting Cologne's Palladium for the last stop of their German "Desire" tour. Already seven years passed since the band released the hit single 'Wonderful Life' and had their breakthrough with the album 'Happiness'. 'Surrender', their second album released two years ago, also made it into the Top Ten. The new HURTS album, 'Desire', was released end of September 2017, followed now by several live shows.
The Cologne concert was not sold-out, but the queue was long and people wanted to enter the venue as soon as possible to secure a close spot to the stage. So, when support act
TOM WALKER
started his show at 19:30, the venue was already well-filled. He and his companions were a good warm up for Theo and Adam, entering the stage with their supporting musicians and backing singers already at 20:45. Of course, they presented several new songs from their current album, but also an acoustic song in the middle of the set and of course the beloved gems from the past, like 'Wonderful Life', 'Sunday', 'Stay' or 'Better than Love'.
Tom Walker
http://www.iamtomwalker.com / https://www.facebook.com/IamTomWalker
Hurts
http://www.informationhurts.com / https://www.facebook.com/hurts
Setlist
01. Desire
02. Ready to Go
03. Some Kind of Heaven
04. Sunday
05. Silver Lining
06. People Like Us
07. Hold on to Me
08. Miracle
09. Rolling Stone ('The Road' outro)
10. Weight of the World
11. Better Than Love
12. Somebody to Die For (Acoustic)
13. Sandman
14. Lights
15. Walk Away
16. Something I Need to Know
17. Wonderful Life
18. Nothing Will Be Bigger Than Us
19. Wings
---
20. Beautiful Ones
21. Stay
All pictures by Daniela Vorndran (
http://www.vorndranphotography.com
/
http://www.facebook.com/blackcatnet
)