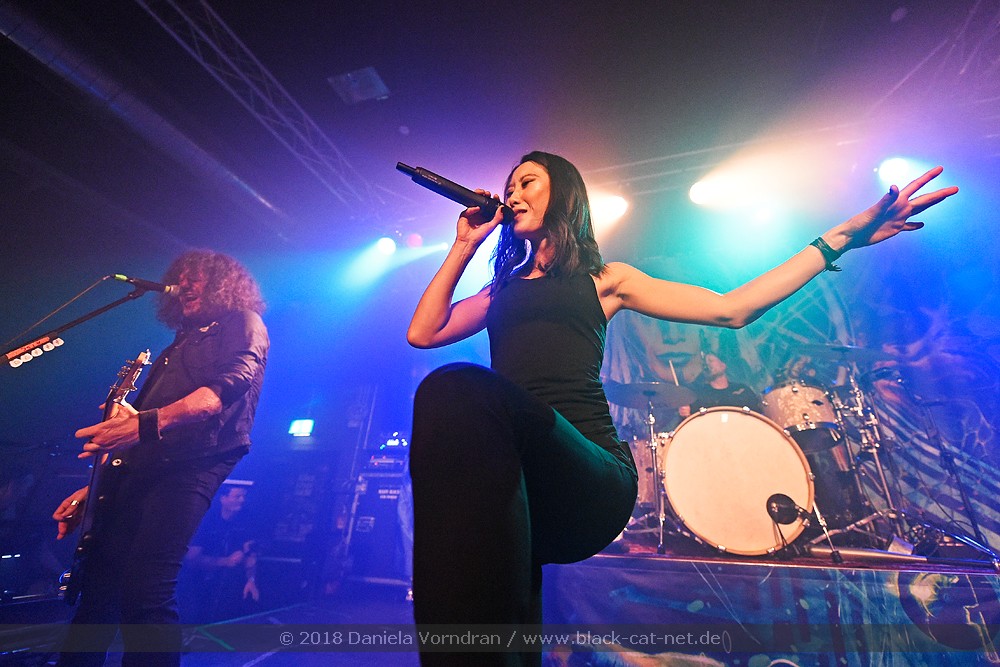 FZW, Dortmund, Germany
22nd September 2018
And Then She Came & Grey Attack

AND THEN SHE CAME (formerly KRYPTERIA) did it again: fuelled by the positive reactions to their debut album from 2016, singer Ji-In Cho, guitarist Olli Singer, bassist Frank Stumvoll and drummer S.C. Kuschnerus have withdrawn to write and record a worthy successor. The result is 'Kaosystematiq', a multi-layered work that does not carry its ambivalent title and transcendent artwork for nothing: But as different as the songs are, they are united by the ATSC-own sound. The band itself calls the sound "Adrenalectrica", a blend of the members' preferences that combine Rock, Metal, Pop, Soundtrack influences, as well as Gothic and Wave tracks.
As with the debut, the entire foursome was again involved in the songwriting, so the impulse for a new song can come in all sorts of ways and corners from this formation - more of a chaos than a system. 'Kaosystematiq', the new work of AND THEN SHE CAME, was released on September 21, 2018 and accompanied by a club tour which will lead the band into eight German cities. After the show in their home town Aachen on the release day, the band visited the FZW in Dortmund, supported by GREY ATTACK.
Grey Attack

http://www.greyattack.com / https://www.facebook.com/Grey-Attack-214723942016364
Setlist

01. Grains of Sand
02. Another Love Has Gone
03. Inside Your Head
04. I Was Blind
05. I'll be there
06. Leave Me Alone
07. Don't Need Nobody
08. Over The Rainbow
And Then She Came
http://www.andthenshecame.com / https://www.facebook.com/andthenshecame
Setlist
01. Devastation Anyone
02. Public Enemy #1
03. Five Billion Lies
04. Spit It Out
05. I Just Cannot Trust Myself
06. Why So Serious?
07. As the Battle Rages On
08. Where Do We Go From Here?
09. And Then She Took A Break
10. Perfect as You Are
11. Shine on Supernova
12. Would You Die Tonight?
13. Into the Open
14. Sick of You
15. Hellfire Halo
---
16. White Dog
17. Like A Hurricane
All pictures by Daniela Vorndran (
http://www.vorndranphotography.com
/
http://www.facebook.com/blackcatnet
)
See also (all categories):