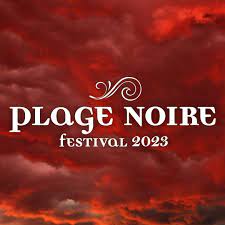 27 acts on three stages and a selected supporting program: On April 28th and 29th, the Weissenhäuser Strand holiday and leisure park once again became the meeting place for the black scene. At PLAGE NOIRE over the weekend, everything was dominated by the black subculture of dark aesthetics, morbid melancholy and cross-genre musical art. Around 3,400 guests celebrated the first festival of the season organized by organizer FKP Scorpio.
"Die letzte Fahrt der Seelenbrecher" ("The Last Voyage of the Soulbreakers") is the name of the chapter with which the legend of the Black Beach was continued this year. The PLAGE NOIRE was officially opened on Friday afternoon with this contribution set to music by scene author CHRISTIAN VON ASTER.
The musical prelude was given by e.g., UNZUCHT with a combination of heavy riffs and melodic vocals. OST+FRONT delivered a bloody, morbid thunderstorm of sound, while ASSEMBLAGE 23 performed with electronic tones of the highest quality. BLUTENGEL's darkly romantic show captivated fans of grand gestures. ROTERSAND underlined their status as a lighthouse in the sea of post electro and future pop. The crowning glory of the festival Friday was the energetic performance by the EBM pioneers FRONT 242.
On Saturday, [X]-RX sent their fans into ecstasy with industrial rave, while ZERAPHINE delivered a mixture of rock and electronic sounds. The driving rhythms of NOISUF-X came across as apocalyptic. MESH inspired with a mixture of aggressive sounds and catchy melodies. The multi-layered synthpop of DIORAMA enchanted the audience as well as the melancholic-poetic sounds of the goth pioneers LACRIMOSA. The fans of the industrial legends DIE KRUPPS and their hard, rousing sounds were also full of euphoria. NITZER EBB not only provided epic, intense moments, but also the brilliant end of the festival.
In addition to the stages, author CHRISTIAN VON ASTER impressed with a captivating reading and crime scene cleaner THOMAS KUNDT with a lecture from his exciting everyday work; a finely curated program of fashion walks, a shopping mile typical of the scene, a medieval market, autograph sessions and parties rounded off the weekend.
"Welcoming the black community on the Baltic Sea has become a cherished tradition for us. We are very pleased that our visitors are joining this tradition and celebrating a festival with this big family. All acts, our crew, our partners and everyone who visits PLAGE NOIRE contribute to making Schwarzer Strand a special kind of feel-good place," says Stephan Thanscheidt, CEO and chief booker at FKP Scorpio.
The tradition continues: The next PLAGE NOIRE will take place on April 26th and 27th, 2024 at Weissenhäuser Strand. Advance sales have already started. Tickets from 179 euros including two overnight stays and further information are available at plagenoire.de.
Source: Press Release