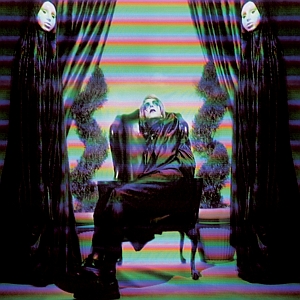 DRAB MAJESTY, the project led by Deb Demure, from L.A., has been causing quite a buzz in our beloved 'dark scene' in the last few months. His androgynous Bowiesque look and his romantic Postpunk/ Coldwave music has fascinated dark music lovers.
Originally, Deb is a drummer (he still plays drums in Marriages and Black Mare) but since 2012, he has been developing this solo project, which is really original. First of all, his look and his visual universe is amazing: Deb looks like a transgender Thin White Duke, evoking of course Bowie but most of all Genesys P Orridge. And the music is unique: Deb calls it "tragic wave": it's atmospheric, romantic, a bit like COCTEAU TWINS, DURUTTI COLUMN, THE CURE from the 'Faith' period, and CLAN OF XYMOX from 'Medusa', all this combined with heavy flanger loaded guitars and fat, cheesy synths. On top of this, a very sensual voice, dark and hypnotizing.
His first full-length album, 'Careless', was released by Dais Records in 2015 and his latest 7-inch single, 'The Heiress', has been published by Weyrd Son Records a few weeks ago.
Listen to the 7-inch single
Listen to the interview Deb Demure
(Drab Majesty) gave to our journalist Phil Blackmarquis on the WAVES radio show
Drab Majesty:
https://www.facebook.com/drabmajesty