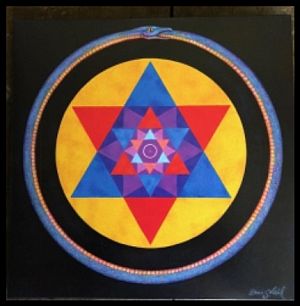 WOLVENNEST or WLVNNST is a musical project from Brussels, Belgium on the way to a huge international success. Why? It delivers a unique blend of Black Metal, Psychedelia and Dark Ambient music, mixed with a tribal, even shamanic dimension. Compositions include guitar loops, repetitive beats, synthesizers keys mixed to darkened hypnotic ambient vocal sounds.
The band is the fruit of a collaboration between four experienced musicians: Michel Kirby (La Muerte / Arkangel), Marc De Backer (Mongolito, ex-Dog Eat Dog, ex-10000 Women Man), Corvus Von Burtle (Cult of Erinyes) and Sharon Shazzula (ex-Aqua Nebula Oscillator). The quartet is complemented by DéHà on drum and piano, John Marx (Temple Of Nothing) on bass and Bram Moerenhout on drums.
Following a first album featuring DER BLUTHARSCH and THE INFINITE CHURCH OF THE LEADING HAND members Albin Julius and Marthynna as guests and co-writers, the band has just released its second album, 'V.O.I.D.', on the German label Ván Records. It was composed solely by the band members and Sharon Shazzula is singing most vocal parts. Guest vocalists include this time Ismail Khalidi and Alexander von Meilenwald (The Ruins of Beverast). The album was recorded in the band's home studio, Forbidden Frequencies, with the help of their producer, DéHà.
WOLVENNEST played festivals like Roadburn, House Of The Holy, Desert Fest, Acherontic Arts Fest III and support-acts for Electric Wizzard, Urfaust, DOOL and Wolves In A Throne Room.
Listen to the title track of V.O.I.D.:
Buy the new album here: https://www.van-records.de/index.php?manufacturers_id=61&MODsid=97dfcb3ba60731a32784c2bdfb2ed2b2 /
https://amzn.to/2scMyO3
Wolvennest on Facebook: https://www.facebook.com/wolvennestband/