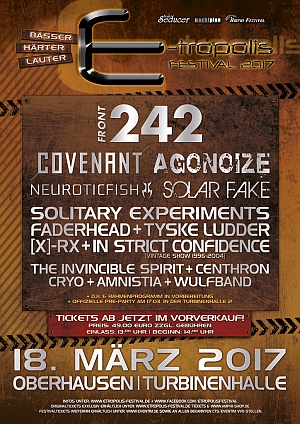 What a blast! Straight... great..., that´s how the E-tropolis line-up 2017 finally stands-out with fifteen bands about to share the two stages of Turbinenhalle Oberhausen in March 2017. Bringing this year´s booking to a close, we captured another first class catch in NEUROTICFISH. Definitely a highlight for electropop-fans and a worthy addition to a phenomenal line-up, which ultimately comprises the following artists:
FRONT 242 + XOVENANT + AGONOIZE + NEUROTICFISH + SOLAR FAKE + SOLITARY EXPERIMENTS + FADERHEAD + TYSKE LUDDER + IN STRICT CONFIDENCE (VINTAGE SHOW 1996-2004) + [X]-RX + THE INVINCIBLE SPIRIT + CENTHRON + CRYO + AMNISTIA + WULFBAND
As we continue working on your E-tropolis experience, we´re currently taking efforts concerning the nearing announcement of the official E-tropolis pre-party and supporting programme. The pre-party is scheduled for 17.03. at Turbinenhalle 2 and will be included in the festival ticket. The DJs of the pre-party will be announced very soon. The after-show-party and other supporting activities shall follow early 2017.
TICKETS
Original tickets for E-tropolis vol. 7 are now available at
www.amphi-shop.de
(or
www.etropolis-festival.de/tickets
), including 5+1 group tickets. Furthermore E-tropolis tickets are on sale at all nationwide CTS/EVENTIM box-offices as well as online at
www.eventim.de
,
www.eventim.nl
,
www.oeticket.at
,
www.ticketcorner.ch
and as
PRINT@HOME edition.
Further info at:
www.etropolis-festival.de
|
www.facebook.com/etropolisfestival
Source: Press Release