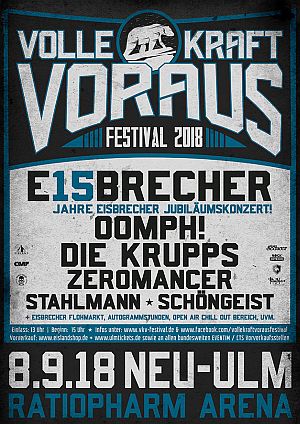 On the 8th of September 2018, successful Munich rockers EISBRECHER invite you to the 2nd edition of their festival in the Ratiopharm Arena in Neu-Ulm where the band is celebrating their 15th anniversary. Besides, the EISBRECHER flea market is confirmed and the line-up complete: OOMPH!, DIE KRUPPS, ZEROMANCER, STAHLMANN and SCHÖNGEIST (new).
The success of Munich rockers EISBRECHER continue "Volle Kraft Voraus"! On the 8th September 2018, the 2nd edition of the indoor festival will take place at the Radiopharm Arena in Neu-Ulm where, together with some good friends, the band aims to raise the roof. This should be a really special event as this festival setting will also mark the 15th anniversary of the band. Along with EISBRECHER, also OOMPH!, KRUPPS, ZEROMANCER, STAHLMANN and, just newly confirmed, SCHÖNGEIST will be taking the stage.
From red hot to 18 below zero, this promises to melt even the hardest ice shell! Bringing together a total of six bands and a top location (with some weather protected covered seating areas), this year will include an open-air chill-out area, food area, market-place and autograph sessions. Also new: EISBRECHER's own flea market!
Front man Alex Wesselsky recalls:
"Man must have something to live on - even the Rock 'n Roller. In the formative early years many aspiring rock stars have to sell their belongings at the flea market at least once every year to survive - a guitar, a microphone or a ready-to-drive rust bucket! In this anniversary year, we want to bring this beautiful tradition back to life once again and liberate ourselves from all EISBRECHER "things" that have accumulated over the course of fifteen years. Hunters and gatherers take note: Bring an extra-large gold bag, because only cash will be accepted for the rarities available on the EISBRECHER flea market. All proceeds will be going to charity."
With the last band now confirmed - Munich dark rockers SCHÖNGEIST - the full line-up is complete. Wesselsky is pleased to have his long-time friends on the bill.
"The last ones will be the first! Our friends from SCHÖNGEIST will open the VKV 2018. Thus, we have two bands from Bavaria this year - one in front and one in the back! With that the express-train line-up is complete; please stop smoking and fasten your seat belts! Let's go!"
This has been a very eventful time for EISBRECHER and front man Alex Wesselsky. With a No.1 chart entry with the current album 'Sturmfahrt', a sold-out tour, gold awards for their albums 'Schock', and 'Die Hölle Muss Warten' - there's no time for rest for these musicians. The command continues to be "Volle Kraft Voraus"!
For hosts and headliners EISBRECHER, the festival in Neu-Ulm is something very special: front man Alexander Wesselsky, born in Augsburg, had already defeated the Neu-Ulm "Barracudas" in 1993 with his football team "Eichenau Vipers". Now Alex wants to show the Neu-Ulm audience again victory - but this time with music!
The complete Running Order is online at http://www.vkv-festival.de/bands.html.
Additional Festival Information

Line-up: EISBRECHER (15 years EISBRECHER anniversary concert), OOMPH!, DIE KRUPPS, ZEROMANCER, STAHLMANN, SCHÖNGEIST
Surrounding Program: EISBRECHER flea market, signing sessions + open air chill out area and more
Date: 8th September 2018
Venue: Neu-Ulm | Ratiopharm Arena
Doors: 13:00
Start: 15:00
Festival info: www.vkv-festival.de
Tickets: www.vkv-festival.de/tickets /
Eventim
Source: Newsletter