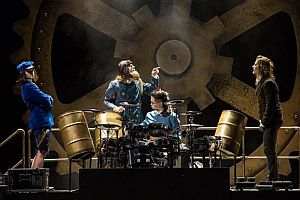 Whether they are covering IRON MAIDEN or putting their own compositions on stage, the unique sound of COPPELIUS enriches the stages for years and captivating metal fans, the medieval scene, steampunk and gothic lovers alike. Their "chamber chorus", metal finest presented with cello and clarinet, authentic with tailcoat and cylinder, makes the band unmistakable for a long time. After a year of "stage abstinence" they are back now - not only on the festival stages of the country also on the opera stage!
After two years, "Klein Zaches, called Zinnober" is listed again - after a short story by the great E.T.A. Hoffmann, presents the music theatre in Gelsenkirchen, the same opera. COPPELIUS have not only taken the band name from the works of the great master of horror stories and black horror stories, they also quote and worship the gloomy romantic again and again in their texts. Now they have translated his narrative as an opera: COPPELIUS compose, COPPELIUS make music (together with the Neue Philharmonie Westfalen) and COPPELIUS are in numerous roles on stage - "Klein Zaches" himself and the author E.T.A. Hoffmann embodies by the ingenious Rüdiger Frank.
The disenchantment of the world - in steam and piston stomping, it becomes reality and finds the perfect metaphor in Steampunk, which conjures up the machine world, but also dreams of the fantastic behind the things, the perfect metaphor for bringing the material into our present. A unique project that drew both opera fans and scene members alike into its insane spell. Already two years ago fans and critics were enthusiastic:
"The stage of the Gelsenkirchen music theatre celebrated with the world's first steampunk opera a completely wacky, rocking and furious premiere. The visually stunning two-hour spectacle, 'Klein Zaches, called Zinnober' from the steam engine era, electrified the audience to the tips of their hair." (Der Westen, 15.11.2015)
"If the Steampunker likes something, he roars afterwards: 'Keep it up!' You can join in." (German stage, 16.11.2015)
- and unanimously one thing was criticized above all: too few and too short were the possibilities to enjoy the spectacle. This has now been remedied: on five dates, the opera is to be seen again this year. COPPELIUS helps again! The machine is again under steam!
Dates
08. September 2018, 19.00
09. September 2018, 15.00
30. September 2018, 18.00
01. December 2018, 19.30
31. December 2018, 19.00
Source: Press Release