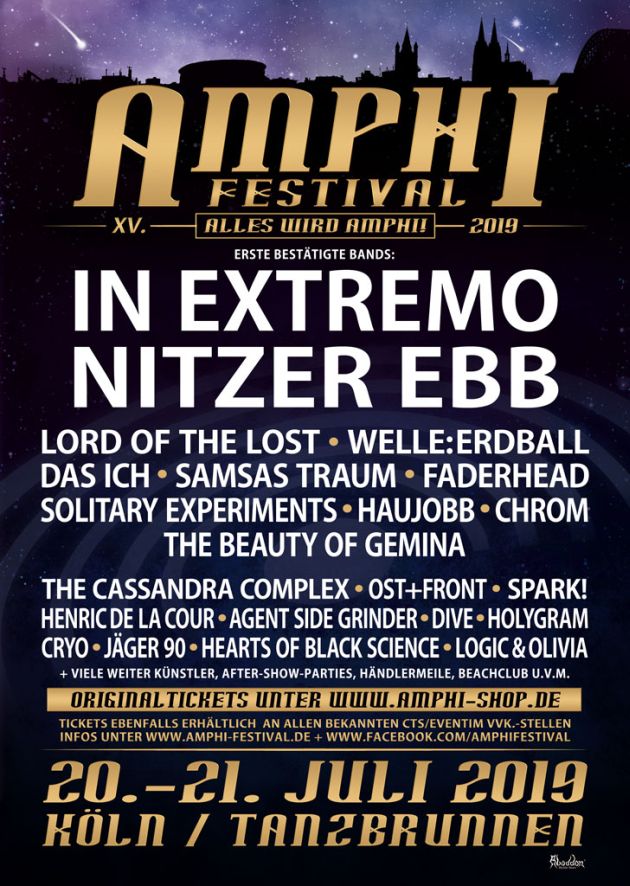 Children of the night, how time flies! Just a moment ago we had the idea of bringing an open-air festival to life and bang, fifteen years later the same colorfully black fifth season celebrates its 15th anniversary. A story that fulfills us, the promoters, with a humble sense of pride as well as it induced you as the audience over the years with countless unforgettable memories and the joy of anticipation for the next Amphi Festival on 20. & 21.07.2019 at Tanzbrunnen Cologne. After news broke of NITZER EBBs glorious return and a record-worthy pre-selling start, bursting out all early-bird tickets within just a few hours, the time has finally come to lift the curtain for what more can be expected at Amphi next year. Clear the stage for our first big line-up pack, featuring the following artists:
IN EXTREMO + LORD OF THE LOST + WELLE: ERDBALL + DAS ICH + SAMSAS TRAUM + FADERHEAD + SOLITARY EXPERIMENTS + HAUJOBB + CHROM + THE BEAUTY OF GEMINA + THE CASSANDRA COMPLEX + SPARK! + OST+FRONT + HENRIC DE LA COUR + DIVE + HOLYGRAM + CRYO + JÄGER 90 + HEARTS OF BLACK SCIENCE + LOGIC & OLIVIA
TICKETS & INFO
More festival information is available as always at www.amphi-festival.de or www.facebook.com/amphifestival. Original Amphi Festival tickets and "Amphi/E-tropolis 2019" combi-tickets are exclusively available at Amphi Shop, www.amphi-shop.de Furthermore festival tickets can be bought at all nationwide CTS/EVENTIM box-offices, online at www.eventim.de, www.oeticket.com, www.ticketcorner.ch and as PRINT@HOME edition.
Source: Newsletter