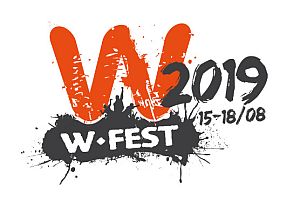 Expo, Waregem, Belgium
15th to 18th August 2019
It doesn't happen often that an organization already announces the almost complete line-up of next year during this year's edition. W-Fest is delightful exemption on that rule and is also quite unique from several other perspectives. Last August, this Belgian 80s/ New Wave/ EBM / Synth Pop Festival (with full camping) attracted over 30,000 fans during a successful 3rd edition and also the upcoming edition 2019 promises a great line-up with fantastic bands from the Synth Pop and Wave genres.
Now, we from Reflections of Darkness think it is a good idea to introduce you our highlight per day and additionally one band from the whole line-up we are extremely looking forward to seeing at the W-Fest stage. Finally, we want to introduce you a band playing on Sunday offering you on SYNTH SCENE: Desperate Journalist (GB), Lavvi Ebbel (BE), Fehlfarben (DE); Peter Hook & The Light (GB), Red Zebra (BE), China Crisis (GB), Jimmy Somerville (GB) / WAVE CAVE: The Foreign Resort (DK), Kowalski (DE), Pink Turns Blue (DE), Whispering Sons (BE), Apoptygma Berzerk (NO), New Model Army (GB), And One (DE) / THE OLIVIER DAOUT STAGE: Astrasonic (BE), State of the Union (US) / VIP: Collection d'Arnell-Andréa (FR), Blaine L. Reininger plays Tuxedomoon (USA).
Our pick of the day is
Jimmy Somerville (GB)

Date: 18-08-2019 / Time: 22:40-23:40 / Stage: Synth Scene
James William "Jimmy" Somerville (born 22 June 1961) is a Scottish Pop singer and songwriter. He sang in the 1980s with the Pop groups BRONSKI BEAT and THE COMMUNARDS, and has also had a solo career. He is known in particular for his powerful and soulful countertenor/ falsetto singing voice. He is openly gay; many of his songs, such as 'Smalltown Boy', contain political commentary on gay-related issues.