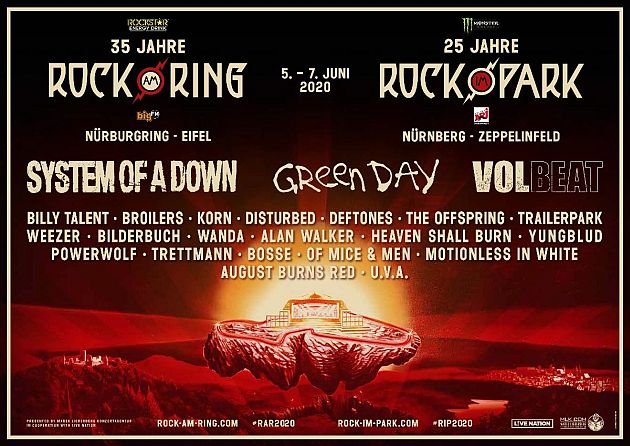 35 Years of Rock am Ring - 25 Years of Rock im Park! Let's celebrate 60 years of festival history! Anniversary takes place from June 5 - 7, 2020! Early booker contingent almost sold out!

60 years of festival history require an adequate event frame, and so 35 years of Rock am Ring and 25 years of Rock im Park will end up in two different anniversary parties with a spectacular line-up - the first band wave washed ashore: System Of A Down, Green Day, Volbeat, Billy Talent, Broilers, Korn, Disturbed, Deftones, The Offspring, Trailerpark, Bilderbuch, Weezer, Wanda, Alan Walker, Trettmann, Yungblud, Heaven Shall Burn, Powerwolf, Bosse, Of Mice & Men, Motionless In White, and August Burns Red.
With SYSTEM OF A DOWN, GREEN DAY, and VOLBEAT, three of the most successful modern Rock bands were engaged for Rock am Ring and Rock im Park from June 5 - 7. SYSTEM OF A DOWN are called the most important Alternative Metal band of all time. Rare performances of the US rockers with Armenian roots are a guarantee for spectacular concerts. After six years, GREEN DAY, the most successful Punk Rock band of the present, return to the Nürburgring and Nuremberg with their new studio album, and the Danish Metal heroes VOLBEAT are number three in line of the top headliners.
By now, the anniversary programme offers several heavyweights of the harder tones, e.g. BILLY TALENT, BROILERS, KORN, DISTURBED, DEFTONES, THE OFFSPRING, HEAVEN SHALL BURN, POWERWOLF, OF MICE & MEN, MOTIONLESS IN WHITE, and AUGUST BURNS RED. With top acts like TRAILERPARK, WEEZER, BILDERBUCH, WANDA, ALAN WALKER, TRETTMANN, YUNGBLUD, and BOSSE, Urban, Indie, and Electronic Music is brought on stage.
As in the years before, visitors of Rock am Ring can buy their festival ticket independently from the camping & parking ticket. For Rock im Park, everything is combined in one ticket. The price for an early booker weekend festival ticket for Rock am Ring is EUR 149.00 incl. presale fee. The fixed price for a camping & parking card (General Camping) at the Ring is EUR 50.00 incl. presale fee. For Rock im Park, the early booker price for a combined ticket (Weekend Festival Ticket - General Camping) is EUR 199.00 incl. camping, parking, and presale fee. Right now, the early booker tickets are almost sold out. As soon as the limited contingent is gone, the second price stage for a Weekend Festival Ticket at Rock am Ring will be EUR 174.00 incl. presale fee. The camping and parking ticket (General Camping) for the Ring costs EUR 50.00 incl. presale fee. For Rock im Park, a combined ticket of the second price stage costs EUR 224.00 incl. General Camping, parking, and presale fee.
At the Nürburgring, for all buyers of a camping and parking ticket, an early arrival is granted without additional fee. It starts on Wednesday, 3rd June, 2020, at 12 p.m. Furthermore, there is the Rock'n'Roll Camping, the Caravan Camping, the Green Camping, the exclusive Rock am Ring Experience Camp, and the VIP Weekend Packages. For Rock im Park, there are things like the Weekend Festival Ticket incl. Green Camping, Backstage Camp, Seaside Backstage Camp, Zeppelin Stage Camping, Caravan Camping, and VIP Upgrade Tickets. For further detailed information around Rock am Ring and Rock im Park, ticketing and General Terms of Business, please visit www.rock-am-ring.com and www.rock-im-park.com.
Tickets Rock am Ring:
http://bit.ly/RaR_tickets
Tickets Rock im Park:
http://bit.ly/RiP_tickets
Confirmed line-up (alphabetical order)

Alan Walker - August Burns Red - Bilderbuch - Billy Talent - Bosse - Broilers - Deftones - Disturbed - Green Day - Heaven Shall Burn - Korn - Motionless In White - Of Mice & Men - Powerwolf - System of a Down - The Offspring - Trailerpark - Trettmann - Volbeat - Wanda - Weezer - Yungblud
Source: Press Release