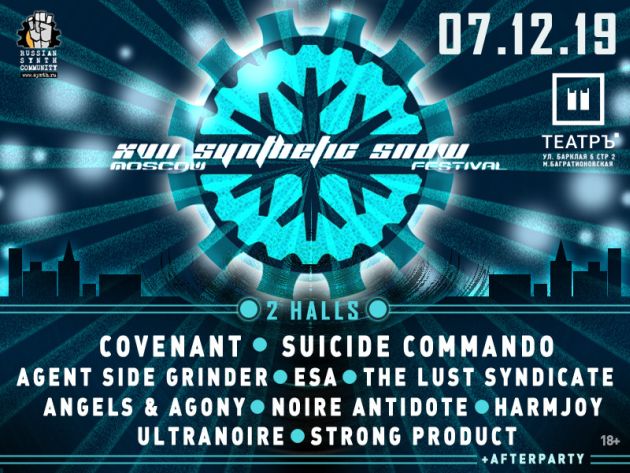 Moscow Synthetic Snow Festival is the biggest annual Russian show, which gathers alternative electronic music lovers in Moscow. There will be everything from synth pop and dark wave to EBM and dark-electro. This year it's going to be the seventeenth party. And as always, we will try to make this day special. December 7, two dance floors of the Theater club will be filled with synthetic melodies, mechanical rhythms and flickering lasers. The event takes place at Moscow club "Theater" (ul. Barklaya, 6 build. 2 ).
Line-up

COVENANT (future pop / EBM, Sweden)
SUICIDE COMMANDO (dark-electro, Belgium)
AGENT SIDE GRINDER (post-punk / synth pop, Sweden)
ANGELS AND AGONY (future pop, the Netherlands)
HARMJOY (future pop / synth pop, Germany/USA)
THE LUST SYNDICATE (post-industrial, Italy)
NOIRE ANTIDOTE (witch-house / post-industrial, the Netherlands)
ESA (rhythmic-noise, Great Britain)
ULTRANOIRE (synth pop, Hungary/Germany)
STRONG PRODUCT (EBM, Russia)
XVII SYNTHETIC SNOW FESTIVAL in social networks: https://vk.com/syntheticsnow2019 / https://www.facebook.com/events/354582638598460
Tickets:

Dancefloor: from 3000 Rub.
VIP: from 3500 Rub.
Pre-sale in Moscow (The organizers are not responsible for the validity of the tickets sold from unauthorized sources):
Per Internet: http://www.muzzbilet.ru / http://www.ponominalu.ru / http://www.concert.ru / http://popmarket.ru
In music shops:
- "Zig-Zag" (subway "Kitay-Gorod", B. Spasoglinishchevskiy per., 9/1, build. 10);
- "U dyadi Bori" (subway Kuznyetky Most, ul. Rozhdestvenka, 6/9)