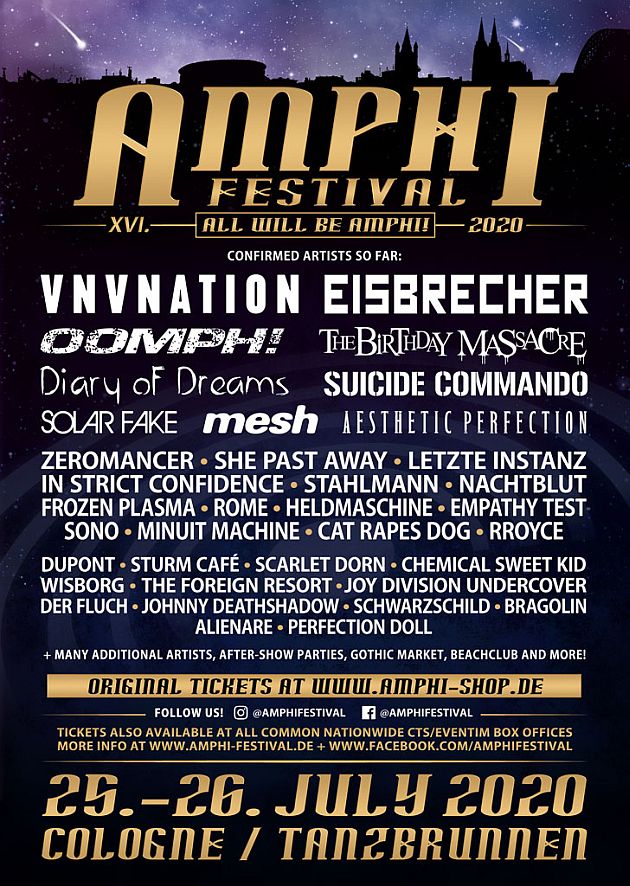 Autumn is here! While you are curious to learn more about which bands are joining the 2020 line-up next, it has been our pleasure to invite a number of established Amphi heroes alongside a considerable amount of artists, who haven't appeared on Amphi's stages just yet. Today, cumulated in a full-on third wave, we raise the curtain for: MESH + ZEROMANCER + NACHTBLUT + FROZEN PLASMACAT RAPES DOG + DUPONT + STURM CAFÉ + THE FOREIGN RESORT + DER FLUCH + PERFECTION DOLL
All in all, 36 bands have been confirmed so far. Stay tuned for more, as the fourth and supposedly final wave follows soon!
TICKETS
Original Amphi Festival tickets and "Amphi/E-tropolis 2020" combi-tickets are exclusively available at Amphi Shop, www.amphi-shop.de!In addition to the pre-selling at the Amphi Shop, Amphi Festival tickets are also available at all CTS/EVENTIM box-offices, via www.eventim.de and as PRINT@HOME edition. Additional festival information is as always to be found at www.amphi-festival.de or www.facebook.com/amphifestival. Also feel free to join us at www.instagram.com/amphifestival!
XVI. AMPHI FESTIVAL 202025. & 26.07.2020 - COLOGNE | TANZBRUNNEN
VNV NATION + EISBRECHER + OOMPH! + THE BIRTHDAY MASSACREDIARY OF DREAMS + SUICIDE COMMANDO + SOLAR FAKEMESH + AESTHETIC PERFECTION + ZEROMANCER + SHE PAST AWAYLETZTE INSTANZ + IN STRICT CONFIDENCE + STAHLMANN + NACHTBLUTFROZEN PLASMA + ROME + HELDMASCHINE + EMPATHY TEST + SONOMINUIT MACHINE + CAT RAPES DOG + RROYCE + DUPONT + STURM CAFÉSCARLET DORN + CHEMICAL SWEET KID + WISBORG + THE FOREIGN RESORTJOY DIVISION UNDERCOVER + DER FLUCH + JOHNNY DEATHSHADOWSCHWARZSCHILD + BRAGOLIN + ALIENARE + PERFECTION DOLL + many additional artists & supporting programme coming soon
Info: www.amphi-festival.de or www.facebook.com/amphifestival
Follow at: www.instagram.com/amphifestival
Source: Press Release