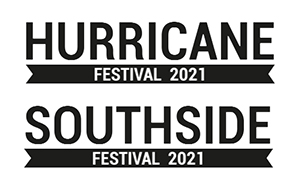 For the Corona-cancelled editions of the Hurricane and Southside Festival in June 2020, more than 100,000 guests have already had their tickets rewritten for the coming year. "This number overwhelms us and gives us strength in this time, which is not easy for the entire event industry and encourages us a lot," says Folkert Koopmans, Managing Director of FKP Scorpio and organizer of the two festivals, about his mood and that of the whole team. Those who are still looking for a ticket for 2021 have the opportunity to secure one of the remaining tickets with the pre-sale start on Friday, June 19 at 12 p.m.
All guests at the Hurricane and Southside Festival can also look forward to two pieces of good news: With TWENTY ONE PILOTS, KONTRA K, THE LUMINEERS and many others, almost all artists have now decided to catch up on their unusual shows in 2021. Before that, the organizer FKP Scorpio and his partners from Norddeutscher Rundfunk (NDR), N-JOY and ARTE, as well as Südwestrundfunk (SWR), DASDING and Festival Radio Camp FM came up with a surprise.
With the Hurricane and Southside Home Edition, fans can simply celebrate at home this year, feel the festival atmosphere and enjoy music. For both festivals there will be an interactive special program on the weekend from June 19 to 21, which can be accessed directly via hurricane.de and southside.de. For this purpose, the NDR broadcasts a three-day selection of the best concerts of the past few years and has produced a full-length hurricane show on the Eichenring with numerous surprise guests on Saturday, June 20, on NDR television from 11:15 p.m. to 3:00 a.m. under the motto "Culture is Corona - your festival".
SWR DASDING also visited the Southside site for a special shoot and also offers a full-length stream with concert highlights, backgrounds and other promotions on the festival Saturday from 6 p.m. On the same day, there is also a live stream from the Camp FM festival radio from 10 a.m. to 6 p.m., of which all Hurricane and Southside fans with music requests and voice messages can be part as usual. FKP Scorpio publishes further details on the respective program on the social media channels of the Hurricane and Southside Festival.
Confirmed Line-up so far

Hurricane

Friday
: Seeed | Martin Garrix | The Killers | SDP | Dermot Kennedy | The Lumineers | Giant Rooks | LP | Killswitch Engage | Of Monsters And Men | While She Sleeps | Millencolin | Fontaines D.C. | Fil Bo Riva | The Dead South | Neck Deep | Mayday Parade | Kelvyn Colt | Miya Folick
Saturday
: Deichkind | Twenty One Pilots | The 1975 | Von Wegen Lisbeth | Mando Diao | Kummer | Jimmy Eat World | Foals | Juju | Tones and I | KitschKrieg | Antilopen Gang | Bad Religion | Sofi Tukker | Nothing But Thieves Oh Wonder | Turbostaat | Wolf Alice | Half Moon Run | Aurora | Kollektiv Turmstrasse Live Georgia | JC Stewart | Brutus | Schrottgrenze | Flash Forward | Helgen
Sunday
: Kings of Leon | Rise Against | Bring Me The Horizon | Kontra K | The Hives | Thees Uhlmann & Band | Sum 41 | Sam Fender | Bombay Bicycle Club | Swiss & Die Andern | Ferdinand Is Left Boy | BHZ | Modeselektor Live | Catfish And The Bottlemen | Frittenbude | Blues Pills | Nura | Skindred | Mine | Lari Luke | Hot Milk | Blond
Southside

Friday
: Kings of Leon | Rise Against | Bring Me The Horizon | Kontra K | The Hives | Thees Uhlmann & Band | Sum 41 | Bombay Bicycle Club | Swiss & die Andern | Ferdinand Is Left Boy | BHZ | Modeselektor Live | Catfish And The Bottlemen | Frittenbude | Wolf Alice | Blues Pills | Nura | Skindred | Mine | Lari Luke | Blond | Flash Forward
Saturday
: Seeed | Martin Garrix | The Killers | SDP | Dermot Kennedy | The Lumineers | Giant Rooks | LP | Killswitch Engage | Of Monsters And Men | While She Sleeps | Millencolin | Fontaines D.C. | Fil Bo Riva | The Dead South | Neck Deep | Mayday Parade | Kelvyn Colt | Miya Folick | Hot Milk
Sunday
: Deichkind | Twenty One Pilots | The 1975 | Von Wegen Lisbeth | Mando Diao | Kummer | Jimmy Eat World | Foals | Juju | Tones And I | KitschKrieg | Antilopen Gang | Bad Religion | Sofi Tukker | Nothing But Thieves Oh Wonder | Turbostaat | Half Moon Run | Aurora | Kollektiv Turmstrasse Live | Georgia | JC Stewart | Brutus
Source: Press Release