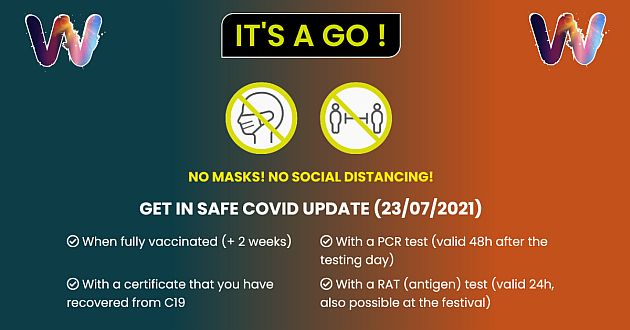 Starting 25th August 2021, five days will stand under the motto of celebrating at the beach in Oostende. W-Festival just released a Covid-19 update:
"Get in safe!
-Thanks to a vaccination certificate : fully vaccinated + two weeks
-Or if a recovery certificate of less than 6 months is available
-Or if a PCR test gives a negative result or a rapid antigenic test performed by medically trained personnel gives a negative result:
°For PCR: validity = day of test taking + 2 days
°For RAT: validity = day of test + 1 day
The persons with a multi-day ticket who have NOT been vaccinated are expected on day 1 of their festival visit with a negative PCR or RAT/Antigen test. From day 2 (in case of a negative RAT test) or day 3 (in case you come with a negative PCR test) you can use the W-fest Antigen-test village to enjoy Wfest the following days in all safety and comfort - no masks & no social distancing.
W-FESTIVAL is aware of the fact that the frequent changes in the testing policy are not only a challenge for the organisation, but also not obvious for the festival visitor. The unfortunate cancellations of some of our artists do not make the situation any better. Covid will continue to bring new challenges, but as long as we are allowed to keep fighting, we will make it our mission to keep sharpening the line-up with equivalent or bigger bands bands from the 80s, 90s and 00s. Regardless of personal preferences of course.
In any case, we as organizers will continue to support the 5th edition of the W-FESTIVAL and with us, many bands, lots of volunteers and employees, the city of Ostend and music-loving Belgium. Whether there will be any obstacles on our way in the coming weeks, we cannot say for sure today. What we do know is that every hurdle will be taken, just as it has been over the past 18 months. W-FESTIVAL will be a safe place. Testing as specified by the government is part of the current regulations, just like we do not allow drugs and have house rules to respect. To make sure everyone has a nice and safe experience.
Thank you for your support.
See you in August!"