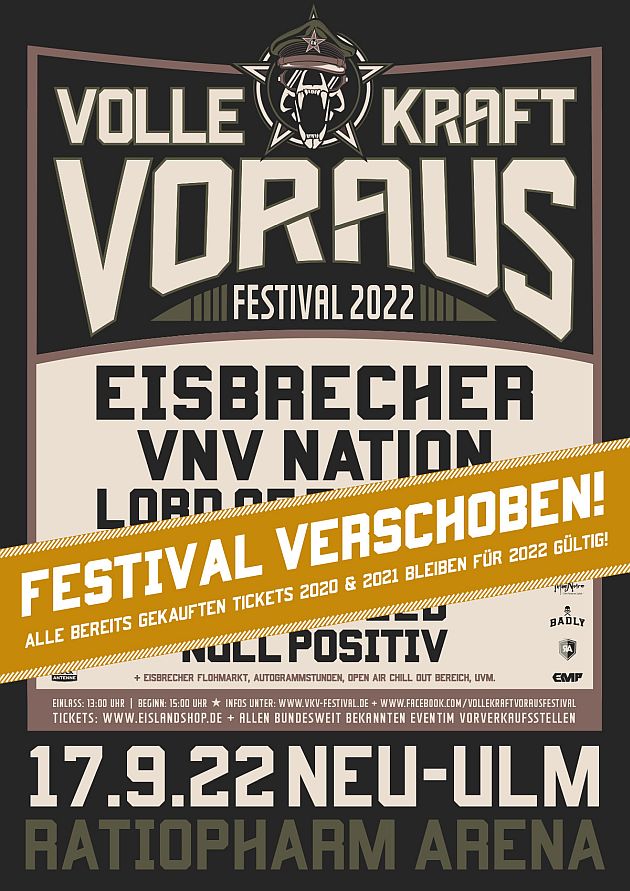 The VOLLE KRAFT VORAUS festival, to which the successful Munich rockers EISBRECHER invite every year, has to be postponed again due to the current pandemic. The new date is now September 17, 2022. The Neu-Ulm Ratiopharm Arena remains the location. And the line-up also remains the same. In addition to EISBRECHER itself, VNV NATION, LORD OF THE LOST, UNZUCHT, MAERZFELD and NULL POSITIV will appear.
"And every year is like groundhog day!", says the band around EISBRECHER frontman Alex Wesselsky. "Who would have thought that we have to go through the same what we went through together last year! The emotions are the same, even if you have already spoken the words and felt the frustration. It comes as it comes... one way or the other! We won't let ourselves get down and push! And if we ALL push together, there can be VOLLE KRAFT VORAUS in 2022! Stay true to us and yourselves and remember: Music is the trump card! Best combined with brains, hearts and eggs made of steel!
< If you want our small, fine VOLLE KRAFT VORAUS festival to survive, please keep your tickets, as we will keep the line-up 2020/2021 with all artists and friends in 2022. We want to keep you, our band, our crew, our way of living and making music and our hope that every madness will come to an end! If you want to support bands and artists in these difficult times: Buy records and visit the online shops, give away VKV festival tickets for 2022, which secures jobs and helps many to survive.
All tickets already purchased for the VOLLE KRAFT VORAUS festival 2020 & 2021 will remain valid for 2022. Should you still have any questions about the tickets you have already purchased or should you not be able to attend the new date in 2022, please contact us by email at:
This email address is being protected from spambots. You need JavaScript enabled to view it.
."
VOLLE KRAFT VORAUS FESTIVAL
Sep 17, 2022 – Neu-Ulm / Ratiopharm Arena
Eisbrecher
VNV Nation
Lord Of The Lost
Unzucht
Maerzfeld
Null Positiv
Festival information + tickets at www.vkv-festival.de
Source: Press Release