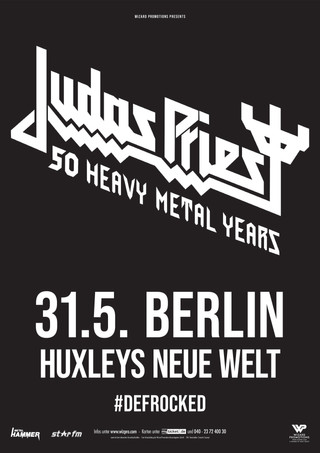 JUDAS PRIEST have just completed their acclaimed anniversary tour through North America, and now the British heavy metal legends are focusing on the upcoming dates in Germany. The band around "Metal God" Rob Halford announces an exclusive tour start in Berlin on the already fixed dates: On May 31, 2022, JUDAS PRIEST will perform at Huxleys. Tickets go on sale in April from today, with general advance sales starting on Friday 29 April 2022.
The demand for tickets for the anniversary tour of the British heavy metal legend is unabated, so the concert in Frankfurt on July 6th, 2022 is now completely sold out and only a few remaining tickets are available for the date in Munich on June 27, 2022.
The preliminary program for the dates in Munich, Oberhausen, Halle (Saale) and Bamberg is now available. The all-star rock band THE DEAD DAISIES will open with rock legend Glenn Hughes (ex-DEEP PURPLE, ex-GARY MOORE, ex-BLACK SABBATH, BLACK COUNTRY COMMUNION). Support for the shows in Frankfurt and Stuttgart are the Norwegian cult metallers KVERLERTAK.
For the start of the tour in Germany, JUDAS PRIEST have come up with something very special and will play an exclusive show on a smaller scale at the Huxleys in Berlin to give the fans the opportunity to be much closer to their idols than on the usual dates. JUDAS PRIEST announced via their social media channels: "Priest-Fans of Berlin. Something very heavy is coming your way very soon. Keep your eyes open or you will also be #defrocked."
There are few metal bands that have scaled the heights that JUDAS PRIEST achieved in their 50-year career. To date, JUDAS PRIEST have sold over 45 million albums worldwide. Her presence and influence is as strong as ever, as evidenced by her current album, 'Firepower', which hit a career high in the charts in 2018, a Grammy Award for Best Metal Performance, which won the VH1 Rock Honors and a Rock and Roll Hall of Fame nomination. At the moment the band is hard at work on their next album, the release date of which is yet to be determined. But that's what concerts like the one announced in Berlin are for: There could be one or two surprises. In any case, even after half a century, JUDAS PRIEST are still a relevant and important figurehead of Heavy Metal!
Source: Press Release