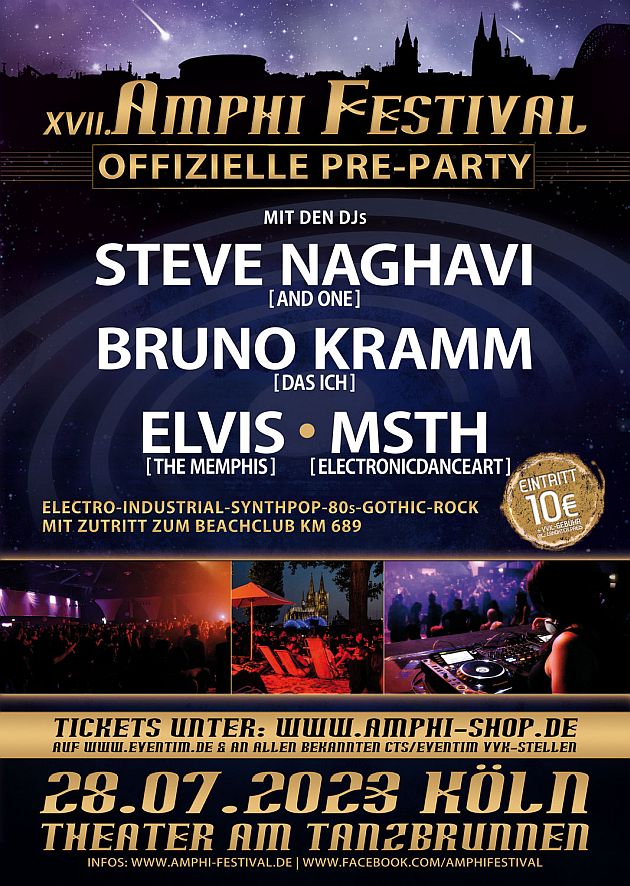 For many of you, it has long become a popular ritual: just quickly get the festival wristband - because what you have, you have - and then, with the party ticket at hand, headlong into the night of nights, to groove in for the big Amphi Festival weekend! On Friday, 28 July 2023, at 10pm it is time again for the official Amphi Pre-Party at the Theater am Tanzbrunnen.
This time AND ONE mastermind Steve Naghavi, scene veteran Bruno Kramm (DAS ICH), Cologne DJ icon Elvis (The Memphis) and our expert for electro sound MSTH (ElectronicDanceArt) will musically guide you through the night from the DJ desk with hot tunes and timeless classics! Weather permitting, the beach club KM 689 will as well be open again on Friday.
Tickets for the official Amphi Pre-Party 2023 are, as always, required in addition to the festival ticket and are available at the AMPHI SHOP at www.amphi-shop.de as well as at www.eventim.de and at all known CTS/EVENTIM advance booking offices! Information about the party and all information about the Amphi Festival can also be found at www.amphi-festival.de !
Source: Press Release