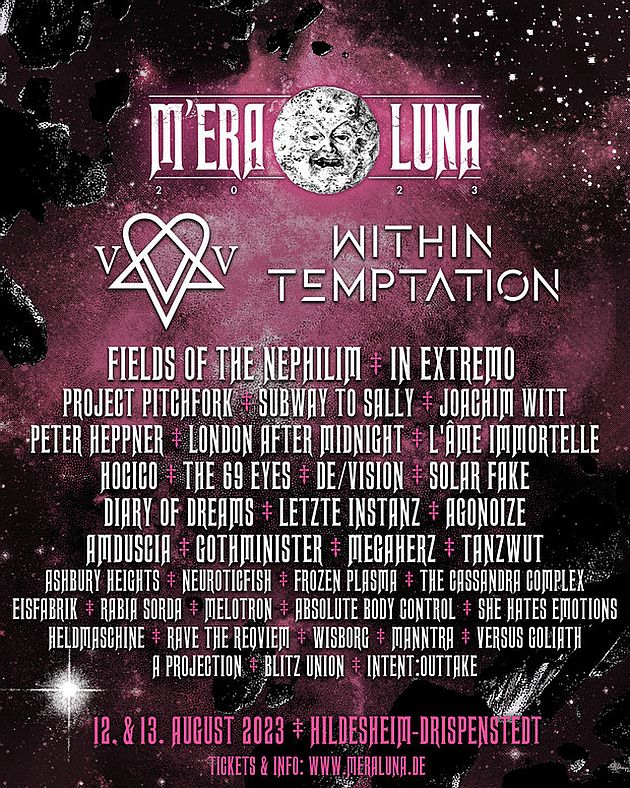 Amatekuro, the messenger of doom and new beginnings, spreads the news of a birth in her all-encompassing radiance. The incarnation of darkness announces itself and forms the signs of the night that promise great things. The icon of M'era Luna holds the whopping 29 newcomers to the festival line-up for M'era Luna 2023 tightly in her six arms.
The family is complete! VV (alias VILLE VALO) and WITHIN TEMPTATION as headliners! From hope to longing: for a long time, we hoped that the musical travel plan would work out. That hope was fulfilled and now the time of tense anticipation begins for what lies ahead. You now have eight months of joyful anticipation ahead of you, in which the longing for the live experience on the stages of M'era Luna is growing. Be sure, your desire will be satisfied.
We welcome 2023 headliners to the M'era Luna family: VV (aka VILLE VALO) and WITHIN TEMPTATION.
In the annals of 21st-century Alternative Rock history, few artists cast a longer or more impressive shadow than Finnish Love Metal pioneers VILLE VALO. Long enough after the end of HIM, VILLE VALO left us unsure about his musical future. His return to the stage promises a new infernal mixture of light and shadow as well as big HIM hits. WITHIN TEMPTATION are still new and at the same time consistently powerful. Anyone who experiences the special atmosphere of a WITHIN TEMPTATION gig will immediately become addicted to this special mixture of Metal and bombast.
FIELDS OF THE NEPHILIM are titans of the Goth movement, who will set accents at our beloved festival with their unmistakable blend of Gothic and Industrial. With HOCICO and LONDON AFTER MIDNIGHT we will be honoured by scene favourites who could hardly be more different on stage, and who still share the passion and love for and from our community.
Newly announces are furthermore: Peter Heppner | L'Âme Immortelle | De/Vision | Diary Of Dreams | Agonoize | Amduscia | Megaherz | Tanzwut | Ashbury Heights | Neuroticfish | Frozen Plasma | The Cassandra Complex | Eisfabrik | Rabia Sorda | Melotron | Absolute Body Control | She Hates Emotions | Heldmaschine | Rave The Reqviem | Wisborg | Manntra | Versus Goliath | A Projection | Intent:Outtake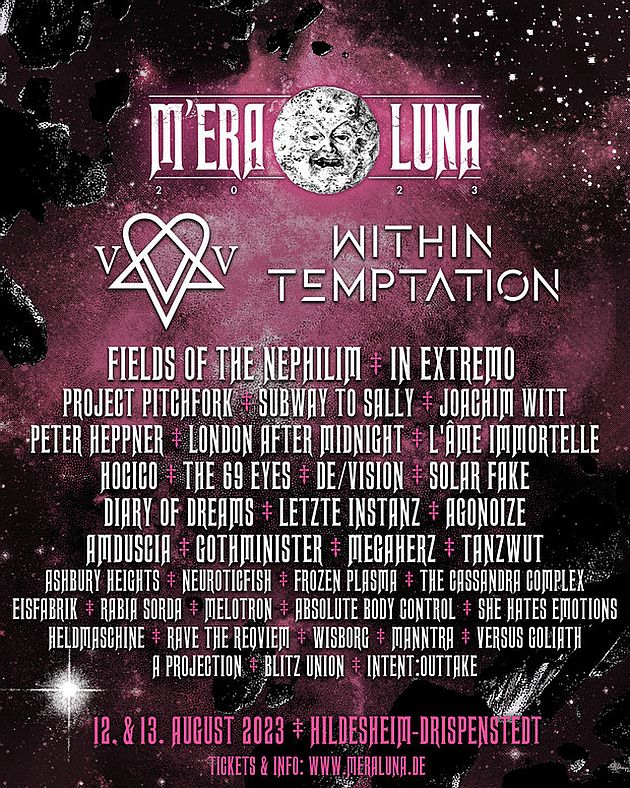 The nights are our source of energy. In the dark and quiet, we gather the strength for an energetic festival day. In addition, from now on you can do that with the special amenities of the Gothic Garden. An exclusive camping area with a bar, chill-out area, WiFi, electricity and much more awaits you in our intimate resort. The tent accommodation offers even more comfort, where you can look forward to a cosy bed and homely furnishings, among other things. We had to make a few price adjustments. You can find all the background information and all other information about the various upgrades and booking options here: https://meraluna.de/de/ticketinfo/special-camping/
Black Friday was yesterday - Black Everyday is our new motto. Show that you are part of our black family by with our M'era Luna festival merch. Between Dec 8 and Dec 12, 2022 we will give you the shipping costs as a thank you for your loyalty. Find your dark robe in the shop: https://www.deinfestivalshirt.eu/m-era-luna/
Nothing is more important than community is. You are and will always remain a part of the family. We would be very happy to see you again in person at M'era Luna 2023. In case you do not have a ticket yet, click here: https://www.ticket-onlineshop.com/ols/meraluna/de/tickets/channel/shop/index/
Source: Newsletter