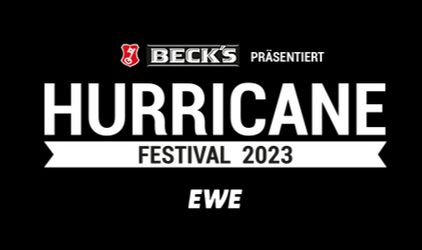 Led by rap icon MARTERIA, the last artists complete the music program of the Hurricane and Southside Festivals from June 16th to 18th, 2023. The new names make the line-up around the already confirmed headliners MUSE, DIE ÄRZTE, BILLY TALENT, KRAFTKLUB, PLACEBO, CASPER, PETER FOX and QUEENS OF THE STONE AGE to a top-class cross-section of national and international music. In addition, organizer FKP Scorpio will publish the program of the festival's own warm-up parties, which will herald an unforgettable festival weekend for around 140,000 music fans.
Marten Laciny aka MARTERIA is a constant innovator whose consistent further development of his sound has become style-defining and has rightly led to the success that the Rostock jack-of-all-trades enjoys today. His current album '5. Dimension' is a good example of this: radically honest and different in lyrics and music, electronic and danceable, but with his own melancholy, which his fans have always associated with him.
Also newly confirmed are the two high-flyers DOMIZIANA and FORTELLA, who not only made a name for themselves in record time, but are also known for euphoric live performances. Also, worth checking out are Newcastle's THE PALE WHITE and Los Angeles' BEAUTY SCHOOL DROPOUT. TYNA will only take off on the Hurricane.
Both festivals start with a warm-up party on Thursday evening again this year. ANTJE SCHOMAKER, ZUZUG MASCULINE, ROGERS and QUERBEAT are confirmed for the Hurricane. The hip-hop duo ZUZUG MASULIN will also record an exclusive podcast from the festival with "ZUM DORFKRUG Live". At the Southside, FRITTENBUDE, SCHMUTZKI, RIKAS and BEAUTY & THE BEATS will ensure an intense first night.
Tickets from 119 euros, the entire line-up and all information can be found on the festival websites of the Hurricane and Southside Festival as well as on Eventim.
Tickets Hurricane:
https://tidd.ly/3LwLygW
Tickets Southside:
https://tidd.ly/3mYsjUd