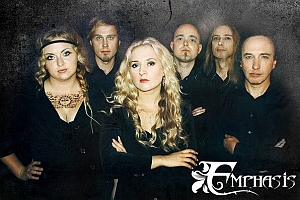 Estonian female fronted progressive metal band Emphasis has signed a contract for debut full-length album release with Italian label Underground Symphony. "Revival" consists of 8 songs and one bonus trackand it is a masterpiece for fans of Within Temptation, Nightwish and Opeth. The album will be available on April 15 in deluxe digipack edition under Underground Symphony Records.
"We can proudly say that our album was completely made in Estonia. This LP was recorded and mixed by our guitarist Pavel Korotaev. All Illustrations for the booklet prepared by Tallinn photographer Lika Nakolyushkina. Layout and design of the booklet engaged by Darius Alas from Midiankai Arts Studio. Even the landscape that decorates our cover shoted on the Stroomi Beach in Tallinn "
, - members of Emphasis said.
Emphasis is progressive metal act from Estonia formed in 2010 by bassist Katya Gritskova and guitarist Pavel Korotaev. Music of Emphasis is synthesis of classical harmonies, expressive heavy guitar riffs, unique rhythmic traditions, delicate melodic sequences and powerful operatic voice of their amazing frontwoman Anna Ganina who joined the band in 2013. Over the years Emphasis played dozens of shows in Estonia, Latvia and Finland, released several singles and EP mini-album «Into Infinity» which received positive feedback from reviewers around the world. The debut recording of Anna as part of Emphasis - the song "Hopeless" was entered to the international compilation "Ladies First".
Italian label Underground Symphony was established in 1994 and specializes in such genres as power metal and symphonic metal. Over the years the label had a collaboration with such groups as the Labyrinth, Skylark, Powerquest, Shadow Of Steel, Cryonic Temple, White Skull, Doomsword and Sabaton.
TRACKLIST
01. On The Wings Of Freedom
02. Running Man
03. Blind Faith
04. Death Itself
05. Every Time
06. Hate Is All You Left For Me
07. Emptiness
08. Shadow Falls
09. Emptiness (Radio Edit)
http://www.undergroundsymphony.it/?p=784
Source: Press Release