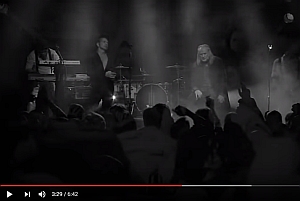 LEICHTMATROSE feat. JOACHIM WITT recently released the new anti-war video 'Hier drüben im Graben'. Here's a statement by Andreas Stitz and Joachim Witt on the new video:
"We as artists feel responsible for focussing on the nearly abstract topic "war" again. Maybe it is also for us to bring to mind that war is the worst and most awful crime of humankind. Luckily we grew up in a society where war was either a long time ago or far away. Our ordinary worries that directly affect us are in the foreground. Indeed we feel sorrow and empathy when we see pictures and news from the war zones in the media, but we cannot nearly understand how destructive and cruel it is to be directly affected by war. It was a conscious decision to use uncompromising cruel pictures in the video track to stir people up, to shock – and to cause shame as well because "all of us" are not dealing enough with this topic.
Stop exporting weapons in war zones! Neglect, sanction and do not negotiate with warmongers! Fight for human rights and not against humankind! Take to the street again like our heroes of the peace demonstrations in the 60s and 70s!Andreas Stitz aka Leichtmatrose and Joachim Witt"
Watch the video:
https://youtu.be/z6mmj8GPWYQ
Buy the song:
iTunes
/
Amazon
Source: Press Release